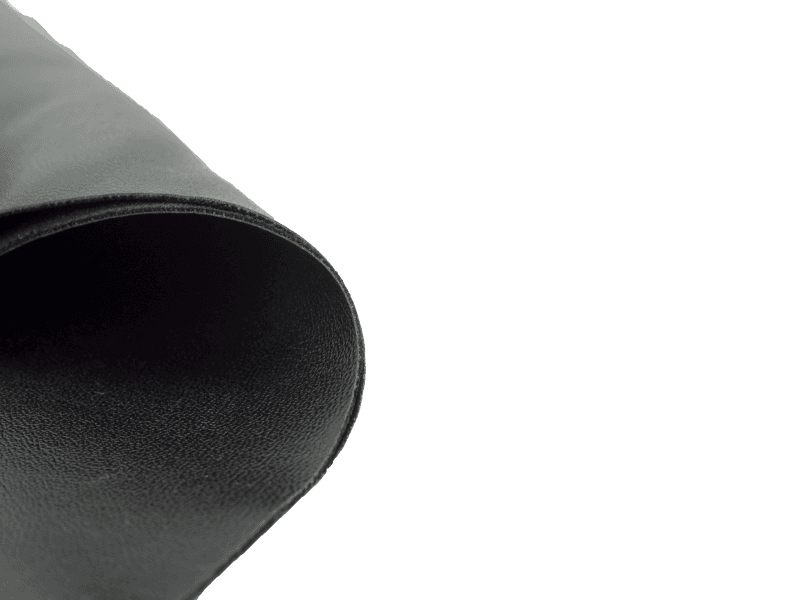 LEATHERETTE
We offer you fabrics that imitate natural leather. We have included them in our offer because of their wide range of practical application for everyday fashion, like belts, etuis, gloves and clothing.
EKOSKÓRA NA METRY
Ekoskóra robi furorę od dawna. Prawdziwe apogeum popularności przechodzi jednak w ostatnich latach wraz z coraz głośniej wybrzmiewającymi głosami środowisk ekologicznych, które namawiają do tego, by całkowicie zastąpić nią skórę naturalną. Trudno wyrokować, czy w najbliższym czasie jest na to szansa, ale jedno jest pewne: zwolennicy ekoskóry mają po swojej stronie mocne argumenty. Skóra ekologiczna pod względem wizualnym nie odstaje od skóry pochodzenia zwierzęcego. Wykonana najczęściej z poliestru i poliuretanu, skóra ekologiczna wygląda co najmniej tak samo dobrze, jak skóra naturalna. Mało tego. Zdarza się, że nawet specjaliści na pierwszy rzut oka nie są w stanie odróżnić jej od naturalnego pierwowzoru. Spójrz np. na dostępną w sklepie Dresówka.pl czarną tłoczoną ekoskórę. Czyż nie wygląda jak skóra naturalna?
Kwestią nie bez znaczenia jest też cena. Skóra ekologiczna jest po prostu tańsza. Najkorzystniejsze rozwiązanie to skóra ekologiczna na metry. W tej formie sprzedajemy ją w naszym sklepie. Skóra ekologiczna na metry jest nieporównywalnie tańsza niż analogiczne kawałki skóry naturalnej. W sklepie Dresówka.pl oferujemy ją w różnych wariantach. Bardzo popularna jest gruba ekoskóra tłoczona dostępna w różnych kolorach: biała, srebrna, navy i czarna. Często są też pikowana ekoskóra kreszowana oraz skóra naturalna o wysokim połysku – oczywiście również dostępne w różnych kolorach: od czerni po blady róż.


Skóra ekologiczna – najpopularniejsze zastosowania
Pierwsze, co przychodzi nam do głowy, gdy myślimy o ekoskórze, to odzież, a w szczególności: ramoneski, torebki i inne popularne elementy garderoby. Skóra ekologiczna, np. kupiona w naszym sklepie czarna tłoczona ekoskóta, daje ogromne możliwości. Wykorzystując ją, możesz samodzielnie wykonać m.in. elegancką kosmetyczkę, portfel, a nawet gustowną poduszkę skrojoną na miarę wystroju Twojego domu lub mieszkania. Możliwości są nieograniczone. Ekoskóra może równie dobrze posłużyć jako ozdoba. Wykończysz nią jesienno-zimowy płaszcz, jak i inne autorskie projekty krawieckie. Sky is the limit!
Na tym jednak nie koniec. Skóra ekologicza świetnie sprawdza się przy projektach tapicerskich, również tych wykonywanych samodzielnie. Możesz obszyć nią siodełko rowerowe, rączki do wózków lub krzesła. Ekoskóra nadaje się do tego idealnie! Nieprzypadkowo w prawie każdym samochodzie da się zauważyć powierzchnie pokryte ekoskórą. Istnieją powierzchnie, gdzie skóra ekologiczna sprawdza się nawet lepiej niż skóra naturalna. To często wnętrza aut, ale też siedzenia motocyklowe czy obicia tapicerki w drogich łodziach. Ekoskóra nie zmienia swoich właściwości pod wpływem słońca i wody. Jest ponadto równie trwała i estetyczna jak skóra naturalna.
Ogromną zaletę ekoskóry stanowi łatwość w utrzymaniu. Skóra ekologiczna łatwo daje się wyczyścić. Właśnie dlatego często spotyka się ją w środkach transportu zbiorowego, takich jak autobusy, tramwaje czy pociągi. Podobnie sprawa ma się ze sprzętem medycznym, np. fotelami dentystycznymi, które muszą być regularnie dezynfekowane. Skóra naturalna nie może być narażona na kontakt ze środkami odkażającymi na bazie rozpuszczalników. Ekoskóra – wręcz przeciwnie. Skóra ekologiczna jest odporna na działanie różnych chemikaliów. To spore ułatwienie w zakresie jej pielęgnacji.
Kupując ekoskórę w sklepie Dresówka.pl masz pewność, że wybierasz wysokiej jakości produkt, którego opis zawsze odpowiada rzeczywistości. Nasza skóra ekologiczna na metry jest łatwa w obróbce i nadaje się do pracy na domowych maszynach. Szukasz ekoskóry? Wybór jest prosty – znajdziesz ją w sklepie Dresówka.pl!