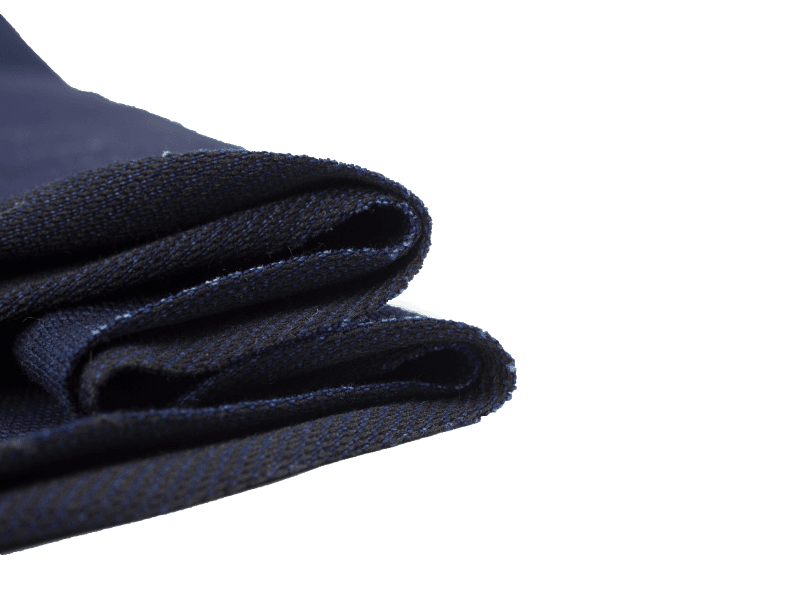 JEANS / DENIM
This category consists of original denim knitwear and fabrics imitating jeans. They are flexible and soft, of medium thickness. They will be great for sewing all-year garments: trousers, shorts, leggings, skirts, shirts, dungarees / overalls. They are also used for sewing various types of accessories.
Jeans / denim – od lat na topie
Jeans / denim to materiał o długiej historii. Choć wiele osób kojarzy go z USA i gorączką złota, czasami kowbojów i chłopców na schwał, materiał ten ma stricte europejski rodowód, podobnie jak jego obie współwystępujące nazwy. Określenie "jeans" pochodzi od sformułowania "blue de Gênes", czyli "błękit Genui", gdzie niegdyś produkowano jasnoniebieską odzież marynarską. Równie często występująca nazwa "denim" wzięła się od nazwy miasta Nîmes we Francji, w którym wytwarzano materiał jeans / denim.
Ogromna popularność materiału, jakim jest jeans / denim, rozpoczęła się wraz z pojawieniem się jeansowych spodni. Ich regularną produkcję w połowie XIX w. uruchomiło przedsiębiorstwo założone przez legendarnego Oskara Leviego Straussa, pochodzącego z Niemiec imigranta, który zaczął szyć jeansy w San Francisco w Kalifornii. Jego firma działa do dziś, będąc globalnym liderem sprzedaży spodni jeansowych. Projekt Oskara Leviego Straussa to jednak więcej niż globalny biznes. Stworzone przez niego jeansy są jednym z najpopularniejszych rodzajów spodni, które spopularyzowały materiał jeans / denim. Dziś jest on nieodłącznym elementem casualowego outfitu, choć nie będzie nadużyciem stwierdzenie, że jeans / denim przedostał się do każdej estetyki. Materiał ten na równych prawach funkcjonuje w popularnych sieciówkach i na wybiegach, w obu odsłonach zawsze robiąc furorę.
Dzianiny jeansowe w sklepie Dresówka.pl
Kiedyś będący nieodzownym atrybutem szorstkiej męskości, dziś uchodzący za materiał szczególnie uniwersalny. Jeans / denim przeszedł długą drogę, stając się jednym z najłatwiej dostępnych i zarazem najbardziej cenionych materiałów w przemyśle odzieżowym. Tak przeszło półtora wieku temu, tak i dziś produkuje się z niego spodnie, choć spektrum zastosowań jeansu / denimu na przestrzeni lat znacząco się poszerzyło. Jeans / denim stosuje się również jako materiał na koszule, kurtki, katany, a także wszelkie dodatki: torby, pokrowce i inne. Trudno byłoby znaleźć garderobę, w której nie ma choćby kilku rzeczy, których podstawą jest jeans /denim. Nie ma w tym nic dziwnego: jeans / denim świetnie się prezentuje, jest wygodny, nigdy nie wychodzi z mody, cechuje się imponującą trwałością i jednocześnie dobrze się z nim pracuje. Czyż nie jest to materiał idealny?
Jeans / denim kupisz również w sklepie Dresówka.pl. Szczególnie polecamy oferowaną przez nasz sklep wysokiej jakości dzianinę jeansową, która jest wykorzystywana przez światowej marki produkujące odzież, w tym spodnie, legginsy itp. Nasza dzianina "Black Denim" to materiał o typowym dla denimu charakterystycznym skośnym splocie. W jego składzie znajduje się domieszka poliestru i elastanu, dzięki czemu nasz "Black Denim" jest elastyczny, wyjątkowo wygodny i świetnie się układa. Czarny kolor sprawia, że materiał ten będzie pasował do wszystkiego, do czego zechcesz go założyć. Spróbuj uszyć z niego spodnie, a następnie dobierz do nich luźną, białą koszule – wspaniały efekt gwarantowany!
Świetnym wyborem są również nasze dzianiny "Premium" imitujące jeans / denim. Dzianiny te są wykonane z unikatowej przędzy, dzięki czemu są niezwykle przyjemne w dotyku. Są elastyczne i mają wyraźnie wyczuwalną strukturę jeansu. Jak zaznacza producent, ich przeznaczenie to moda i produkty ekskluzywne. Oferujemy kilka wariantów kolorystycznych dzianin imitujących jeans / denim, w tym jasny odcień "Light", a także znacznie ciemniejszy: "Dark".
Dzianiny jeans / denim dostępne w sklepie Dresówka.pl to materiały wysokiej jakości. Nie niszczą się i prezentują znakomite walory użytkowe. Świetnie zachowują się po praniu. Pozwalają uszyć ubrania będące idealnym kompromisem pomiędzy wygodą a eleganckim wyglądem. Postaw na ponadczasowy materiał jeans / denim ze sklepem Dresówka.pl!