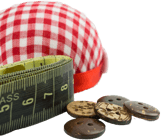 HABERDASHERY
Haberdashery is a very important part of our offer. You can find here many handy trinkets, useful for each of your projects. The accessories and sewing aids we offer, are complementary to our range of smooth and patterned materials. This department is constantly expanding with new best quality products. You can always feel invited to have a look around here.
The product is available while stocks last

The product is available while stocks last

The product is available while stocks last

The product is available while stocks last

The product is available while stocks last
Pasmanteria internetowa Dresówka
Doskonale wiemy, że kiedy chce się uszyć coś naprawdę wyjątkowego, nie można się ograniczać. Właśnie dlatego w sklepie Dresówka.pl oferujemy ogromny wybór wysokiej jakości pasmanterii i dodatków krawieckich, stale poszerzając nasz asortyment, tak by pomagać osobom lubiącym szyć i realizować swoje krawiecki wizje. Postaw kropkę nad i, dekorując swoje projekty produktami, które wyniosą je na kolejny poziom. W naszym sklepie znajdziesz elementy pozwalające nadać wszelkim krojom unikatowy charakter lub nawet stworzyć je zupełnie od zera. Nasza pasmanteria pasuje zarówno do klasyki, jak i bardziej odważnych projektów. Chętnie sięgają po nią osoby dopiero uczące się szyć, ale i zawodowe krawcowe i projektantki mody.
Bardzo popularnymi produktami wchodzącymi w skład kategorii "Pasmanteria" sklepu Dresówka.pl są autorskie zestawy, z których część dochodu zasila konto projektantki. W każdym zestawie znajdują się elementy niezbędne do samodzielnego wykonania przedmiotu, w tym komplet materiałów. Każdy zestaw zawiera ponadto jasno napisaną instrukcję. Z jej pomocą poradzisz sobie bez problemu. Jakie konkretnie zestawy posiadamy w naszej ofercie? Jest ich mnóstwo. To np. popularne plecako-worki, nerki, torby na zakupy, ubranka dla dzieci, bluzki, spodnie, sukienki, bokserki i maskotki. Idea DIY jest Ci bliska? Na pewno polubisz nasze zestawy!
Dodatki, dodatki i jeszcze raz dodatki!
To, co stanowi największą część kategorii "Pasmanteria", to oczywiście dodatki – wysokiej jakości, kolorowe i odpowiadające na potrzeby osób lubiących szyć. Masz w planach przygotować piękną sukienkę? Kupiłaś już wymarzony materiał i zastanawiasz się, czym mogłabyś ją estetycznie wykończyć? Świetnym rozwiązaniem są lamówki dzianinowe, których w sklepie Dresówka.pl posiadamy całe mnóstwo. Często wybierane przez nasze klientki są również bawełniane koronki. Możesz wykorzystać je do przyozdobienia odzieży lub – jeśli wolisz – do przygotowania przepięknych kartek okolicznościowych. Własnoręcznie wykonane zaproszenia na śluby i inne uroczystości to hit ostatnich lat. Z naszymi koronkami zrobisz je z łatwością!
A może planujesz uszyć materiałową torebkę? Tu nasza pasmanteria stworzy dla Ciebie pole do popisu. Kupiony materiał możesz ozdobić naprasowankami (są świetne również do ozdabiania artykułów dla dzieci!) lub termojetami. Posiadamy ich naprawdę dużo. Alternatywą są ozdobne aplikacje. Jako ucho torebki świetnie sprawdzi się taśma pleciona – bardzo popularna i praktyczna, ostatnio przechodząca prawdziwy renesans. W tej roli równie dobrze sprawdzą się łańcuszki z karabińczykami. Jeśli wolisz lepiej zabezpieczone torebki na zamek, także przychodzimy z pomocą, oferując pięknie wyglądające i wyjątkowo trwałe zamki. Idealny kształt torebki osiągniesz, sięgając po dno torebki wykonane ze skóry ekologicznej – również dostępne w ofercie sklepu Dresówka.pl.
Pasmanteria to też najbardziej podstawowe akcesoria do produkcji i własnoręcznych napraw odzieży. Posiadamy szeroki wybór nici i sznurków dostępnych w różnych kolorach oraz grubościach. Mamy na stanie również guziki, zarówno te proste, plastikowe, jak i drewniane oraz zdobione. Chcesz uszyć coś dla swojego malucha? Sprawdź ofertę ozdobnych guzików w kształcie biedronek, słoni i innych przemiłych zwierzaków. W sklepie Dresówka.pl kupisz ponadto cekiny, pomponiki i całe mnóstwo innych dodatków. Mamy nawet specjalne krawieckie nożyczki.
Potrzebujesz inspiracji? Przytłacza Cię ilość oferowanej przez nas pasmanterii? Zanurz się w lekturze czasopisma "Szycie krok po kroku" zawierającego gotowe wykroje o różnych poziomach trudności. "Szycie krok po kroku" to idealny punkt wyjścia dla osób chcących rozpocząć swoją przygodę z krawiectwem. Czasopismo również znajduje się w kategorii "Pasmanteria".