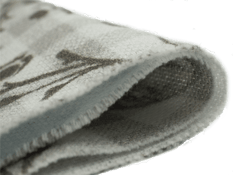 PATTERNED DECORATIVE FABRICS
HOME DECOR
This section is devoted to patterned decorative fabrics that are used in home decor projects. By expanding our assortment, we strive to keep up with current and anticipated trends, quality and your needs. We encourage you to visit this section regularly.
The product is available while stocks last

The product is available while stocks last

The product is available while stocks last

The product is available while stocks last
TKANINY HOME DECOR
Tkaniny dekoracyjne ocieplają i dekorują mieszkanie, nadając mu charakter, elegancję i styl. Znakomicie poprawiają komfort użytkowania pomieszczenia i sprawiają, że mamy ochotę w nim przebywać. Zasadniczą funkcją tkanin dekoracyjnych jest zatem uzupełnienie wymarzonego przez nas stylu, nadanie pomieszczeniu określonego charakteru. Z pozoru delikatna zmiana poduszek, zasłon czy firanek pozwala na diametralne zmiany.
Zwykle tkaniny dekoracyjne są postrzegane jedynie jako dodatki do wnętrza o określonym charakterze. Warto jednak pamiętać, że właściwie to właśnie tkaniny powodują, że dane pomieszczenie można zaklasyfikować jako ciepłe i przytulne lub chłodne i minimalistyczne. W zależności od tego, jaki efekt chcemy osiągnąć, sięgamy po jedną z szerokiej gamy tkanin dekoracyjnych dostępnych w sklepie Dresówka.pl. Tkaniny dekoracyjne są bardzo ważnym elementem wystroju, ponieważ to one wpływają na odbiór wizualny całego mieszkania. Tkaniny dekoracyjne, dzięki którym możemy uszyć wymarzone zasłony czy poszewki na poduszki, w znaczący sposób mogą poprawić nam humor, ocieplić niezbyt przyjemne wnętrze, pozwolą poczuć się jak w rodzinnym domu. Dzięki nim możemy uzyskać naprawdę zaskakujące efekty aranżacyjne. Tkaniny dekoracyjne znakomicie sprawdzą się także jako dekoracje ścienne. Różnorodne makaty, arrasy czy obicia mebli gobelinami przez wiele lat stanowiły elegancki element wystroju staropolskich, arystokratycznych domów. Dzisiaj w mieszkaniach na ścianach znacznie częściej tkaniny dekoracyjne wykorzystywane są jako materiał obiciowy. Przydaje się do wykonania unikatowego zagłówka łóżka, wykonania pięknej pufy, a dodatkowe pikowanie podkreśla elegancki charakter i unikalny styl wnętrza.


Tkaniny dekoracyjne – do czego mogą nam posłużyć?
Kwiatowy sielski obrus na stole w jadalni, miękki ciepły pled rzucony niedbale na łóżko, a może charakterystyczna zasłona w szalone geometryczne wzory? To zaledwie kilka przykładów zastosowania tkanin dekoracyjnych. Te niesamowite elementy wystroju znakomicie sprawdzą się jako jedyne w swoim rodzaju narzuty na łóżko, poszwy do pościeli, a nawet jako materiał tapicerski na sofy lub fotele do salonu. Tkaniny dekoracyjne to ogrom możliwości, a pohamować może nas jedynie nasza wyobraźnia!
Jak wiemy, trendy zataczają koła. Często coś, co jest tredny, staje się kultowe i znajduje zastosowanie przez wiele dekad. Moda panuje także wśród wzorów tkanin dekoracyjnych. Sklep Dresówka.pl oferuje unikatowe i modne tkaniny dekoracyjne w różnorodnych formach i wzorach. Możemy wybierać pośród bardzo modnych w tym sezonie wzorów kwiatowych, takich jak "Hibiskus", "Łąka", "Boho paisley" czy "Liście bananowca", które doskonale uzupełnią zarówno kobiecą sypialnię, jak i nietuzinkowy salon, a nawet nowoczesny salon piękności lub hipsterską kawiarnię. Triumfy święci niesamowicie modny wzór "Monstera", który uwielbiany jest zwłaszcza przez młode osoby. W sklepie Dresówka.pl tkaniny dekoracyjne występują także we wzorach, które zachwycą miłośników folkowych klimatów. To "Folk łowicki" i "Mini folk kaszubski".
Dostępne w naszym sklepie tkaniny dekoracyjne są wykonane z najwyższej jakości materiałów. Te wykorzystywane w projektach typu home decor tkaniny zachwycają nie tylko wzorami, ale także imponującą trwałością. Nie gniotą się i nie rozciągają, a nadruki wykonane są nowoczesną metodą druku pigmentowego. Dzięki naszym tkaninom efektownie odmienisz wnętrze. Każdy z nas lubi zmiany. Metamorfoza przy pomocy tkanin dekoracyjnych jest ekspresowa i niedroga, a także nie wymaga wielkiego nakładu pracy. Rola elementów, takich jak tkaniny dekoracyjne, jest nie do przecenienia. Od lat architekci i dekoratorzy wnętrz stosują tkaniny dekoracyjne jako znakomite narzędzie liftingu pomieszczeń. Tkaniny dekoracyjne pozwalają na nieograniczone aranżacje, a różnorodność wzorów i faktur przyprawia o zawrót głowy!