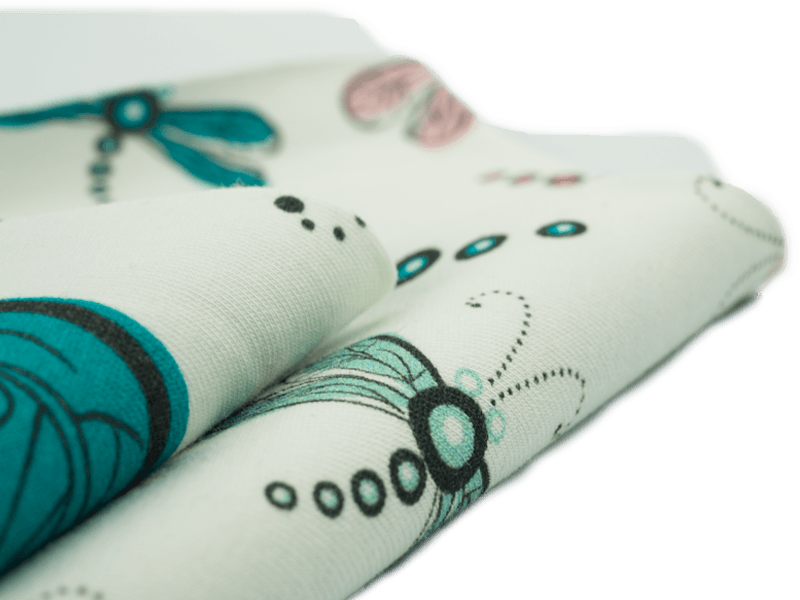 DESIGNER ZONE
The core offer of our rich range of products are fabrics with patterns especially designed for us by a group of local and international designers. Designer Zone, initially as small contest, debuted in 2015, becoming a key part of our current offer. Nowadays patterns from the Designer Zone are worn around the world, and the names of their authors are widely recognized. By purchasing materials from our Designer Zone you are supporting the author.
Strefa Projektanta – miejsce dla kreatywnych
Strefa Projektanta zadebiutowała wraz z konkursem, który zorganizowaliśmy w 2015 r. Jego sukces zaowocował jej dalszym rozwojem. W efekcie Strefa Projektanta pozwoliła nam włączyć do naszej oferty autorskie produkty, stanowiące znaczącą i szczególnie dla nas ważną część naszej oferty. Produkty współpracujących z nami projektantek i projektantów wyróżniają nas i stanowią nasz znak rozpoznawczy. Strefa Projektanta to miejsce, w którym możesz podziwiać unikatowe wzory stworzone przez utalentowane osoby współpracujące z naszym sklepem, a także poznać je bliżej, odwiedzając profil interesującej Cię projektantki lub projektanta. To także świetne miejsce na znalezienie inspiracji. Strefa Projektanta obejmuje również gotowe zestawy i wykroje pozwalające samodzielnie wykonać ubrania, dodatki, elementy wyposażenie wnętrz itp. Zestawy i wykroje cieszą się dużym zainteresowaniem osób uczących się szyć lub po prostu chcących rozwinąć swój warsztat.
Wybierając dowolny autorski produkt oferowany przez nasz sklep, masz pewność, że wspierasz polskich twórców. Niezależnie czy kupujesz materiał z autorskim wzorem, czy gotowy zestaw lub wykrój, część dochodu zasila konto danej projektantki lub projektanta. Opis każdego autorskiego projektu zawiera stosowną adnotację. Dla osób współpracujących z naszym sklepem, których prace możesz znaleźć w kategorii "Strefa Projektanta", to dodatkowa motywacja, by tworzyć jak najlepsze i jak najbardziej unikatowe prace, dla naszych klientek zaś – gwarancja wyjątkowych, zachwycających materiałów i zestawów!
Bądź częścią twórczej społeczności!
Jeśli jesteś klientką naszego sklepu, Strefa Projektanta daje Ci możliwość pracy na materiałach zdobionych autorskimi, starannie opracowanymi wzorami, których nie znajdziesz nigdzie indziej. Sięgając po nie możesz uszyć bluzkę, sukienkę, tunikę lub jakąkolwiek inną część garderoby. Szukasz materiału, który wyróżni Twoje handmade'owe ubrania? Strefa Projektanta to miejsce, gdzie na pewno znajdziesz coś wyjątkowego. Nasi projektanci mają swój własny smak i to właśnie nim kierują się, opracowując wzory, które trafiają na oferowane przez nasz sklep tkaniny. Znajdź osobę zachwycającą Cię swoją inwencją i w oparciu o jej prace twórz zachwycające kreacje!
Osobom mniej zaawansowanym polecamy gotowe zestawy i wykroje. Każdy autorski zestaw zawiera wszystko, co potrzeba, by uszyć daną rzecz, w tym komplet materiałów i wszystkie niezbędne elementy. Co dokładnie da się uszyć, korzystając z gotowych zestawów i wykrojów naszych projektantów? Najłatwiej byłoby odpowiedzieć, że każdą część garderoby, jaką możesz sobie wyobrazić, a także mnóstwo dodatków. Modna shopperka, worko-plecak czy komplet fitness – wybór jest naprawdę duży!
Nasza Strefa Projektanta stoi otworem przed każdą twórczą osobą. Projektujesz ubrania lub wzory i marzysz o tym, by Twoje prace były noszone na całym świecie? Strefa Projektanta to okazja, by Twoje projekty i marka zdobyły rozpoznawalność wśród nowych odbiorców. Twoje prace już dziś mogą znaleźć się w naszej ofercie, oczywiście podpisane Twoim nazwiskiem lub pseudonimem, a część dochodu z każdej udanej transakcji zasili Twoje konto. Napisz do nas i zaprezentuj nam swoje projekty. Strefa Projektanta to miejsce, w którym chcemy oferować wyjątkowe, absolutnie unikatowe produkty, dostępne wyłącznie w tym wspaniałym miejscu. Twórz je razem z nami i innymi osobami współpracującymi z naszym sklepem. Być może Strefa Projektanta to miejsce właśnie dla Ciebie!