Chustka z daszkiem
Difficulty level:

very easy
Chustka z daszkiem - szybka i prosta alternatywa dla sklepowych letnich czapek. Jak ją uszyć pokażemy w tym tutorialu. Jest to naprawdę bardzo łatwe. Zapraszamy :)
Potrzebujemy:
* 0,5 mb tkaniny bawełnianej / wiskozowej / single jersey
* usztywnienia w postaci grubej flizeliny lub sztywnika, my użyliśmy sztywnika Vilene S520 do naprasowania 90cm
W tutorialu wykorzystaliśmy:
* maszynę wieloczynnościową Janome Juno E1015
* overlock JANOME MYLOCK 744D
* akcesoria krawieckie PRYM

Zaczynamy od narysowania na materiale kształtu chustki, następnie trójkąt wycinamy. Pamiętajmy, że musi to być trójkąt równoboczny o dłuższym boku, w zależności od obwodu głowy na około 60 - 70 cm (wymiary na dziecko), aby chustkę można było swobodnie zawiązać.
Wysokość trójkąta to 45 - 50 cm (wymiary na dziecko).
Najpierw zajmujemy się bokami chustki. Brzegi możemy podwinąć na dwa sposoby:
- zawijając brzegi na dwa razy na maszynie wieloczynnościowej (jeśli wybierzemy ten sposób ścinamy trochę rogi trójkąta, aby łatwo i estetycznie podwinąć brzegi pod spód na dwa razy)
- ściegiem rolujacym - na overlocku - my wybraliśmy ten sposób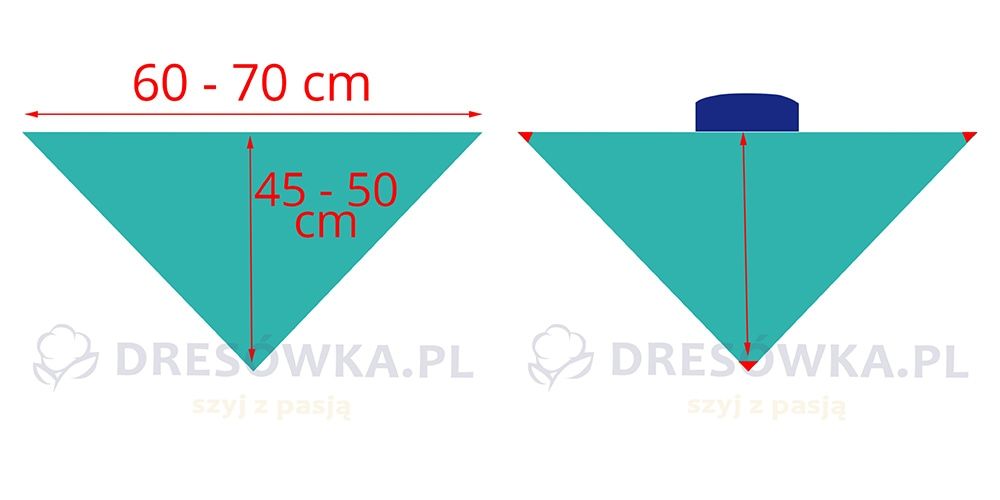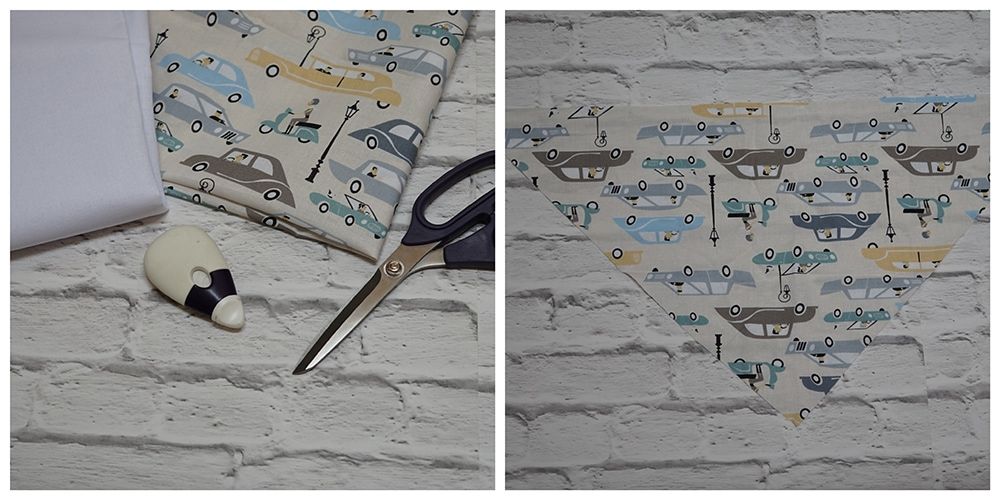 Kolejmy etap to daszek, który możecie narysować samodzielnie, albo jak my odrysować od czapki z daszkiem naszego dziecka, na pewno macie choć jedną w domu :). Pamiętajcie, że brzeg, który będzie wszyszyty do chusty powinien być zaokrąglony, nie prosty, aby daszek dobrze się układał.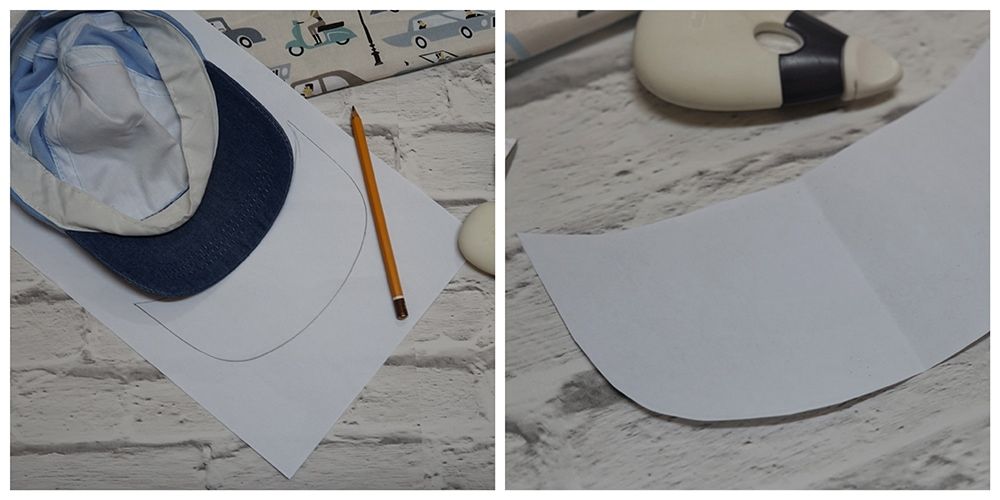 Daszek wycinamy dwa razy z tkaniny (jerseyu) plus kolejne dwa razy ze sztywnika (jeśli zastosujemy flizelinę, musimy z niej daszek wyciąć nawet 4krotnie w zależności, jaką ma ona grubość).
Następnie naprasowujemy na obie części daszka po jedenj części wyciętej ze sztywnika, spinamy gotowe, usztywnione części daszka prawymi stronami do środka i zszywamy tylko na zaokrąglonym brzegu oraz odcinamy połowe zapasu na szew.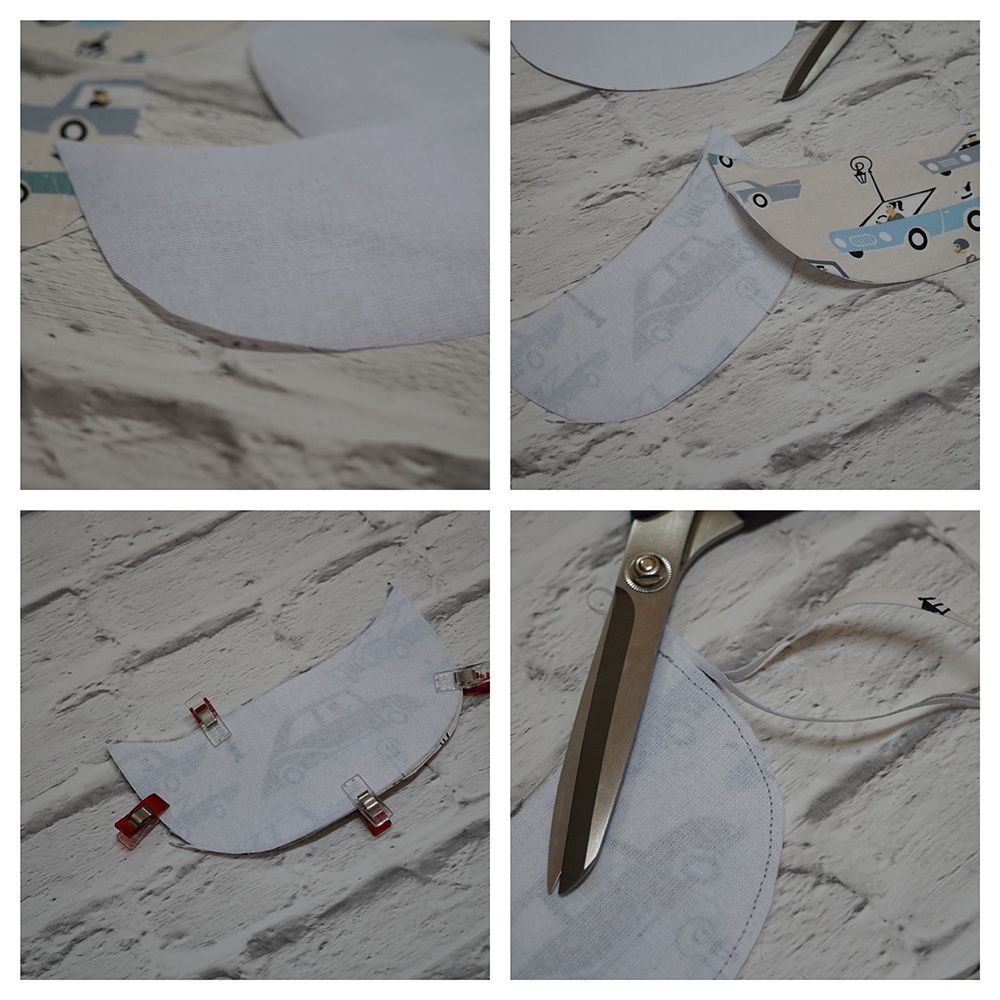 Teraz możemy obrócić daszek na prawą stronę i przestębnować go blisko brzegu na zaokrąglonej części. Daszek stębnujemy dwukrotnie.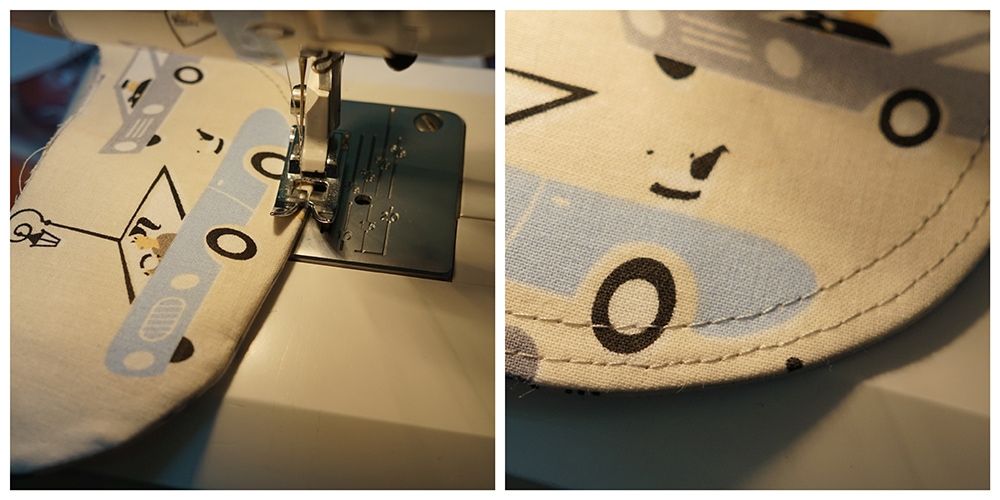 Kolejna czynność, to przyszycie daszka do chusty. Wyznaczamy środek daszka oraz środek długiego boku chusty i w tych punktach najpierw przypiamy daszek. Ponieważ daszek jest zaokrąglony, przypinamy go do brzegu chusty dokładnie. Pamiętajmy, że daszek przypinamy do brzegu chusty niezszytym brzegiem.
Następnie przyszywamy daszek ściegiem prostym (służy to zamocowaniu daszka przed właściwym przyszyciem go).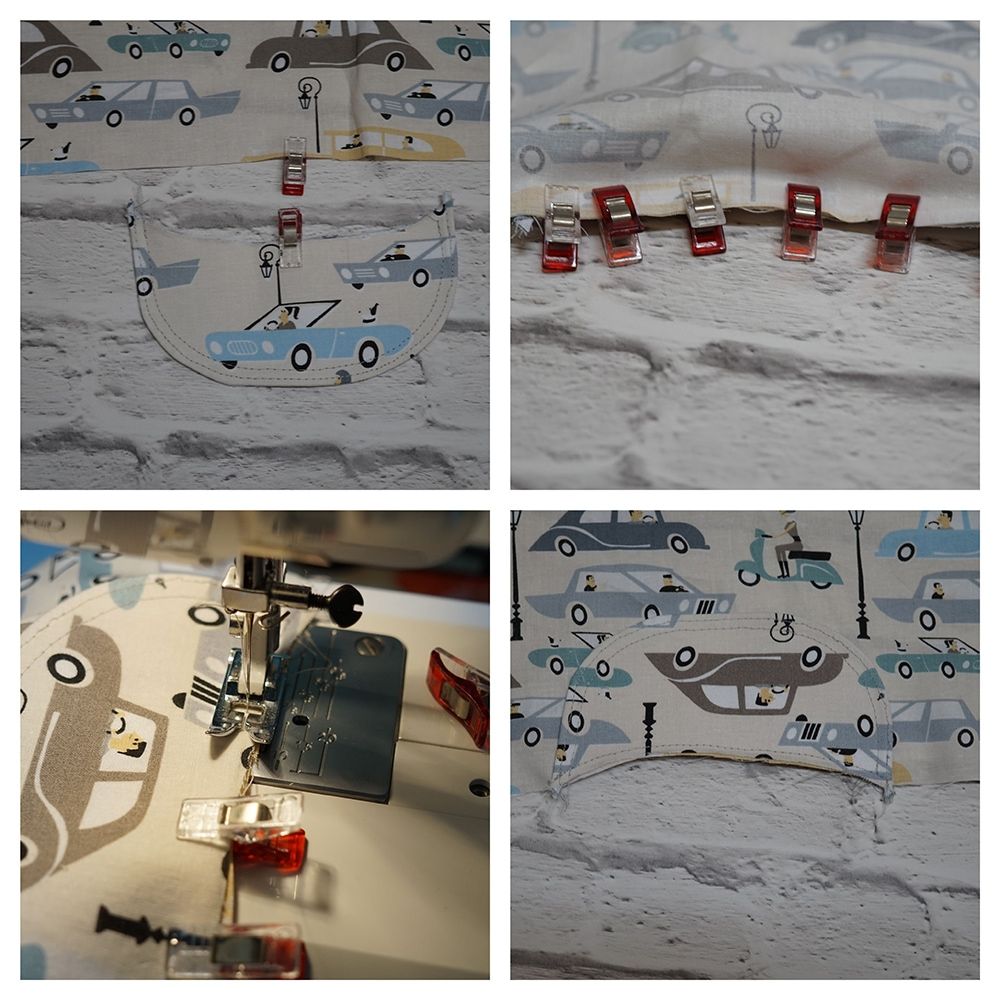 Teraz, aby estetycznie wszyć, a następnie wykończyć wszycie daszka od lewej stony, wycinamy pas materiału. Jego długość to wartość długiego boku + 2 cm, a jego szerokośc to około 4 - 5 cm.
Po wycięciu paska przypinamy go do chusty, na wszyty wcześniej daszek, prawą stroną do prawej strony chusty, podwijamy oba krótsze brzegi na ok. 1 cm do środka, spinamy i przyszywamy na całości ściegiem prostym (teraz też ostatecznie mocujemy daszek).
Następnie zawijamy przyszyty pasek na lewą stronę chusty (daszek wychodzi w tej chwili na zewnątrz) i stebnujemy blisko brzegu chusty na całej długości.
Pasek podwijamy jeszcze raz pod spód, aby ukryć jego surowy brzeg, przypinamy zawinięcie, układamy (podwijamy) rogi w estetyczny sposób i przyszywamy podwinięcie na prawej stronie,jeszcze raz na całej długości, trochę wyżej od pierwszego stębnowania.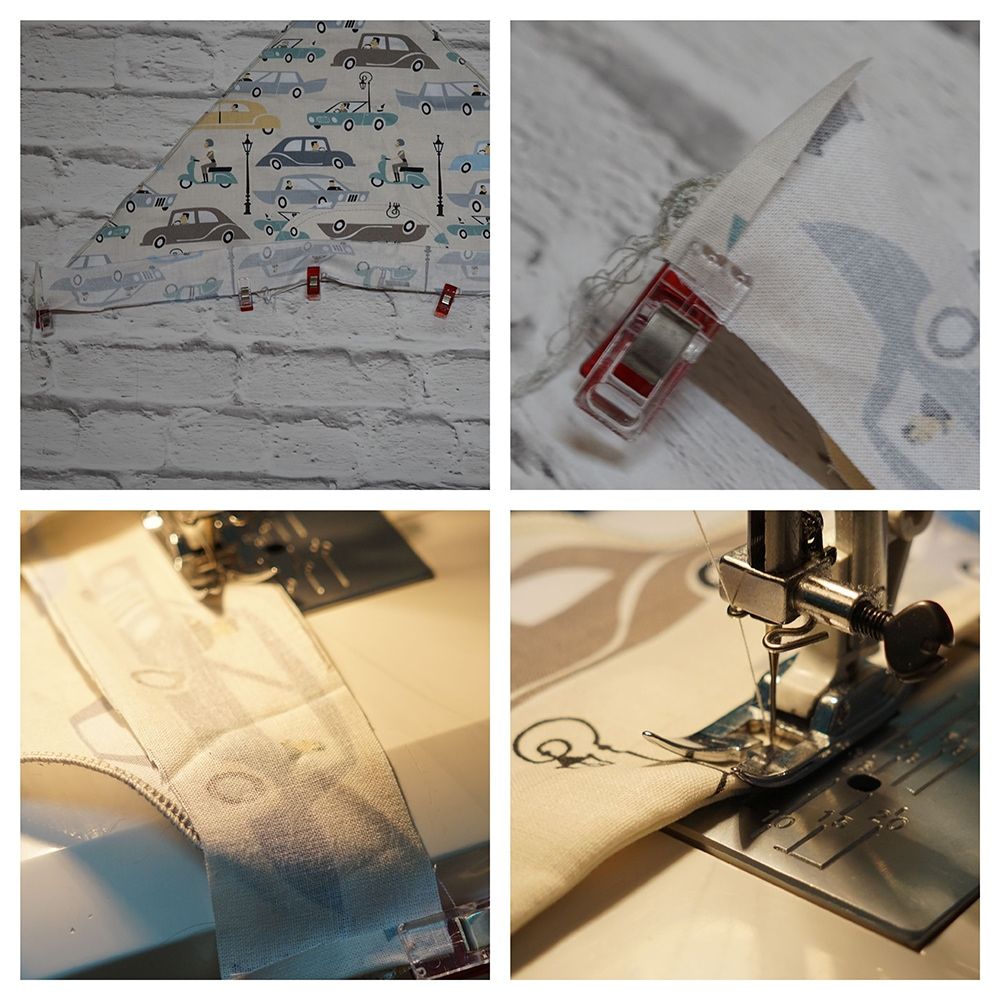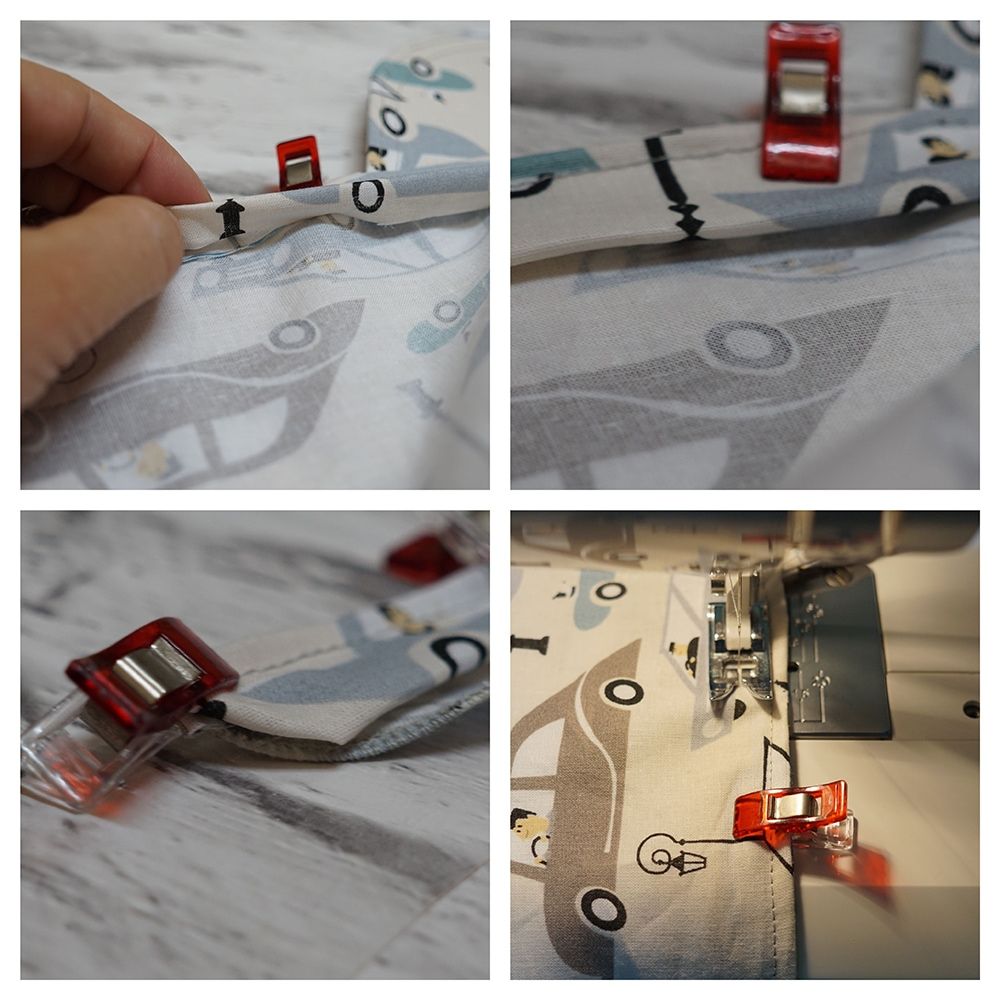 To tyle :) Chustka gotowa, prawda, że jest banalnie łatwa do uszycia?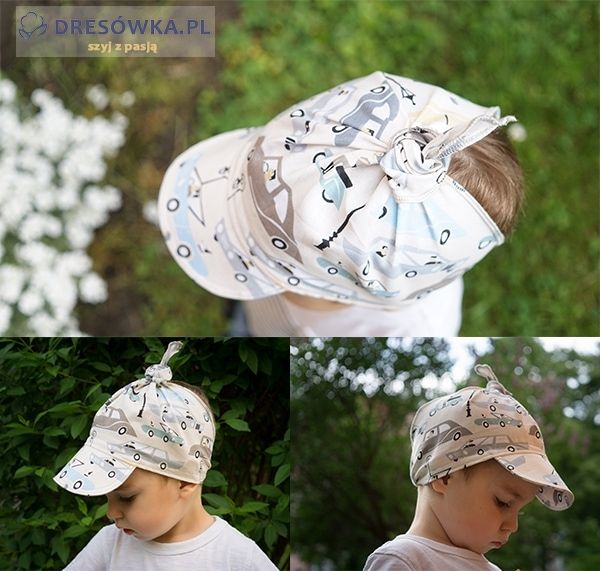 Post Comments (1)
Anna Samorajczyk

27/05/2021

Super tutorial!;) Ile centymetrów należy dodać do podstawy trójkąta w zależnosci od obwodu główki? Np 48 cm plus 20 cm na wiązanie?

Dresówka.pl - obsługa sklepu

do:

Anna Samorajczyk 31/05/2021

Pani Aniu, wszystko jest już gotowe i wyliczone w naszych zestawach - https://dresowka.pl/pl/zestawy-i-wykroje/zestawy-odziezowe/nakrycia-glowy/chusta-z-daszkiem.html
To add a comment, you must be a registered customer.
click here to log in