13/06/2019
| in category:
Torebka DUBROVNIK
Difficulty level:

average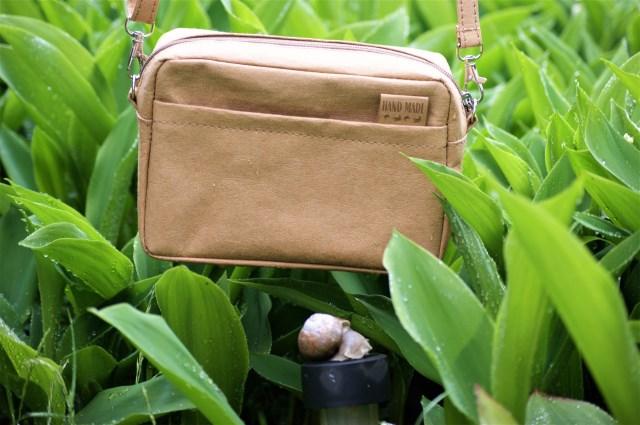 Oddajemy w Wasze ręce tutorial (washtutek) na torebkę DUBROVNIK. Nie bez przyczyny tak została ona nazwana, kojarzy się bowiem z latem, słońcem, wakacjami i wygodą, a jej podręczny kształt i minimalistyczny krój sprawią, że będzie Waszą nieodłączną towarzyszką podczas wakacyjnych wypraw.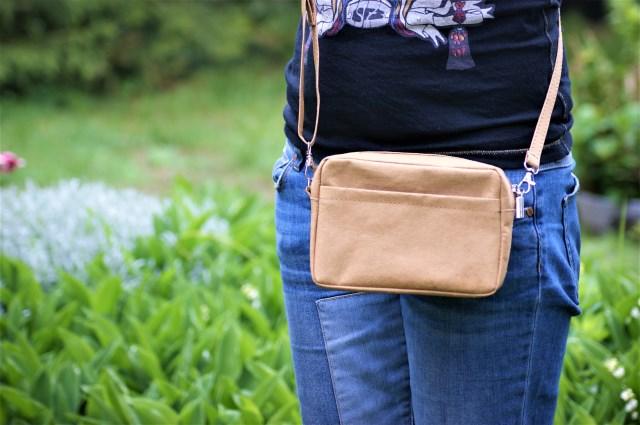 Gotowa torebka ma wymiar około 18/12 cm i głębokość 6,5 cm.
Oto czego potrzebujemy:
- gotowego zestawu dostępnego w sklepie Dresówka.pl
- maszyna do szycia
- igła maszynowa do szycia jeansu (rozmiar max. 100)
- mocne nici do grubszych materiałów (np. jeansu) pod kolor papieru
- klipsy biurowe
- spryskiwacz do wody / gąbka z wodą
UWAGA! W tutorialu pokazana jest opcja uszycia paska do torebki z washpapa. W zestawie znajduje się taśma nośna.
Papier wycinamy zgodnie z instrukcją dołączoną do zestawu:
przód i tył torebki - 2 prostokąty (A) z delikatnie zaokrąglonymi 4 narożnikami
zewnętrzna kieszeń torebki (B): 1 prostokąt z zaokrąglonymi narożnika tylko na jednym, dłuższym boku
1x prostokąt - bok torebki (C)
2x prostokąt (D) - listwa zamka

2 x prostokąt (E) - zamocowania pókółek
Wykrój do odrysowania boków wraz z nacinkami na wszycie kieszeni oraz rozkrój pozostałych elementów został dołączony do zestawu.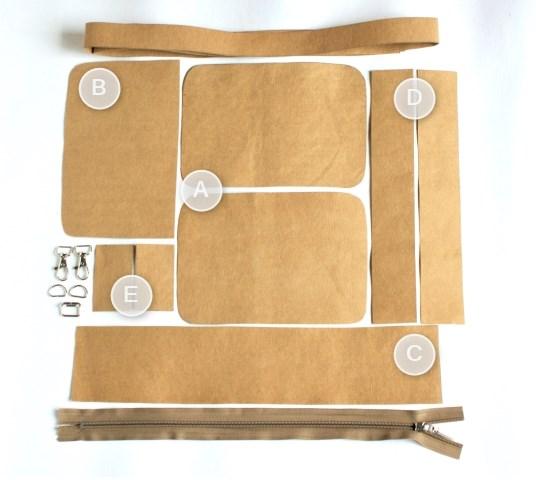 Zaginamy górę kieszeni na 2 cm od górnej krawędzi i stebnujemy na 1,5 cm ściegiem o szerokości 4 mm.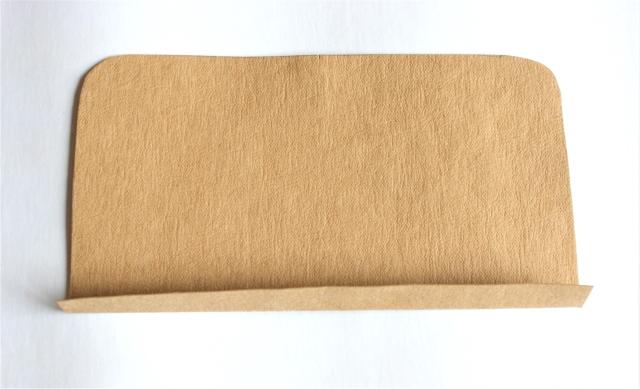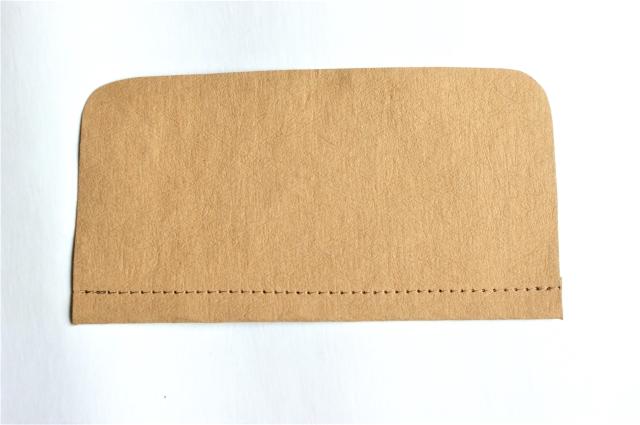 Następnie kieszeń naszywamy na przód torebki na minimalną szerokość od jej brzegów, tylko po to aby ją przymocować do przodu torebki. Będzie to przód naszej torebki.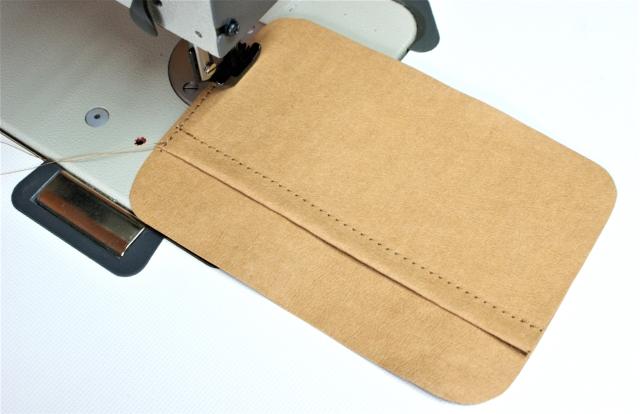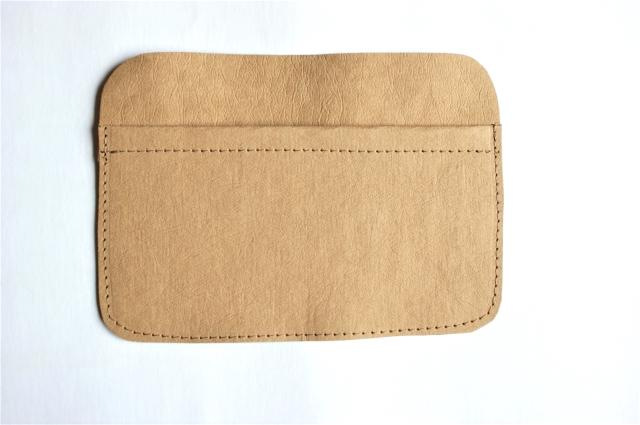 Dwa prostokąty (E) 7/4 cm, służące do zamocowania półkółek zaginamy na 2 równe części wzdłuż dłuższego boku i stebujemy na 1mm dookoła.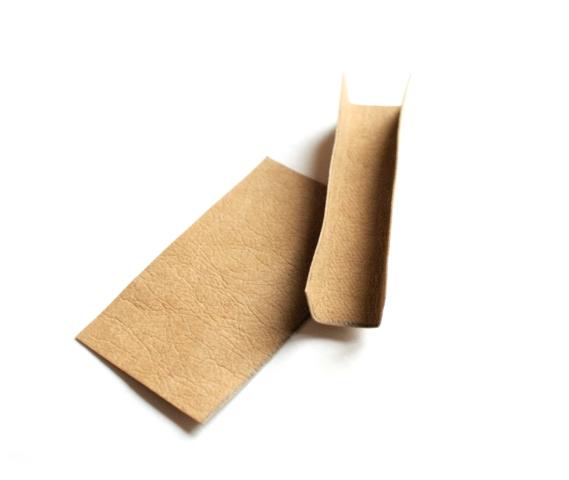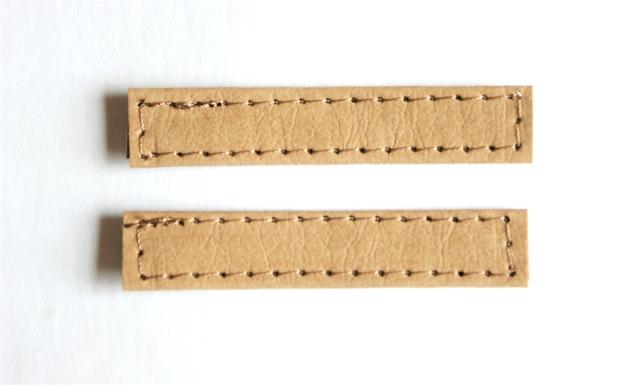 Przez paseczek przekładamy półkółko i mocujemy je przeszywając na około 1 cm od krawędzi.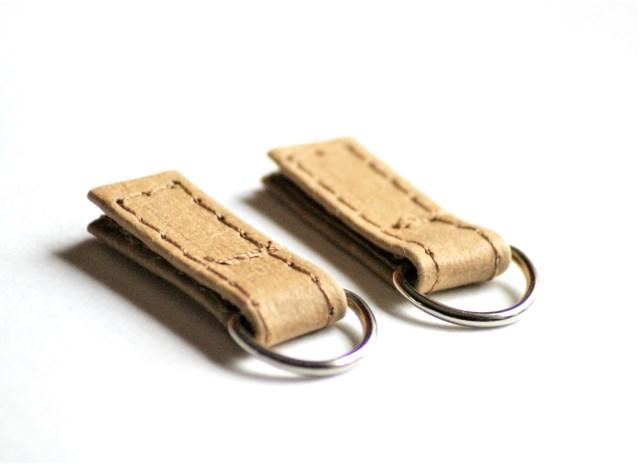 Dwa prostokąty (D) 28/4,5 cm zaginamy na 1 cm wzdłuż dłuższego boku i przyszywamy do nich zamek rozdzielczy z obu stron na 1 mm. Gotowa listwa z zamkiem musi mieć szerokość 8 cm, tak by pasowała szerokością do części C.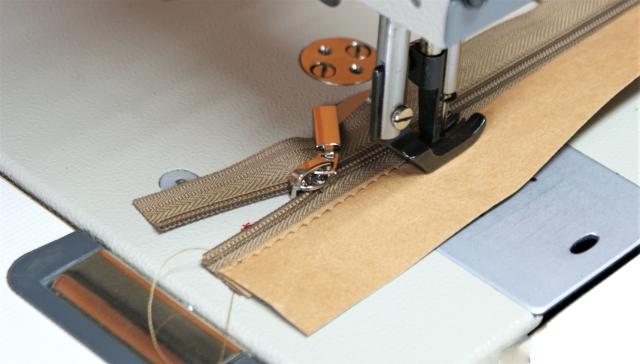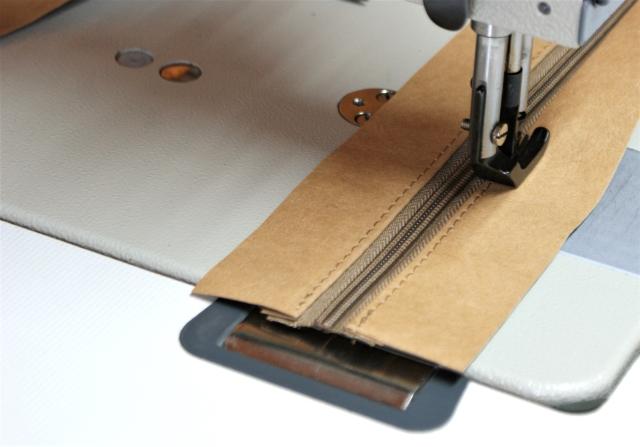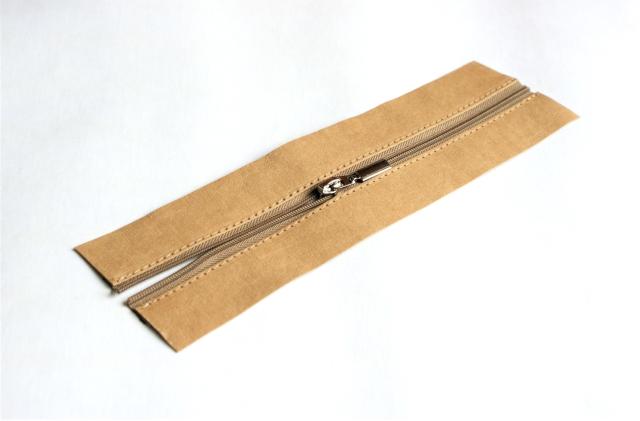 Na obu końcach listwy z przyszytym zamkiem układamy odszyte wcześniej paseczki z półkółkami i przyszywamy je do listwy na ok 5 mm od jej brzegów. Paseczki przyszywamy po linii ich wcześniejszego zszycia. W tym momencie, w najgrubszym miejscu, maszyna przeszywa 6 warstw washpapy oraz zamek.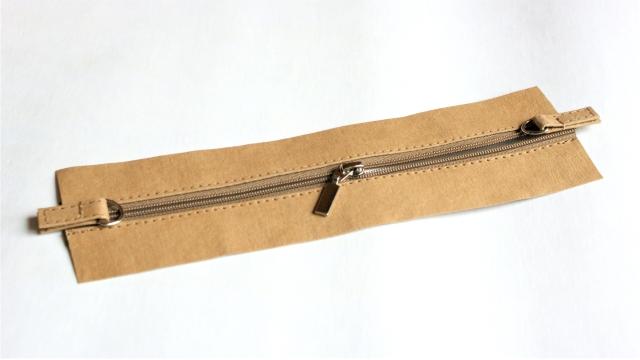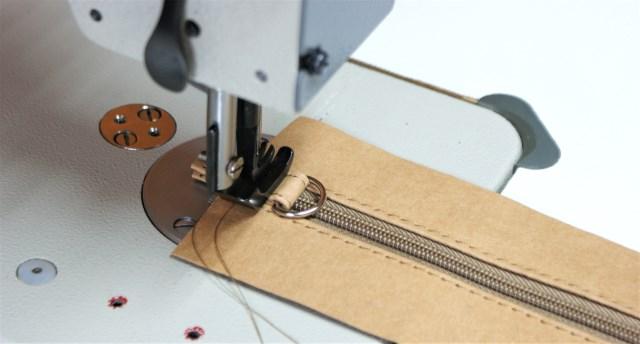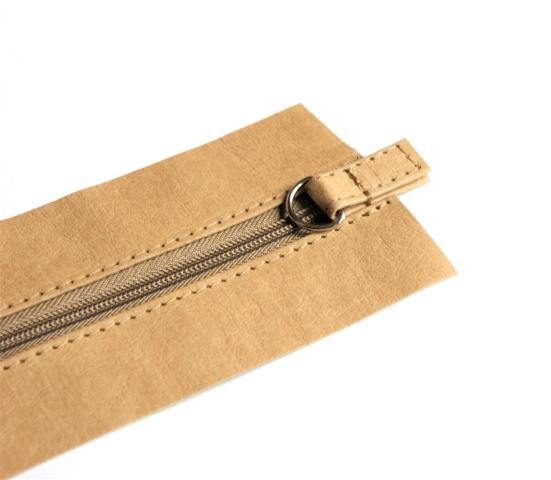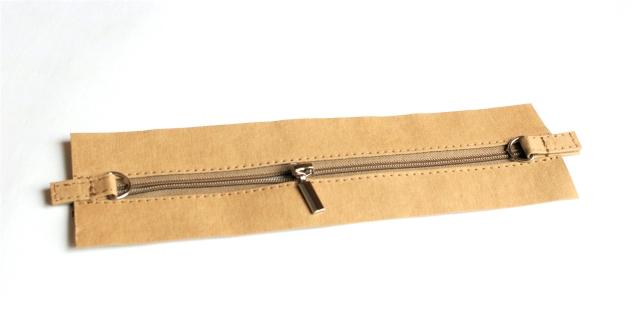 Następnie łączymy prostokąt (C) o wymiarach 38/8 cm razem z panelem z zamkiem szwem o szerokości 1 cm z obu jego stron, tak by powstał jeden element.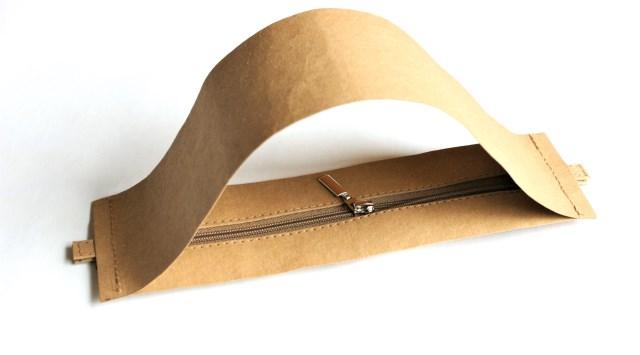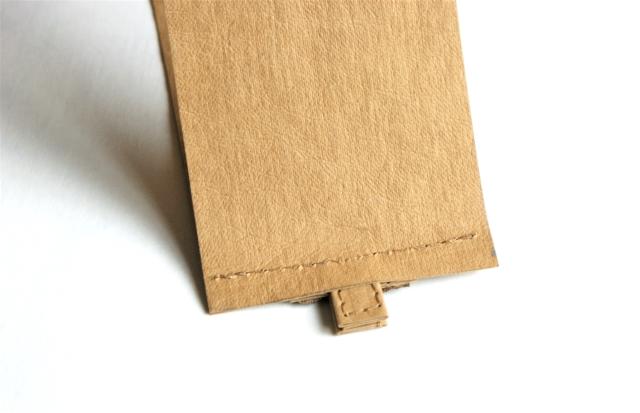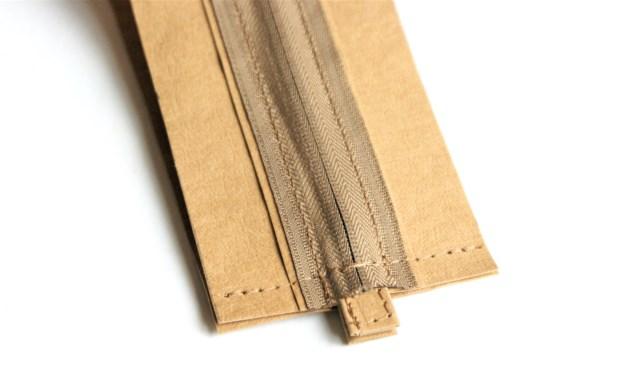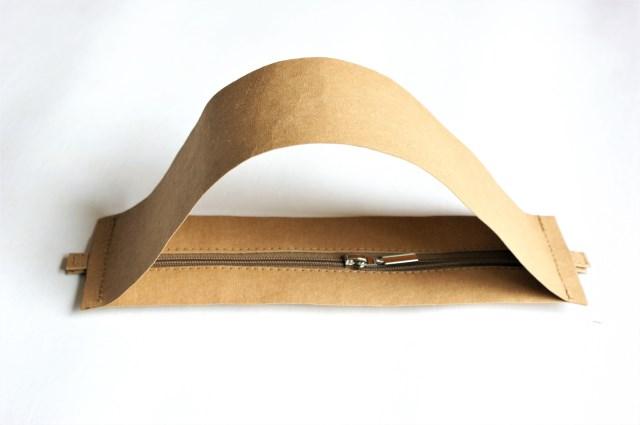 Oba łączenia pasów stebnujemy po zewnętrznej stronie na 1 mm.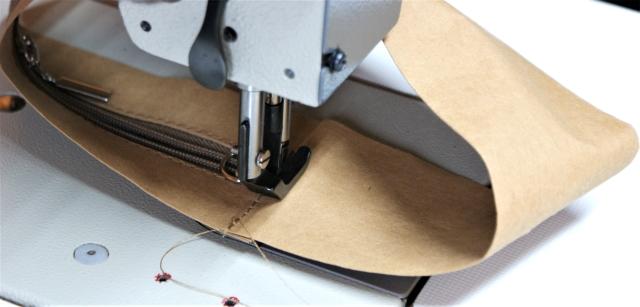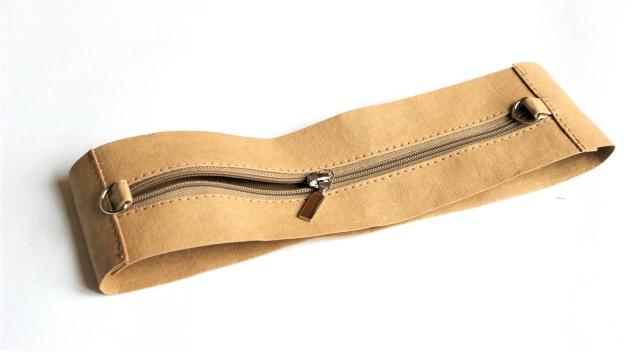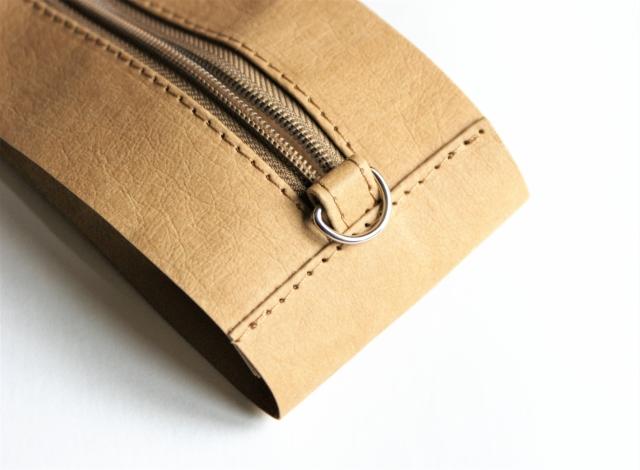 Odszyty element oraz przód i tył torebki moczymy w wodzie przed rozpoczęciem szycia po łuku.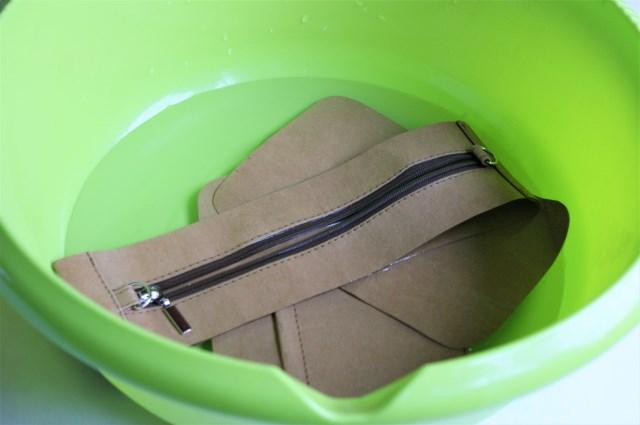 Szyjemy zwilżoną, ale nie mokrą washpapę, musimy ją zatem mocno odsączyć i wytrzeć.
Pasek z zamkiem przypinamy klipsami biurowymi do przodu torebki (w naszym przypadku jest to przód z kieszenią) i przyszywamy na 0,5 cm prawą stronę do prawej. Pasek z zamkiem lekko wdajemy na łukach.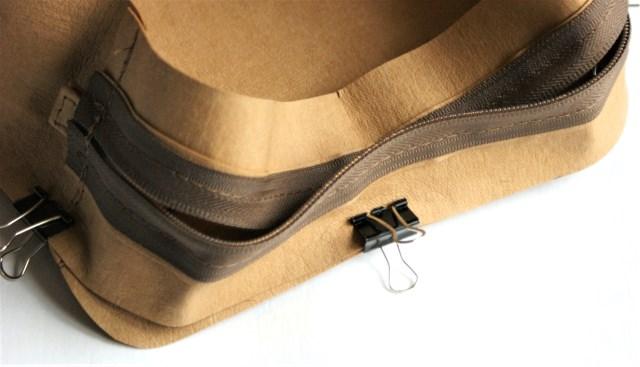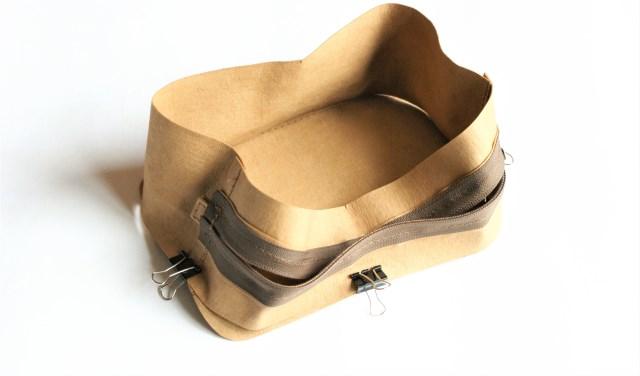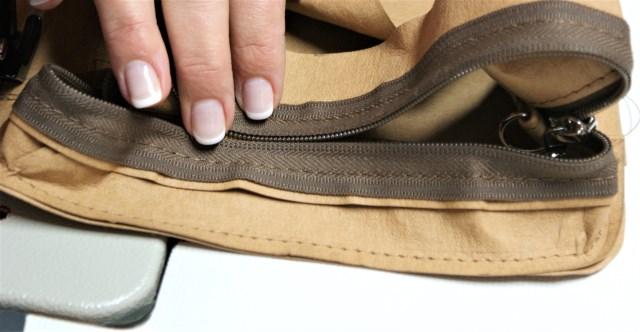 My nie nacinamy washpapy na łukach.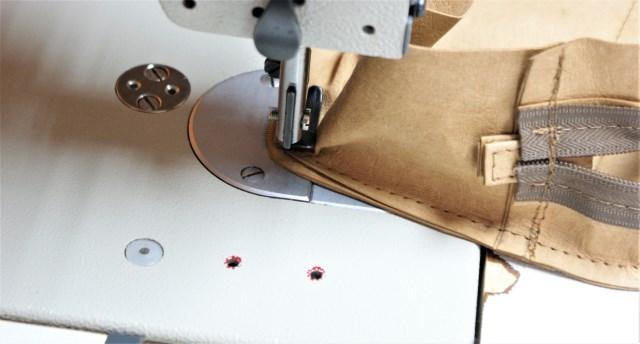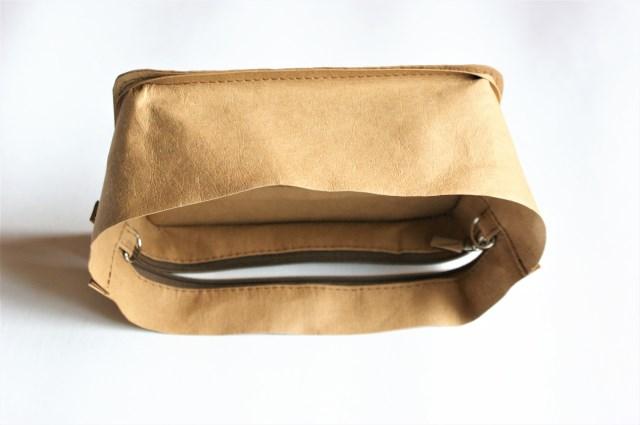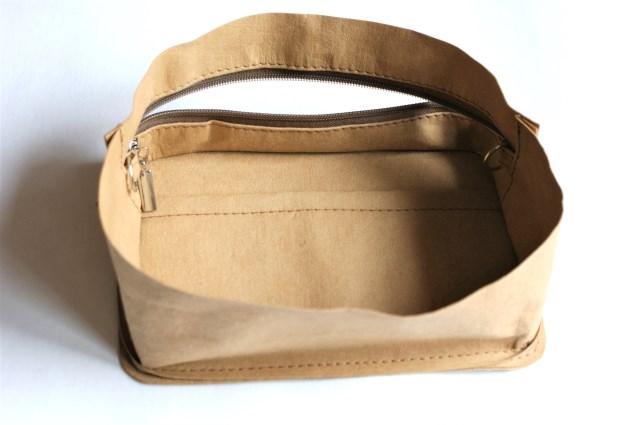 Następnie przypinamy klipsami tył torebki do listwy z zamkiem od drugiej strony i przyszywamy analogicznie do przodu na rozpiętym zamku. Druga strona jest bardziej wymagająca z uwagi na doszyty wcześniej bok.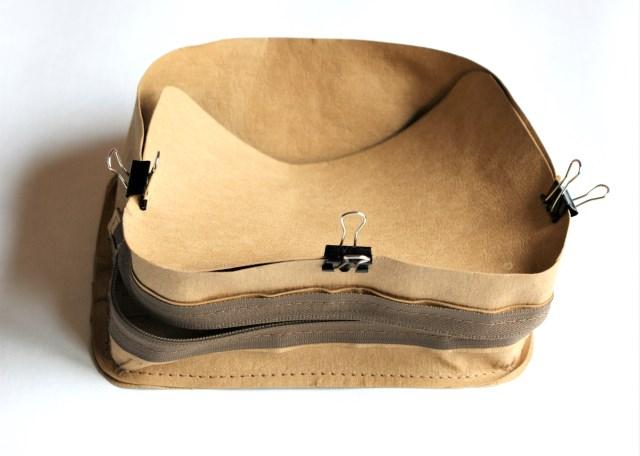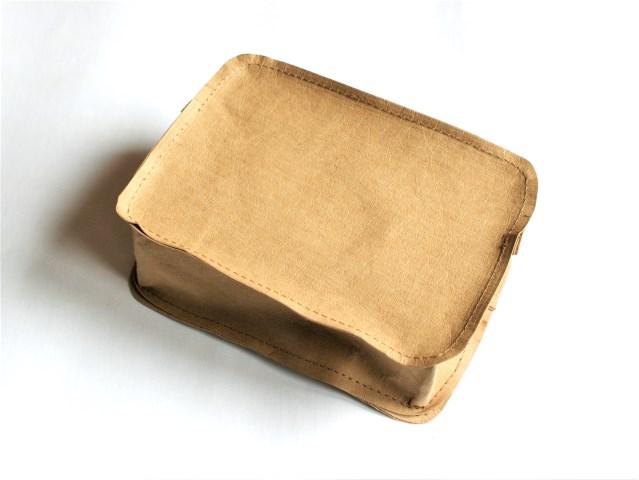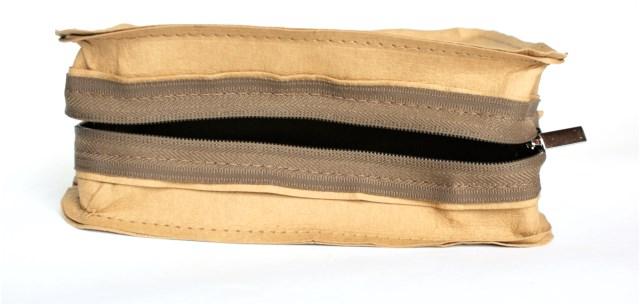 Przed wywinięciem ponownie moczymy torebkę w letniej wodzie i rozpoczynamy powolne i ostrożne wywijanie. Narożniki wymagają szczególnej uwagi przy wypychaniu. Torebkę modelujemy dłońmi.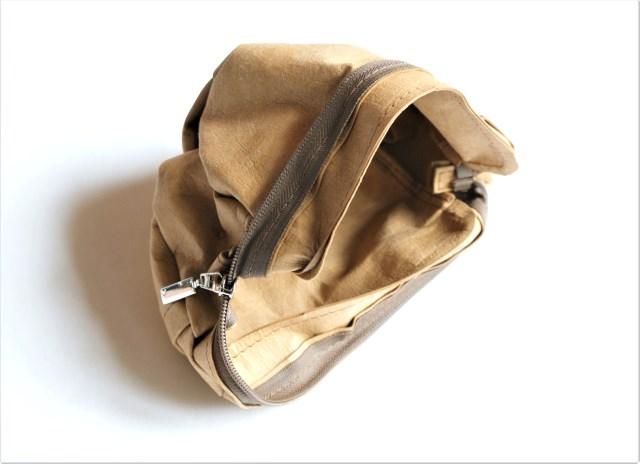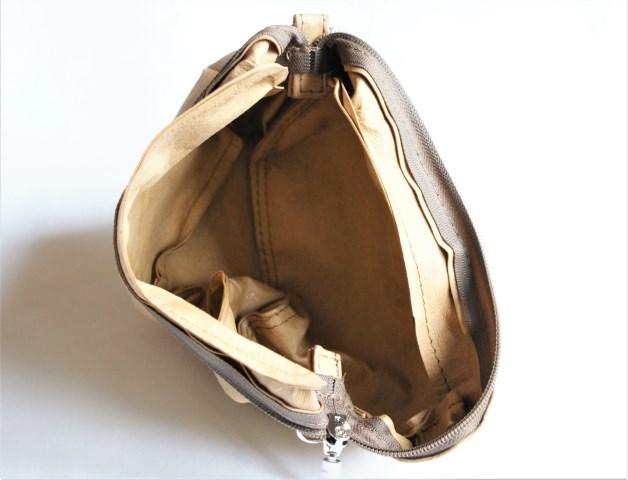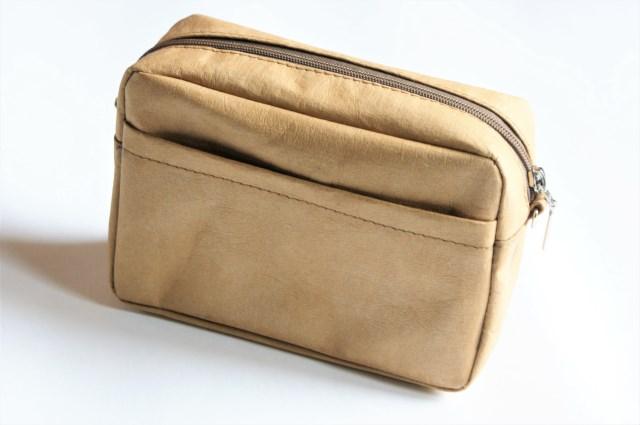 ALTERNATYWA DLA OSÓB, KTÓRE CHCĄ WYKONAĆ PASEK Z WASHPAPA (potrzebny jest kawałek papieru 150x4cm)
Teraz pozostaje odszycie paska.
Pasek składamy na pół wzdłuż dłuższego boku i stebnujemy na 1 mm dookoła.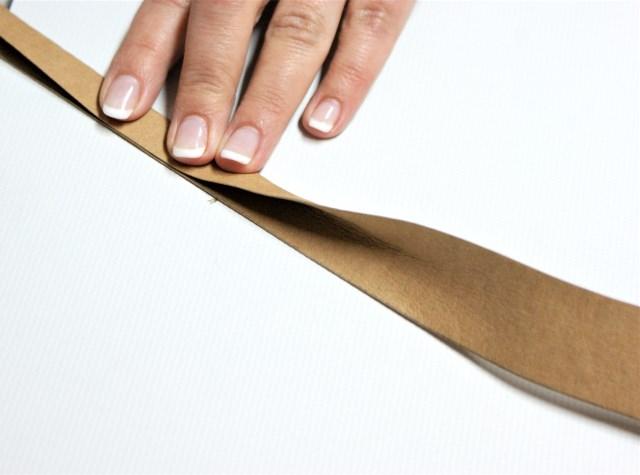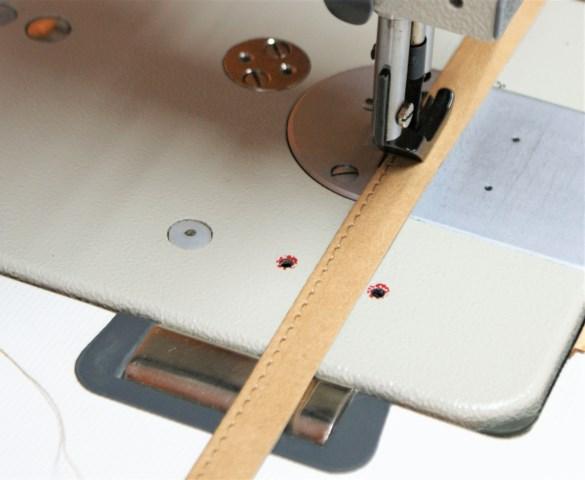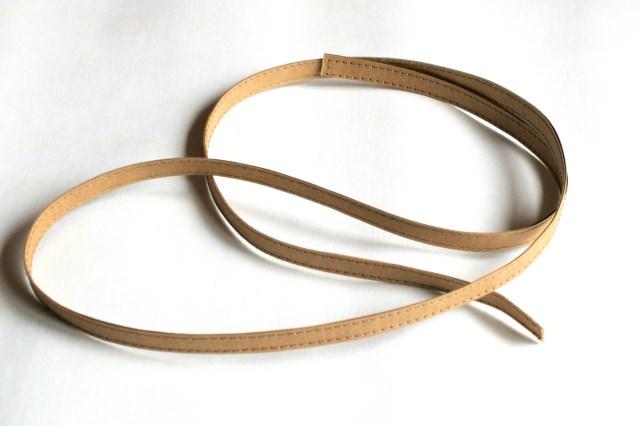 Postępujemy tak samo w przypadku paska z washpapa i z taśmy nośnej, która znajduje się w zestawie.
Z jednej strony paska przyszywamy jeden karabińczyk, następnie z drugiej strony przekładamy regulator i zakładamy drugi karabińczyk.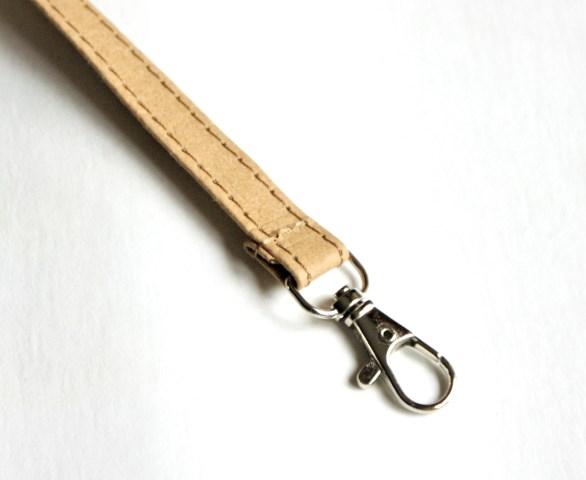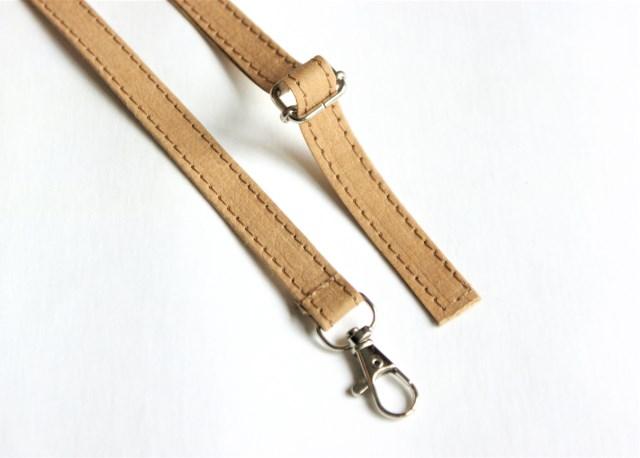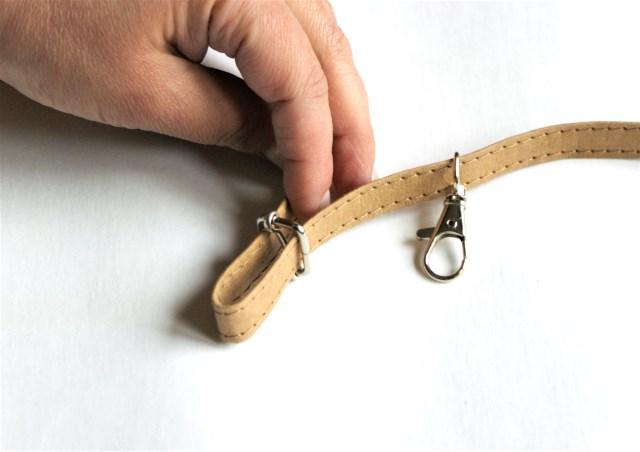 Ponownie przekładamy pasek tym razem od spodu dwa razy przez regulator (jak na zdjęciu). Następnie podwijamy pasek i mocujemy go. W tym miejscu maszyna przeszywa 6 warstw washpapy.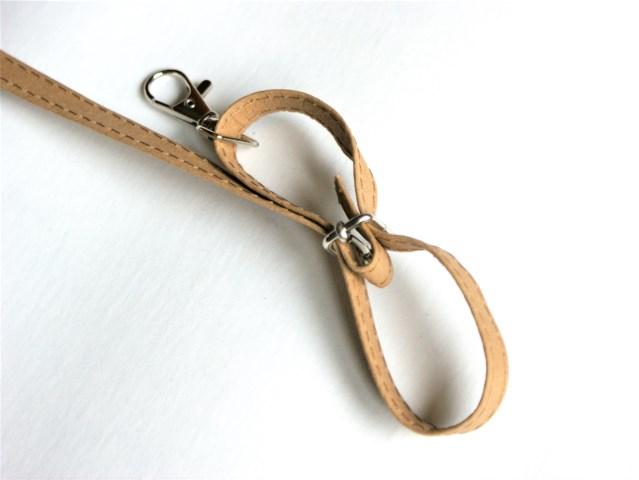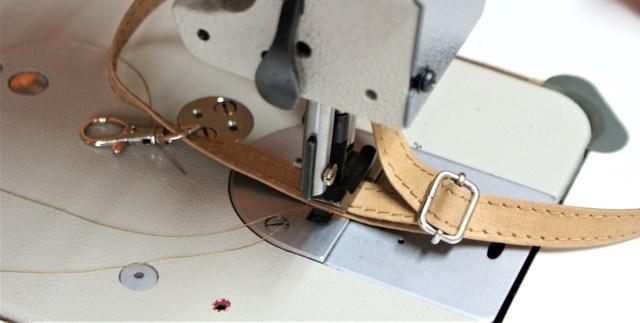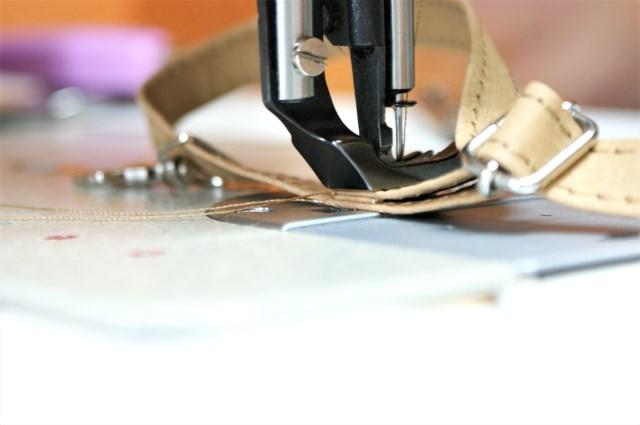 I gotowa torebka z przypiętym paseczkiem (pamiętajcie w zestawie znajduje się taśma nośna zamiast paska z washpapa).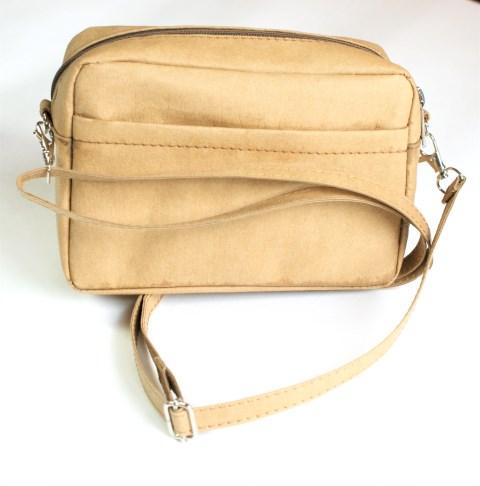 Mamy nadzieję, że jesteście zadowoleni ? odszycie Dubrovnika wymaga precyzji i cierpliwości oraz conajmniej podstawowych umiejętności szycia.
Cieszcie się Waszym Dubrovnikiem i pokazujcie zdjęcia!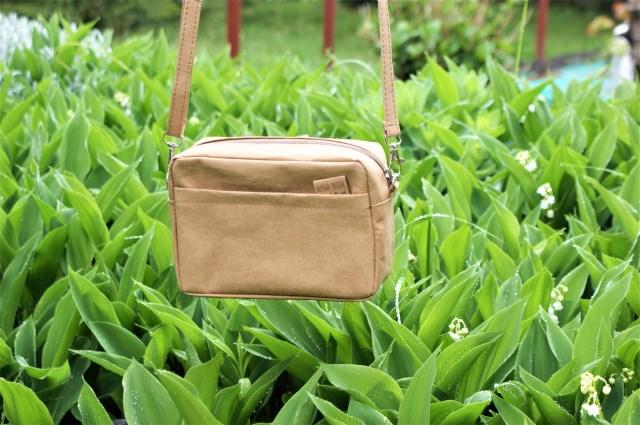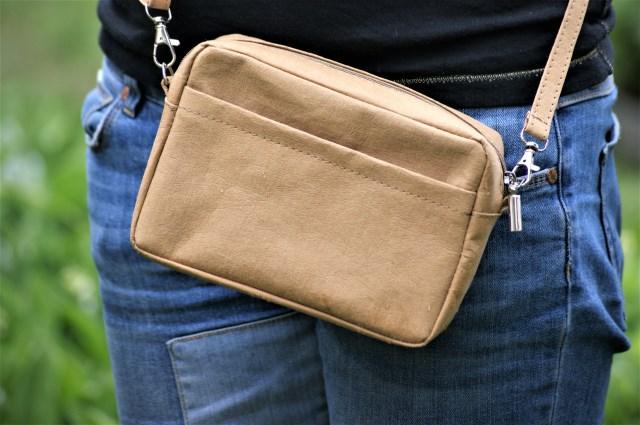 Post Comments (5)
Kamila Szubska

30/05/2022

czy można kupić sam wykrój?

catherine Fauvet

09/10/2021

bonjour
vendez vous le patron
svp merci

Romy Hanschur

02/01/2021

Sehr schwer zu nähen. Zum Glück gab es die Fotos auf der Website. Aber ich habe es geschafft ????

Joanna Cichowska

10/08/2020

Świetna instrukcja, a sam wykrój torebki bardzo udany - na pewno wykonam go w kilku wersjach, bo szybko stał się moim ulubionym modelem :)

Dorota Maro

31/07/2020

Nie polecam wydawania pieniedzy ma gotowy zestaw dubrovnik torebka "z papieru", bardzo ciezko sie ja szyje. Ladnie to wyglada na zdjeciach i krok po kroku pokazany ale kto pierwszy raz chce uszyc torebke niech tego nie kupuje bo tkanina nie wybacza bledow. Robia sie dziury i nie mozna juz nic poprawic

Dresówka.pl - obsługa sklepu

do:

Dorota Maro 03/08/2020

Pani Doroto! Materiał, który został użyty w tej torebce to wodoodporny papier imitujący skórę. Nazywany jest też wegańską skórą. Jest on niezwykle efektowny, niestety nie jest najprostszy w szyciu. Projekt został oznaczony jako średniozaawansowany głównie ze względu na materiał, z którego został wykonany. Bardzo nam przykro, że udało się Pani go skończyć i mamy nadzieję, że papier uda się wykorzystać przy innych projektach (np. jako podkładki pod oczka kaletnicze, wstawki, a może jakiś mniejszy projekt taki jak wizytownik, czy portfelik?)
To add a comment, you must be a registered customer.
click here to log in