12/05/2019
| in category:
Kopertówka i portfelik
Difficulty level:

very easy
Torebka - kopertówka
Pomysł na tą torebkę zrodził się z potrzeby... jak zapewne u większości szyjących (potrzeba posiadania jest najważniejsza)
Ostatni czas był bogaty w spotkania towarzyskie – mniej lub bardziej oficjalne.... Postanowiłam zatem, że będą towarzyszyły mi "moje" torebki .
Poniżej pomysł na jedną z nich – efektowną, a zarazem łatwą do wykonania.
Torebkę będziemy mogli wykorzystać na dwa sposoby - bardziej wizytowo oraz w wersji codziennej.
Do uszycia potrzebne nam będą:
• gotowy zestaw DIY (zawierający wykrój i materiały) dostępny w sklepie Dresówka.pl
• maszyna do szycia
• igły do skóry
• nici uniwersalne
• nożyczki
- klamerki
- igła do szycia ręcznego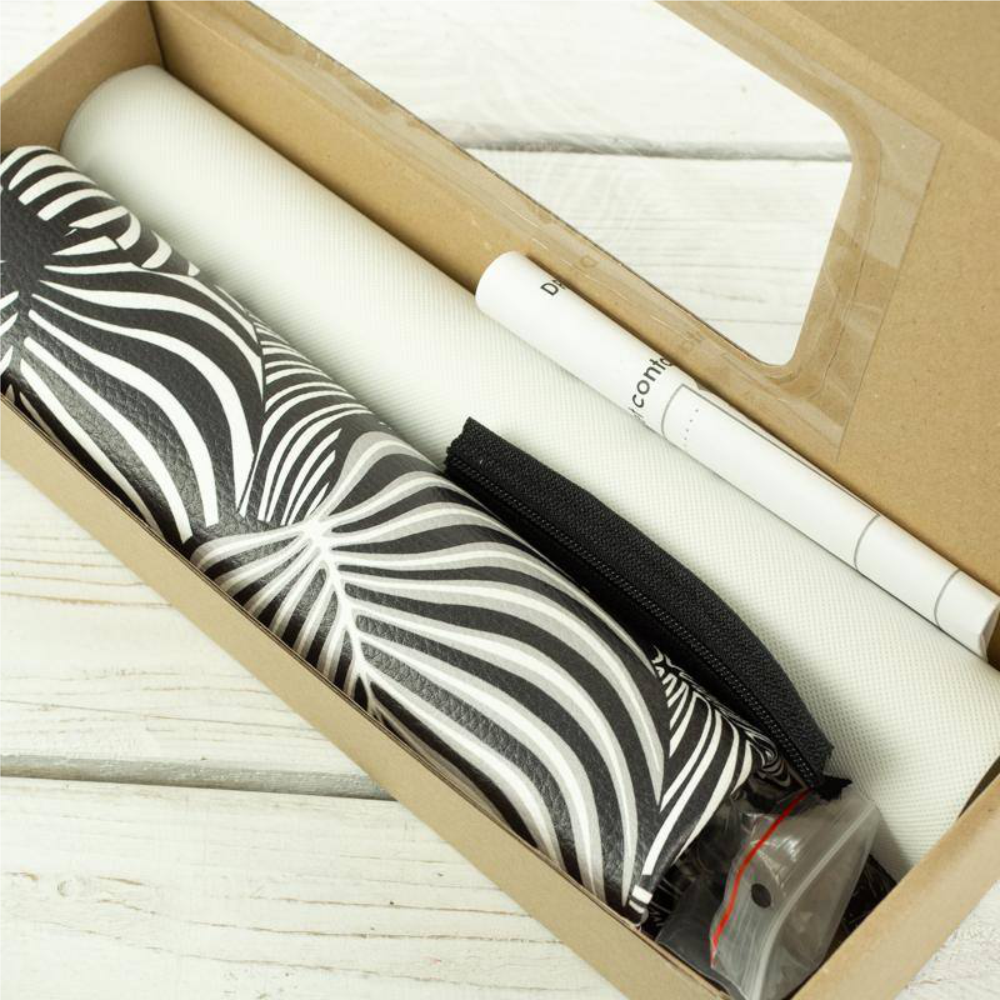 Do dzieła zatem...
Odmierzamy prostokąt z eko skóry oraz usztywnienia o wymiarach 29cm x 50 cm. Wycinamy i spinamy je razem.
Na jednym z krótszych brzegów (29cm) należy odmierzyć i zaznaczyć pasek o dł. 5cm.
Na środku tego paska wyznaczamy miejsce na zapięcie magnetyczne. W rozcięciu otworów na zapięcie idealnie pomoże prujka.

Odmierzamy kolejne 5 cm, zaginamy spinając klamerkami i przeszywamy.
Drugi krótszy bok stębnujemy ( by połączyć warstwę ekoskory i usztywnienia).
Odmierzamy 16 cm i zaginamy druga stronę torebki . Wyznaczamy następnie miejsce na pozostałą część zapięcia magnetycznego ( 9 cm od zagięcia oraz pośrodku torebki - 14,5 cm od brzegu ).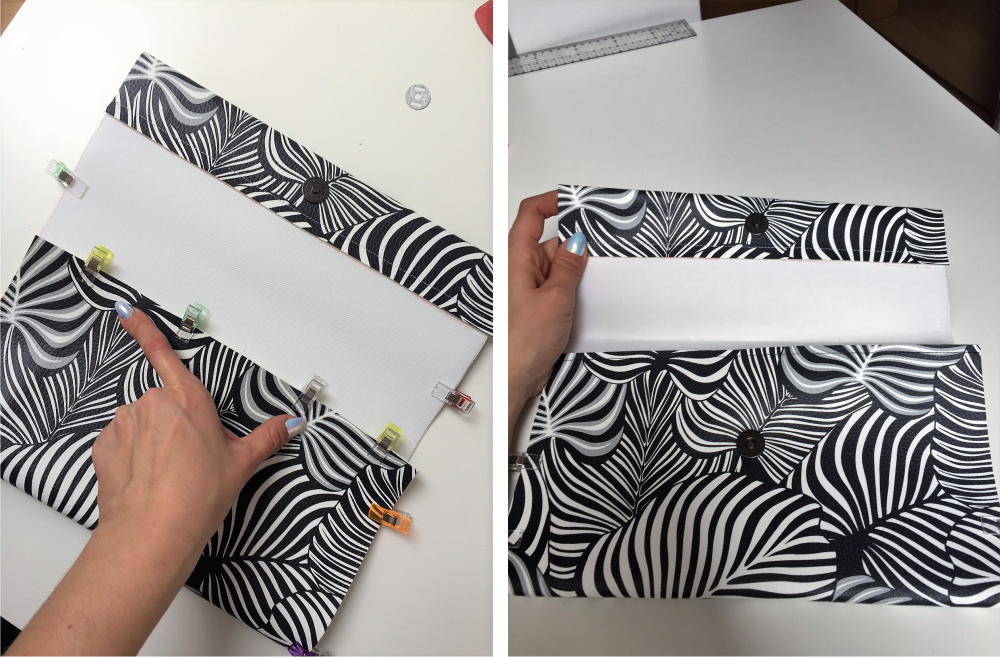 Wycinamy 3 paseczki z eko skóry o wymiarach 2cm x 6cm, lub dwa paseczki ( jeden o wymiarach 2cm x 6cm , drugi- 2cm x 10 cm). Zakładamy półkółka i przeszywamy.
Następnie spinamy całość (boki) torebki wpinając paski z półkółkami, jeden od wewnątrz (wersja z 3 paseczkami), Szyjemy.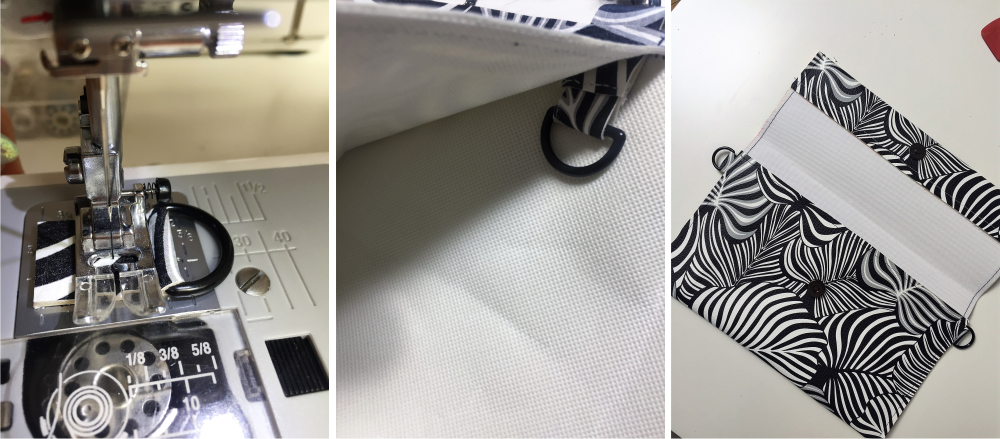 Po zapięciu łańcuszka do torebki (zestaw na kopertówkę nie zawiera łańcuszka, ta opcja jest osobno do kupienia w sklepie), mógłby być koniec, ale w naszym przypadku jeszcze on nie nastąpi ...
Wykonujemy teraz pasek na rękę.
Przygotowujemy dwa paski
40cm x 4,5 cm
4,5 cm x 1 cm ( szerokość pasująca do oczka karabińczyka - w moim przypadku to 1 cm)
Większy pasek, składamy po długości x3 i przeszywamy. Na oczko karabińczyka zakładamy mniejszy pasek, wsadzamy go pomiędzy większy pasek i ponownie przeszywamy. Uchwyt jest gotowy!

Pora na chwost.
Przygotowujemy prostokąt o wymiarach 9cm x 30cm oraz malutki 6cm x 1 cm. Znikającym pisakiem (mydełkiem lub kreda ) zaznaczamy paski o długości 8 cm i szerokości 1cm. Miejsca pasków przecinamy. Na mniejszy pasek nakładamy karabińczyk. Większy rolujemy - na początku umieszczając w środku pasek z karabińczykiem. Miejsce to zszywamy ręcznie.

By nasz zestaw był zestawem zupełnie " zero waste", powstał jeszcze " resztkowy" portfelik. W moim przypadku stałsię ulubionym, takim, które zabieram wszędzie. Jest on bowiem idealny na kartę płatnicza, "drobne" oraz kluczyk do auta.
Wycinamy 2 prostokąty o wymiarach 10 cm x 15 cm, dwa mniejsze o wymiarach 4cm z 3 cm oraz paseczek na karabińczyk o wymiarach 7cm ( lub więcej ) x 1 cm.
Na taśmę suwakowa nakładamy suwak i do jej końców przyszywamy mniejsze prostokąty. Następnie doszywamy taśmę suwakowa do dłuższych boków portfelika (przeszywamy). Kolejny etap to złożenie boków prawa strona do siebie i zszycie całości, z uwzględnieniem paseczka z karabińczykiem.
Wywijamy całość na prawa stronę i możemy dopiąć do wewnętrznego półkółka torebki.
Mamy pewność ze nic nam nie wyleci ....

Torebka gotowa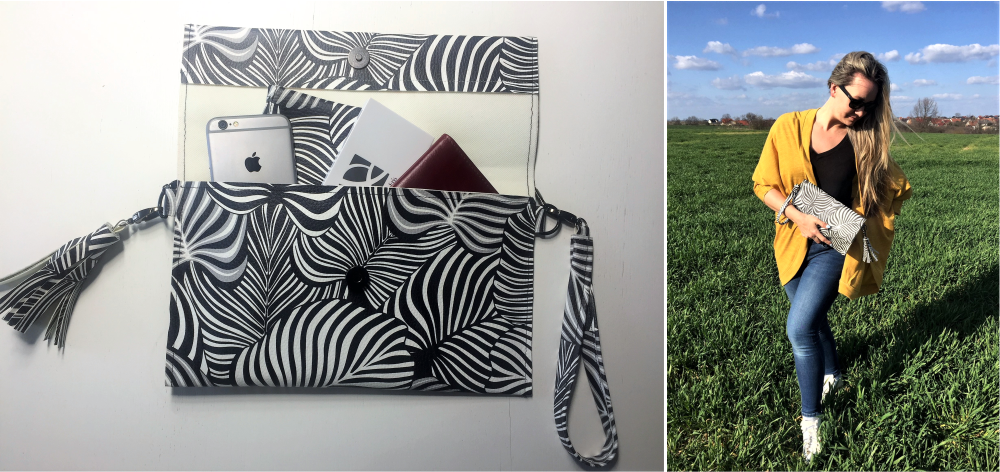 Post Comments (1)
klaudia ziemiec

17/04/2021

Bardzo nieudany projekt. Boki kopertówki nie mają wykończenia, wygląda to bardzo źle, w środku wigofil zamiast podszewki. Torebka wyglada jakby ktoś zaczął szyć i nie jej nie wykończył. Zrobiłam ją z zestawu.
To add a comment, you must be a registered customer.
click here to log in