Komin-golf i czapka
Difficulty level:

very easy
Dziś zmierzymy się z szyciem panelu kocykowego. Pewnie wiele osób zastanawiało się nieraz, czy da się go użyc nie tylko na kocyk.
Postanowiliśmy pokazać, że z panelu można uszyć coś praktycznego i na czasie i tak powstała czapka i komin-golf.
Do uszycia takiego kompletu potrzebujemy:
* panel kocykow S , starczy nawet na kilka dziecięcych kompletów

* bawełniany polar / welur
* pompon
* kawałki washable kraft paper i ozdobny dziurkacz
W artykule użyliśmy:
* overlocka JANOME 744D
* akcesoriów krawieckich PRYM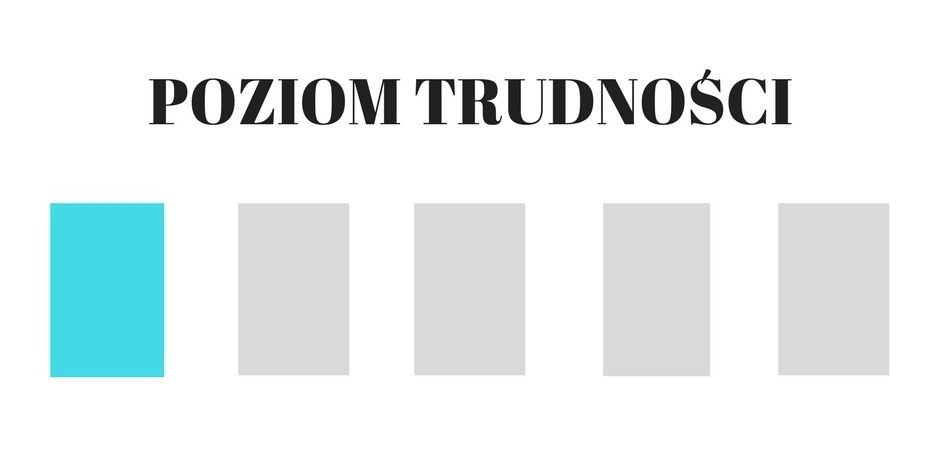 Zaczynamy oczywiście od przygotowania sobie wykrojów na czapke i komin-golf. Jest to na tyle proste, że nie trzeba korzystać z gotowców. Golf przygotowujemy w oparciu o bluzę / t-shirt dziecka, wtedy jego wilekość na pewno będzie odpowiednia, czapkę natomiast możemy narysować w oparciu o obwód głowy: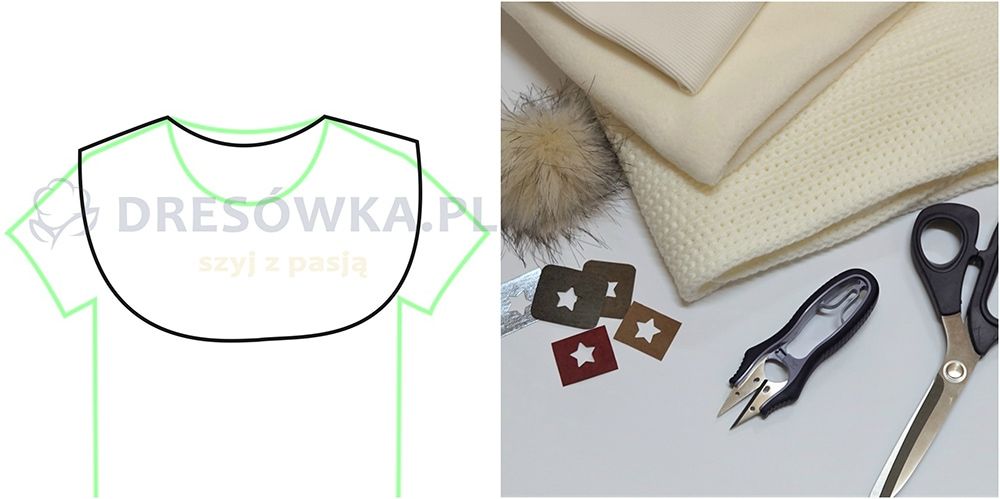 Następnie kroimy:
- 2x czapkę z panelu kocykowego
- 2x czapkę z polaru bawełnianego
- 2x komin-golf z panelu kocykowego
- 2x komi-golf z polaru bawełnianego
Ponieważ najszybciej i najprościej jest uszyć taką mega łatwą czapkę bez udziwnień zaczęłam wlaśnie od niej.
Zszyłam ze sobą częsci wykrojone z panelu oraz części wykrojone z polaru ( tu zostawiłam w jednym miejscu otwór, czyli niezszyty kawałek, który pomoże potem wywrócić czapkę na prawą stronę).
Wsuwamy powstałe czapki jedna w drugą i zszywamy na overlocku (jeśli szyjemy na maszynie wieloczynnościowej, pamiętajmy, że łączenie czapki w tym miejscu wymaga użycia jednego z elastycznych ściegów, może to być zwykły krótki i wąski zygzak, a może np, ścieg owerlokowy):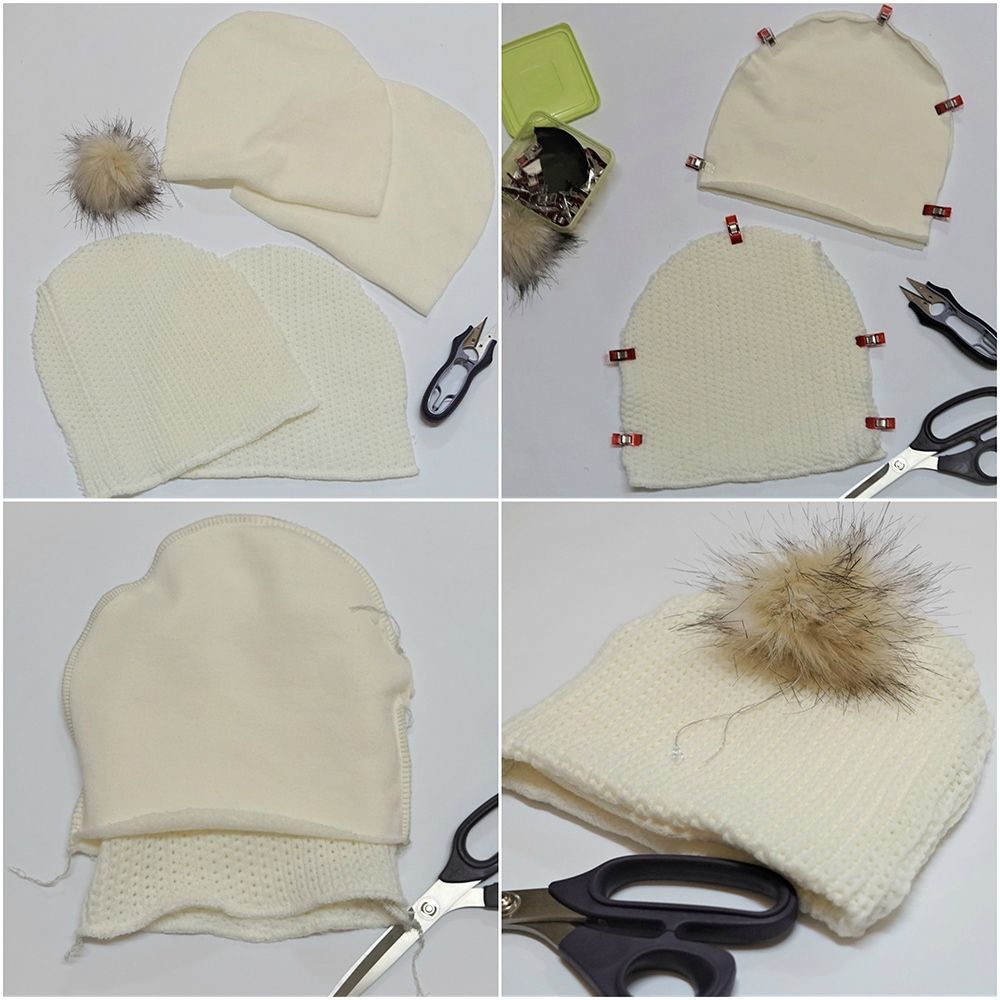 Czapka jest w zasadzie gotowa, wystarczy przyszyć ozdobny pompon , zaszyć otwór w polarze i naszyć ozdobny kwadracik z washable kraft paperu :)
Teraz zajmiemy sie golfem-kominem.
Pierwszy krok to zszycie części z panelu oraz części z polaru "na raminonach" .: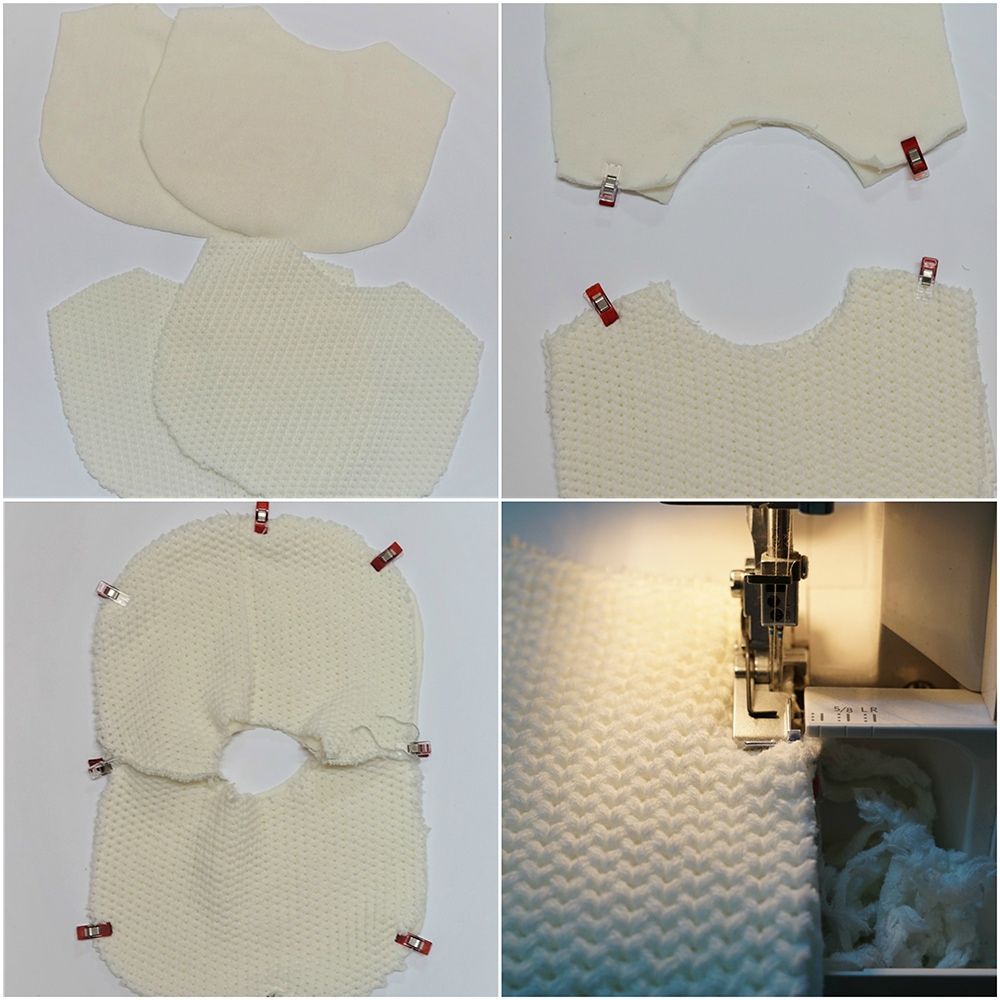 Teraz zszywamy część z panelu i częśc z polaru w całość szwem naokoło. Następnie mierzymy obwód otworu na głowę i wycinamy z częsci panelu kocykowego prostokąt mniejszy od zmierzonego obwodu nawet o kilka cm (panel jest bardzo dobrze rozciągliwy). Ponieważ brzeg fabryczny panelu jest bardzo ładnie i estetycznie zakończony, możemy to wykorzystac przy wykrojeniu prostokąta, jego górny dłuższy bok będzie własnie brzegiem fabrycznym panelu. Wysokość prostokąta zależy od nas, ten użyty w tutorialu ma wysokośc około 15 cm.
Golf , który wszyjemy do tego nietypowego komina, będzie składac się tylko z jednej warstwy czyli własnie z prostokąta wyciętego z panelu, nie podszywamy go polarem.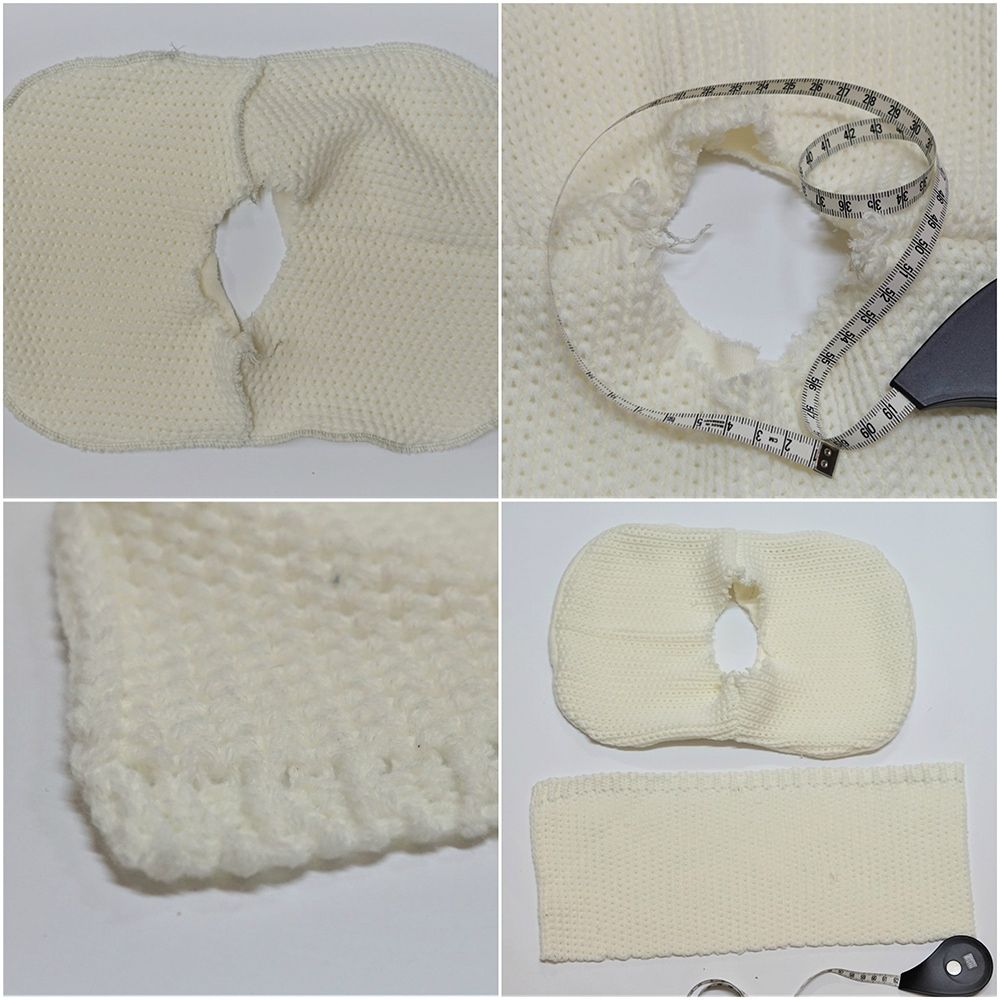 Wycięty prostokąt zszywamy po krótszym boku , przypinamy do podkroju dekoltu i wszywamy: Na koniec również tu przyszywamy ozdobny kwadracik z washable kraft paperu.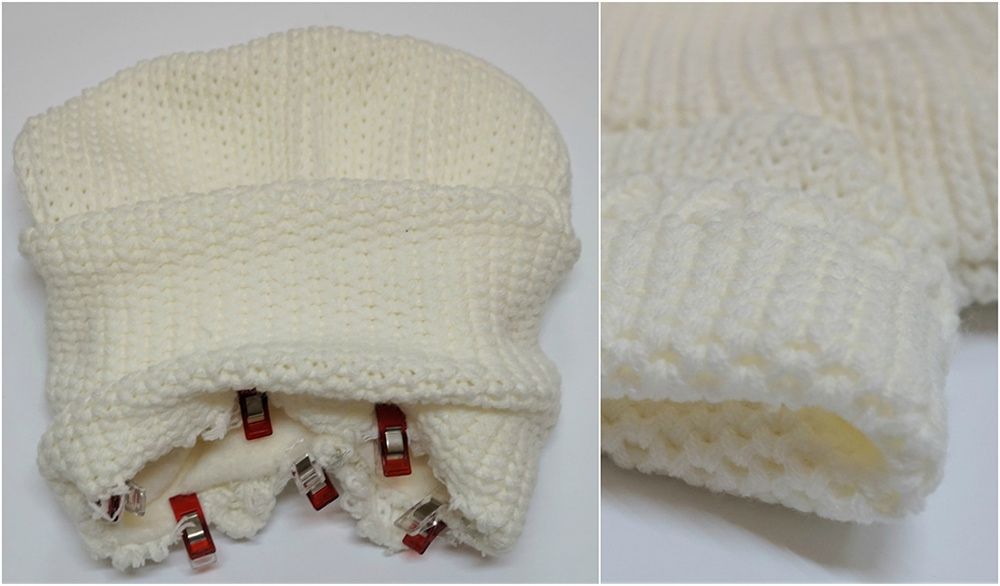 I takim oto sposobem powstał prosty, szybki i praktyczny komin z golfem .
A całość prezentuje się tak na modelu :)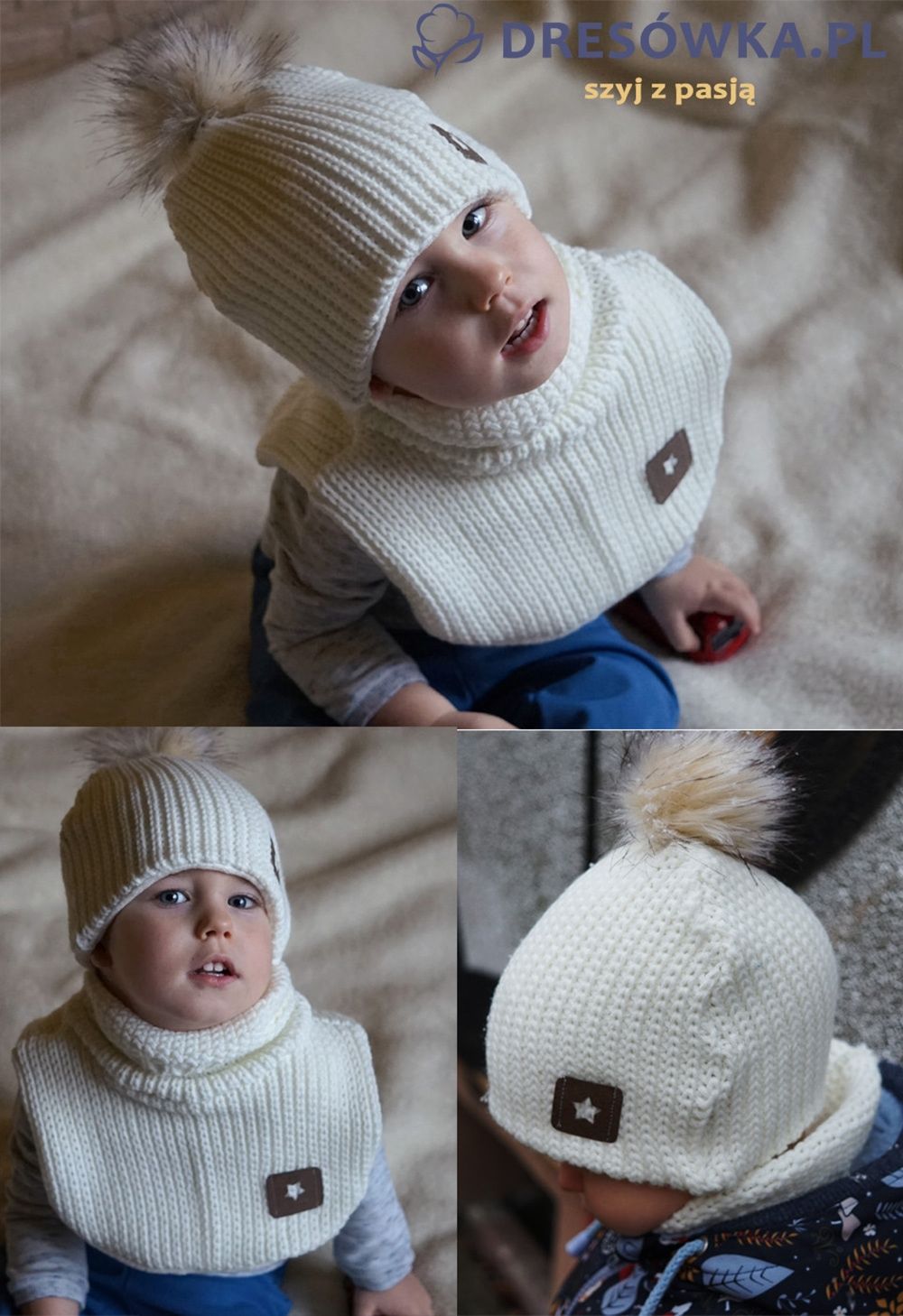 Post Comments (0)
To add a comment, you must be a registered customer.
click here to log in