24/08/2021
| in category:
Jak uszyć parkę z zestawu DIY
Difficulty level:

difficult
Jak uszyć parkę z zestawu DIY
Mamy to! Zestawy na parki dziecięce oraz kobiece z funkcyjnego softshellu, czekają na Was w sklepie! Z poniższym tutorialem zobaczysz, że uszycie takiej kurtki jest w zasięgu Twoich możliwości! Do dzieła zatem!
Potrzebujesz:
- zestawu DIY z naszego sklepu. Znajdziesz w nim panel z softshellu z nadrukowanymi elementami parki, papierowy wykrój oraz kawałek gładkiego materiału na podszewkę kaptura i worki kieszeniowe, sznurek, dwa oczka kaletnicze samozaciskowe oraz zamek i zawieszkę do niego.
- Maszynę wielofunkcyjną oraz overlocka. Jeżeli nie posiadasz overlocka używaj ściegu overlockowego lub zygzaka ze swojej maszyny.
- Akcesoria krawieckie (mydełko, szpilki, nożyczki, prujka, centymetr, igła do szycia ręcznego), stopkę do wszywania zamków
- Igłę uniwersalną do maszyny (max 90), nici uniwersalnych (możesz pokusić się też o użycie nici monofilowych i taśm uszczelniających szwy)
- jeżeli zdecydujesz się dodać tunel w kapturze i/lub w w dole parki potrzebujesz też 4 oczek samozaciskowych oraz sznurka
Przed przystąpieniem do pracy pamiętaj – panelu przed szyciem NIE WOLNO PRAĆ i jest to bardzo ważne. Wypranie takiego zestawu przed szyciem może spowodować, że po wycięciu poszczególne elementy nie będą do siebie pasować, będą krzywe. Dlatego pierzemy dopiero po uszyciu zestawu. UWAGA! Softshell pierze się w płynach dedykowanych materiałom z membraną.
BARDZO WAŻNE ŻEBY W CAŁY PROJEKCIE BYŁY IDENTYCZNE ZAPASY NA SZEW. ZWRÓĆ NA TO SZCZEGÓŁNĄ UWAGĘ. MY SZYJEMY Z ZAPASEM 0.7 CM.
ŻÓŁTE PUNKTY NA WYKROJU SĄ TO PUNKTY STYCZNE KTÓRE POWINNY ŁĄCZYĆ SIĘ W TRAKCIE SZYCIA.
Zacznij do wycięcia elementów parki z softshellu:
- 2x przód
- 2x tył
- kaptur – 2x bok, 1x część środkowa, 1x spodnia cześć kaptura (odszycie podszewki kaptura)
- 2x rękaw
- 2x makiet do rękawa
- 2x obłożenie przodu
- 2x element odszycia przodu
- 2x element odszycia tyłu
- 1x element odszycia karku
- 2x patka kieszeni (tylna część worka kieszeniowego)
- 1x tunel na sznurek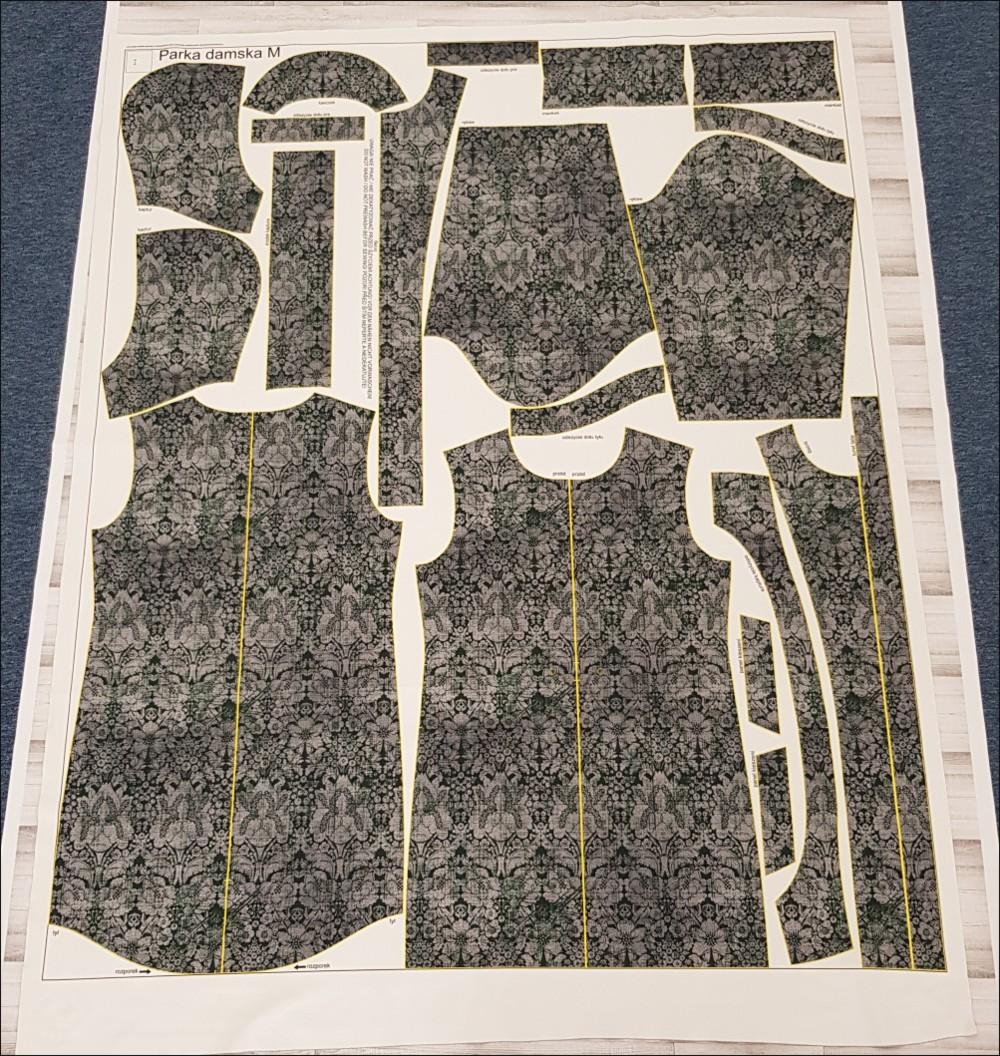 Wytnij papierowy wykrój i przenieś go na materiał:
- 2x przód worka kieszeniowego
- 2x tył worka kieszeniowego (ta mniejsza część)
- 2x boki kaptura
- 1x środkowa część kaptura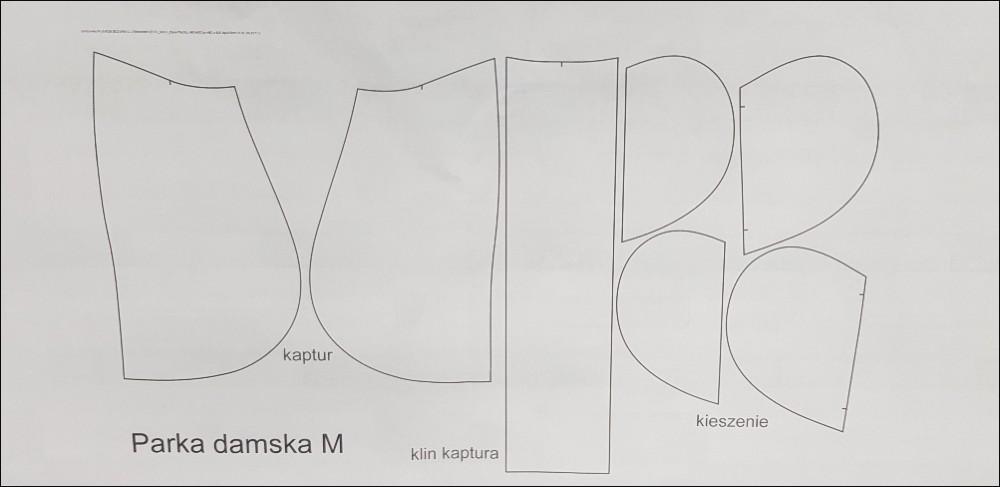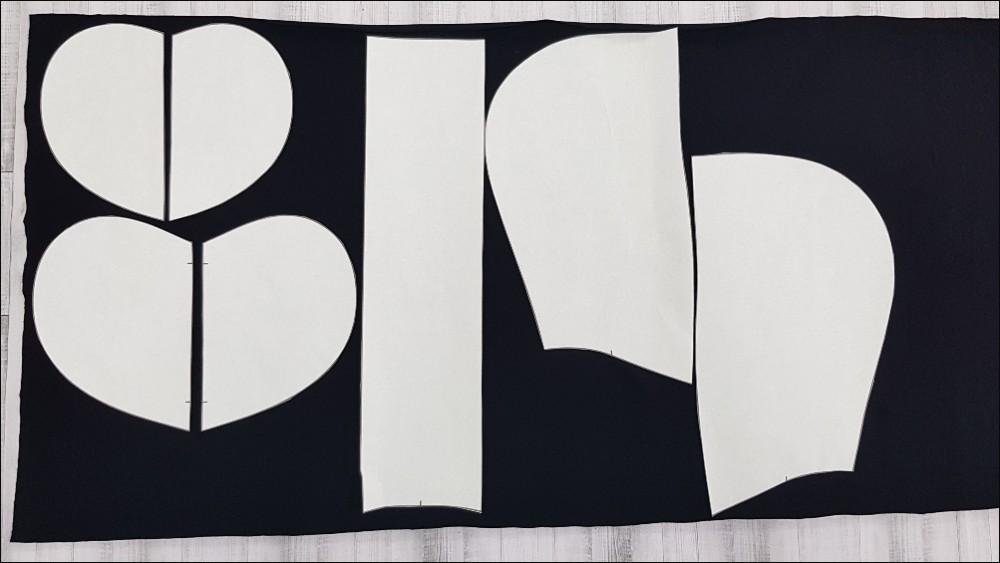 PAMIETAJ O PRZENIESIENIU OZNACZEŃ Z WYKROJU NA MATERIAŁ.
1. KIESZENIE
Każdy worek kieszeniowy składa się z:
- przodu (w całości z dzianiny)
- tyłu (składającego się z dzianiny i patki z softshellu)
Połącz ze sobą elementy tyłu kieszeni. Stębnuj po wierzchu, tak żeby zapas na szwy unieruchomić w stronę części z softshellu.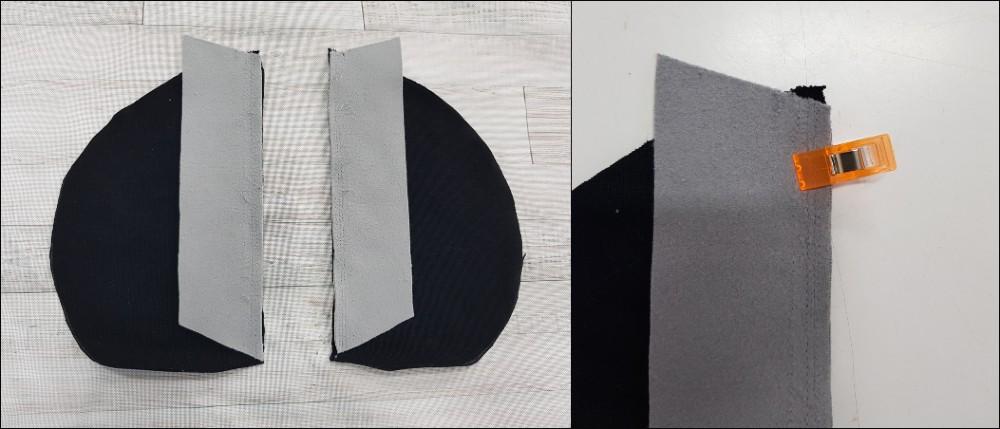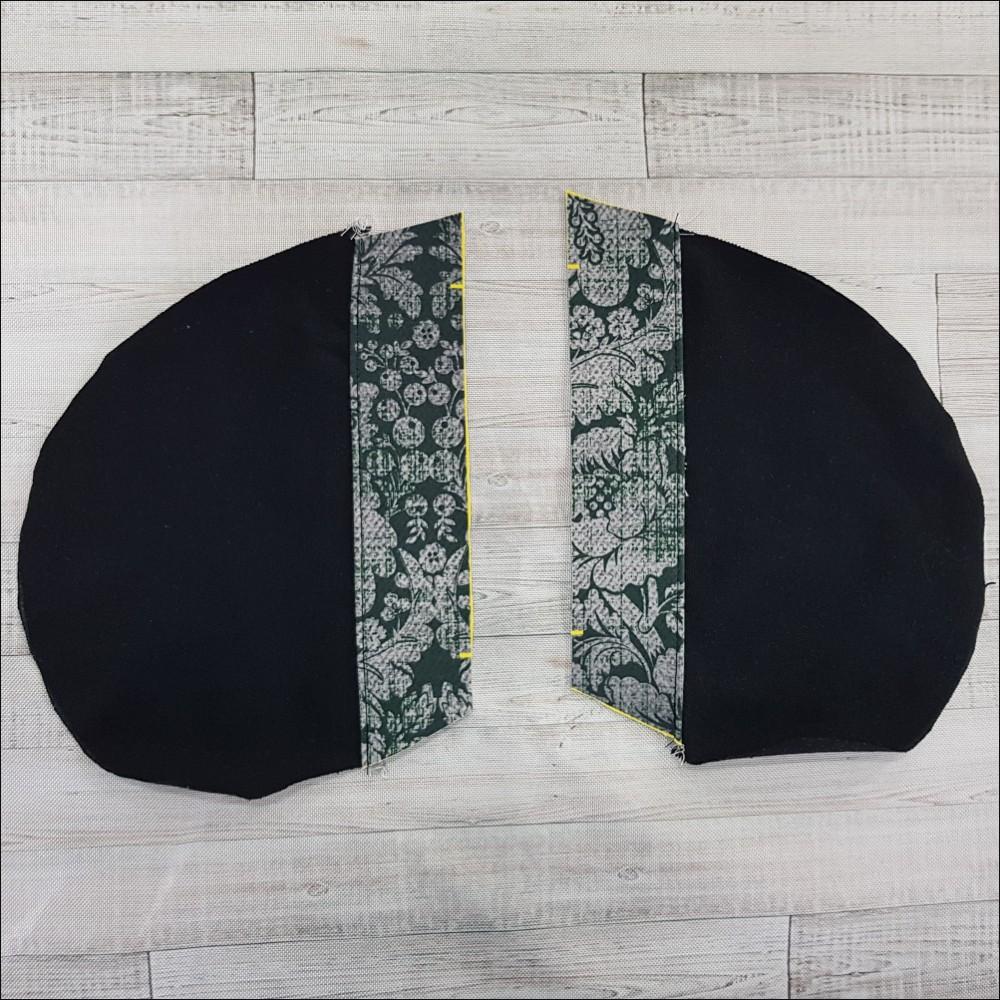 2. KAPTUR
Trzy części podszewki kaptura (z dzianiny) połącz szpilkami i zszyj.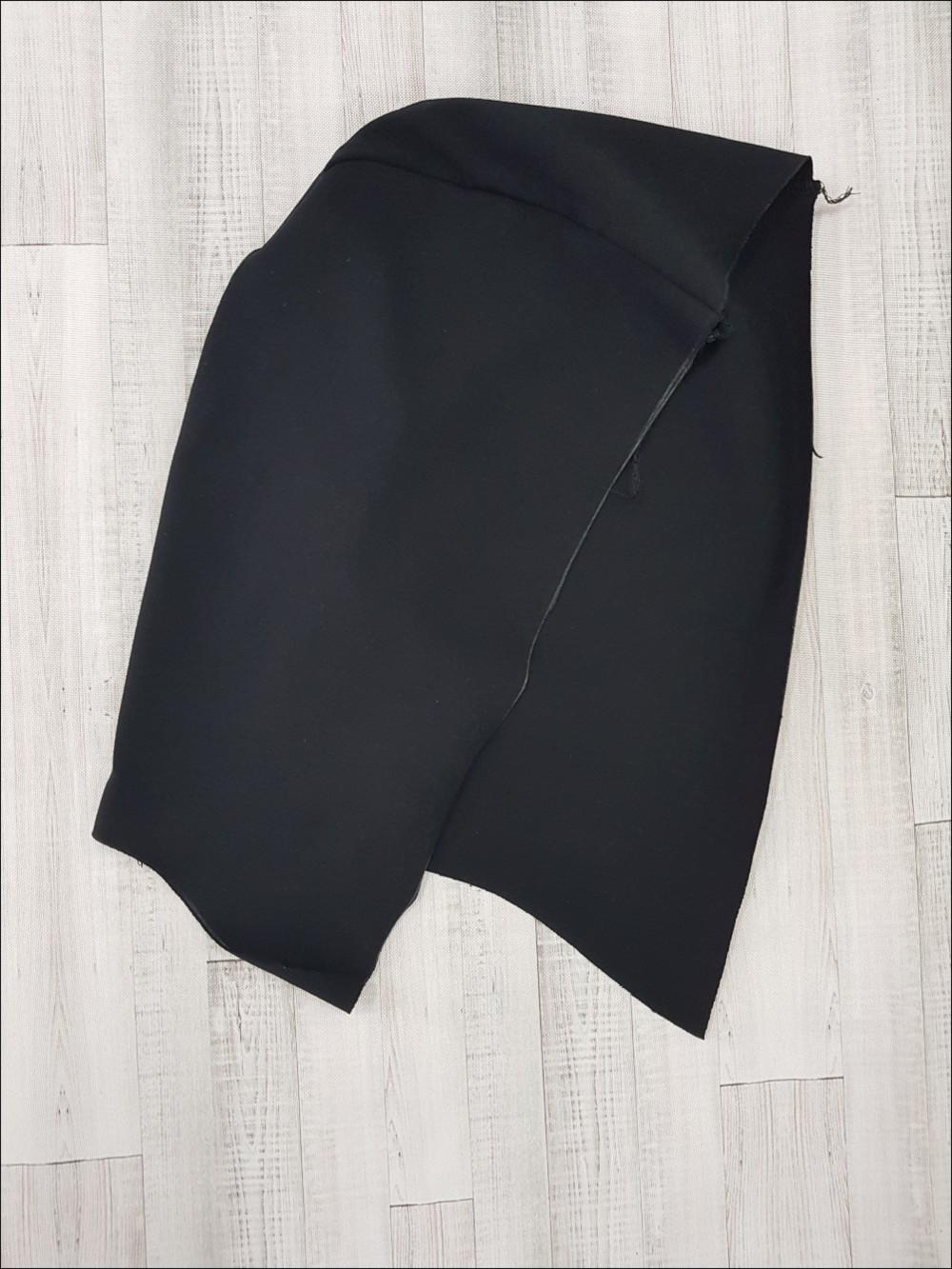 Przygotuj element odszycia kaptur, zepnij szpilkami z podszewką kaptura i zszyj elementy ze sobą od strony softshellu, aby wdać podszewkę.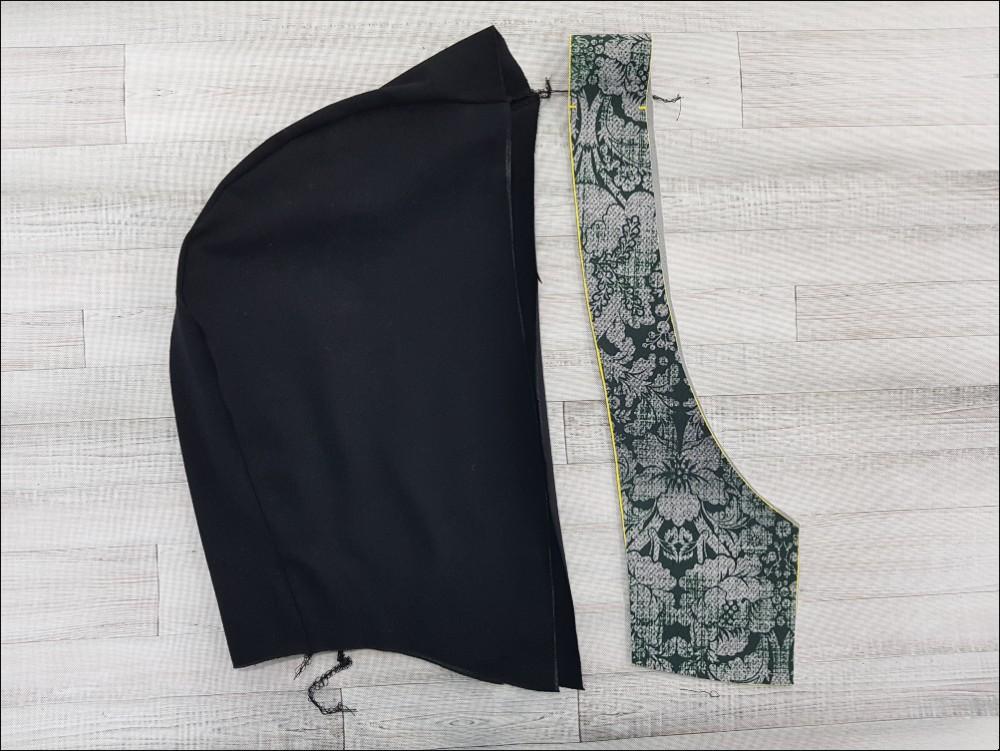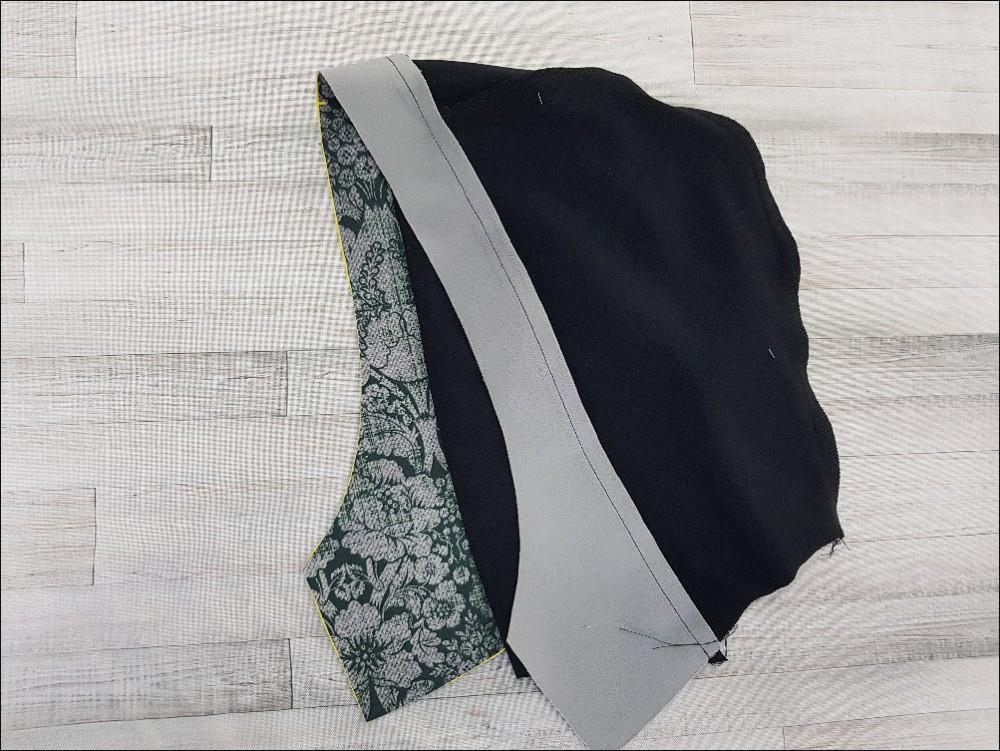 Stębnuj po wierzchu zapas na szwy w stronę odszycia kaptura.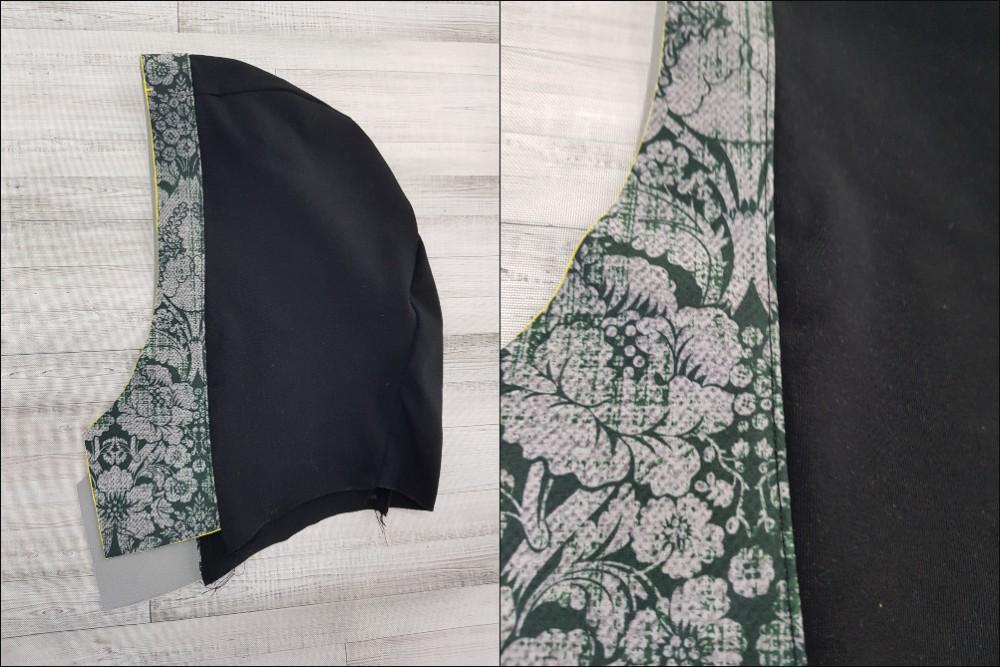 Przygotuj elementy wierzchniej części kaptura.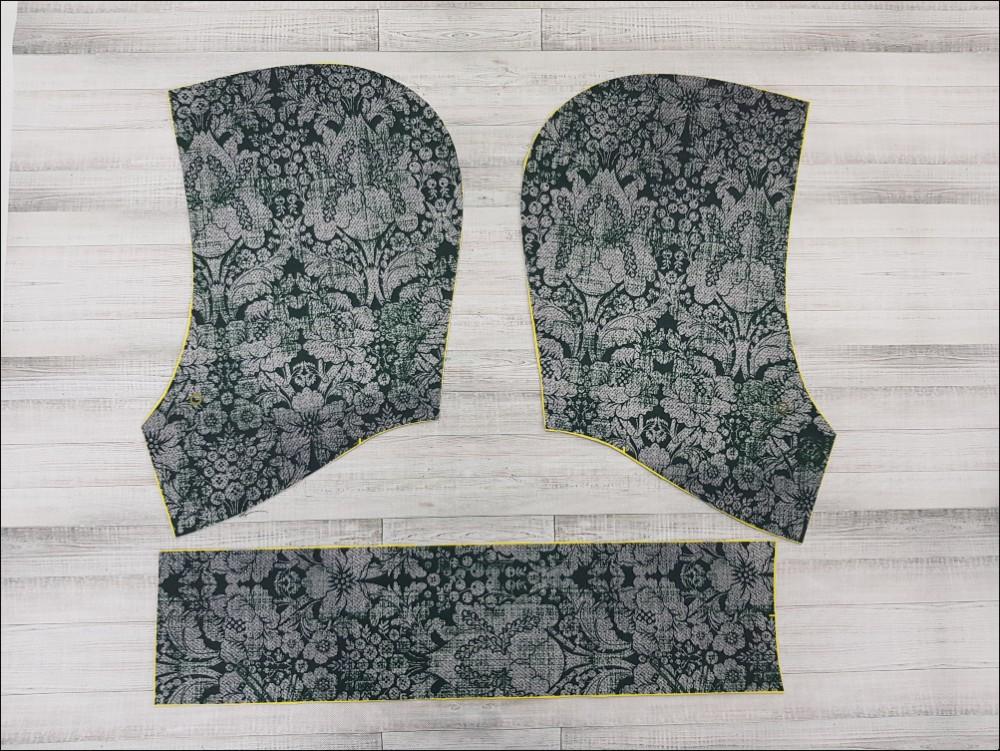 Zepnij szpilkami, zeszyj je ze sobą.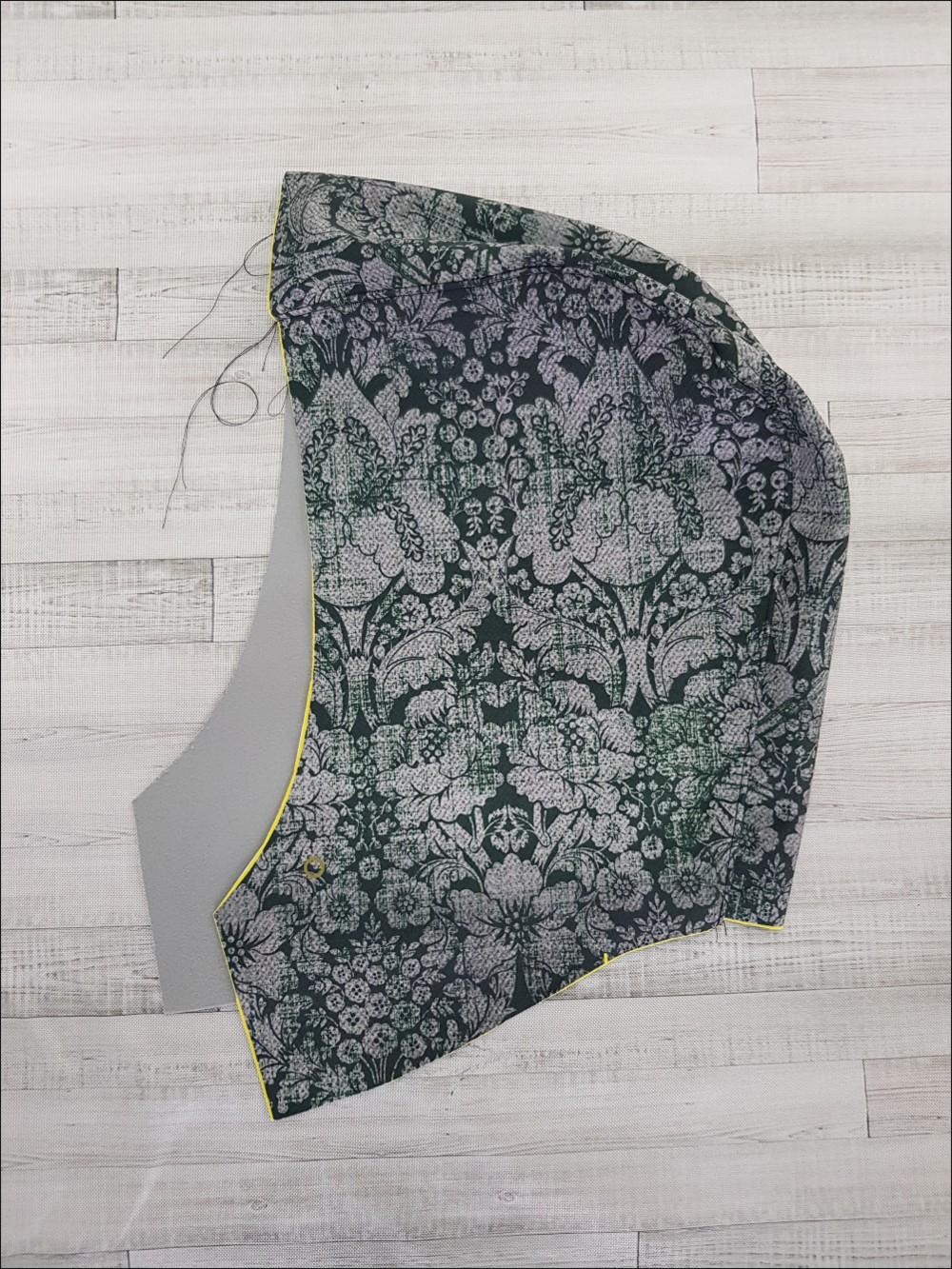 Zapasy na szwy stębnuj po wierzchu kaptura.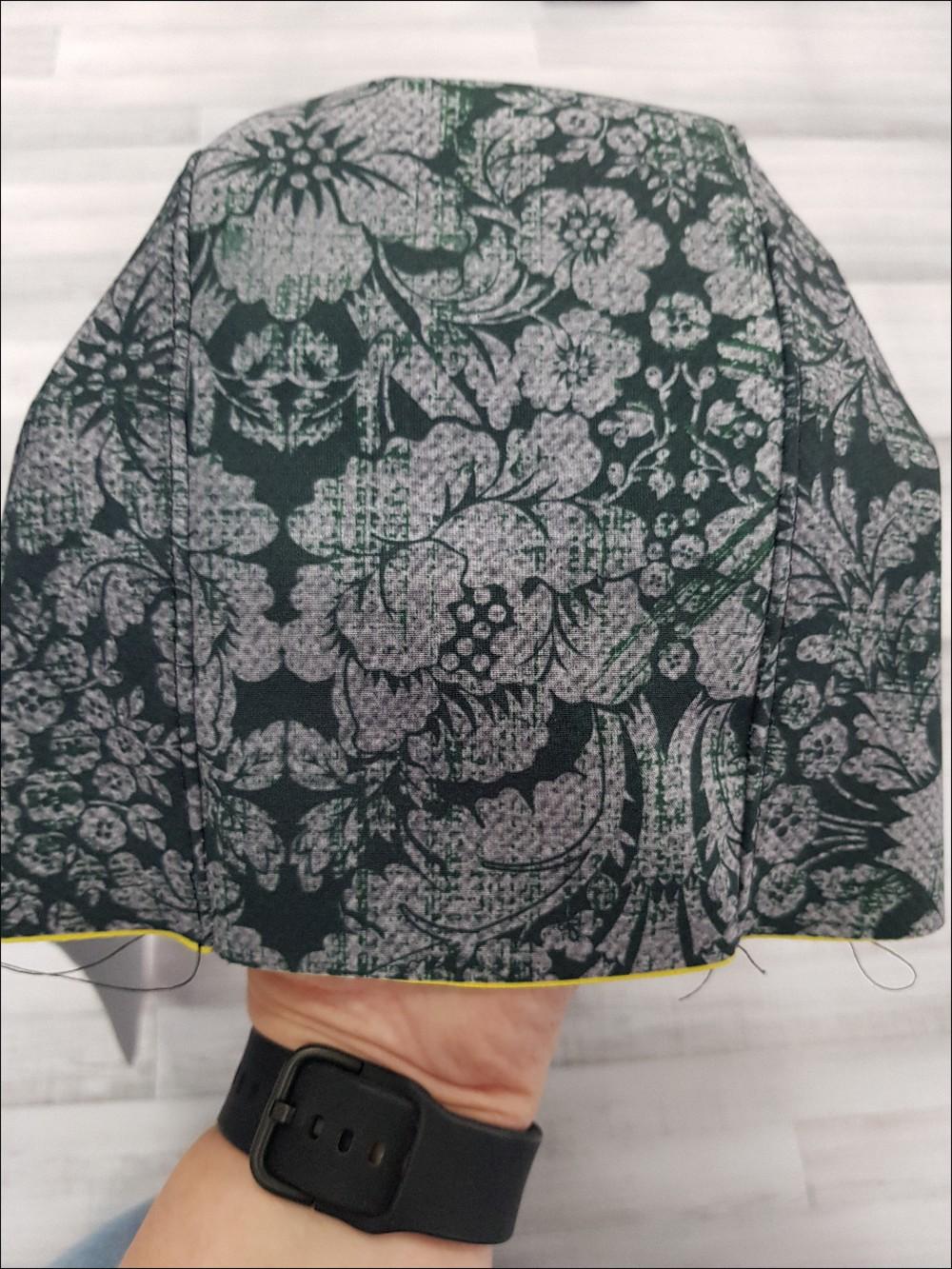 ELEMENTY KAPTURA ODŁÓŻ. NA TYM ETAPIE NIE ŁĄCZ ICH ZE SOBĄ.
3. TYŁ PARKI
Obrzuć na overlocku środkowe brzegi parki (każdy osobno). Złóż razem elementy tyłu parki i zszyj ściegiem prostym do miejsca dolnego rozcięcia parki (oznaczenie).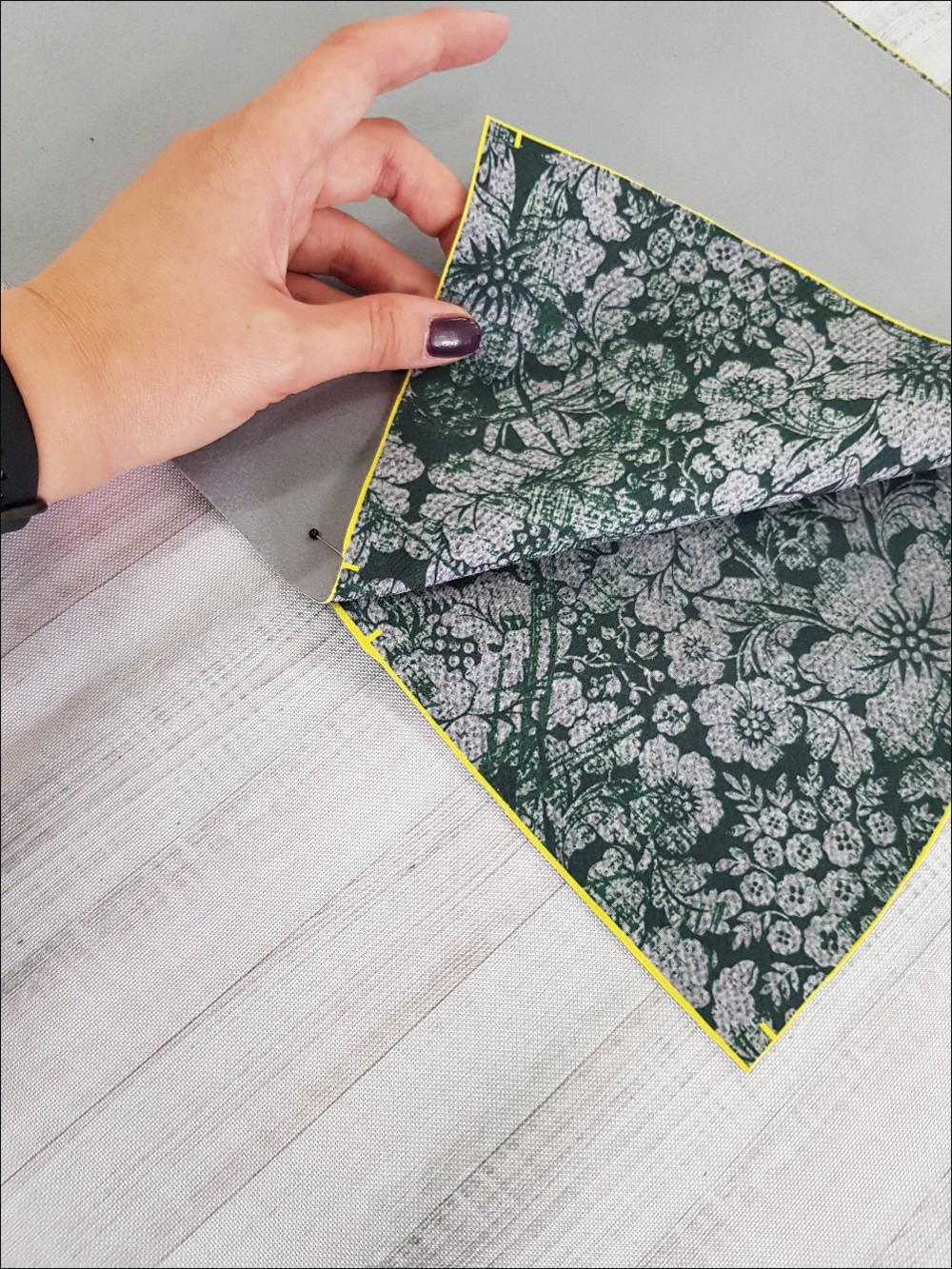 Zapas na szew rozłóż na boki i rozszyj.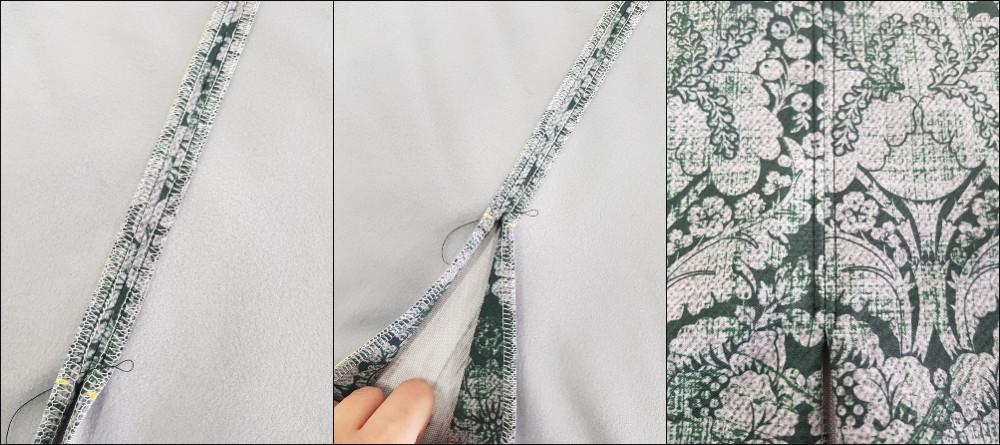 4. WORKI KIESZENIOWE
Korzystając z oznaczeń przyczep elementy kieszeni do przodu i tyłu parki.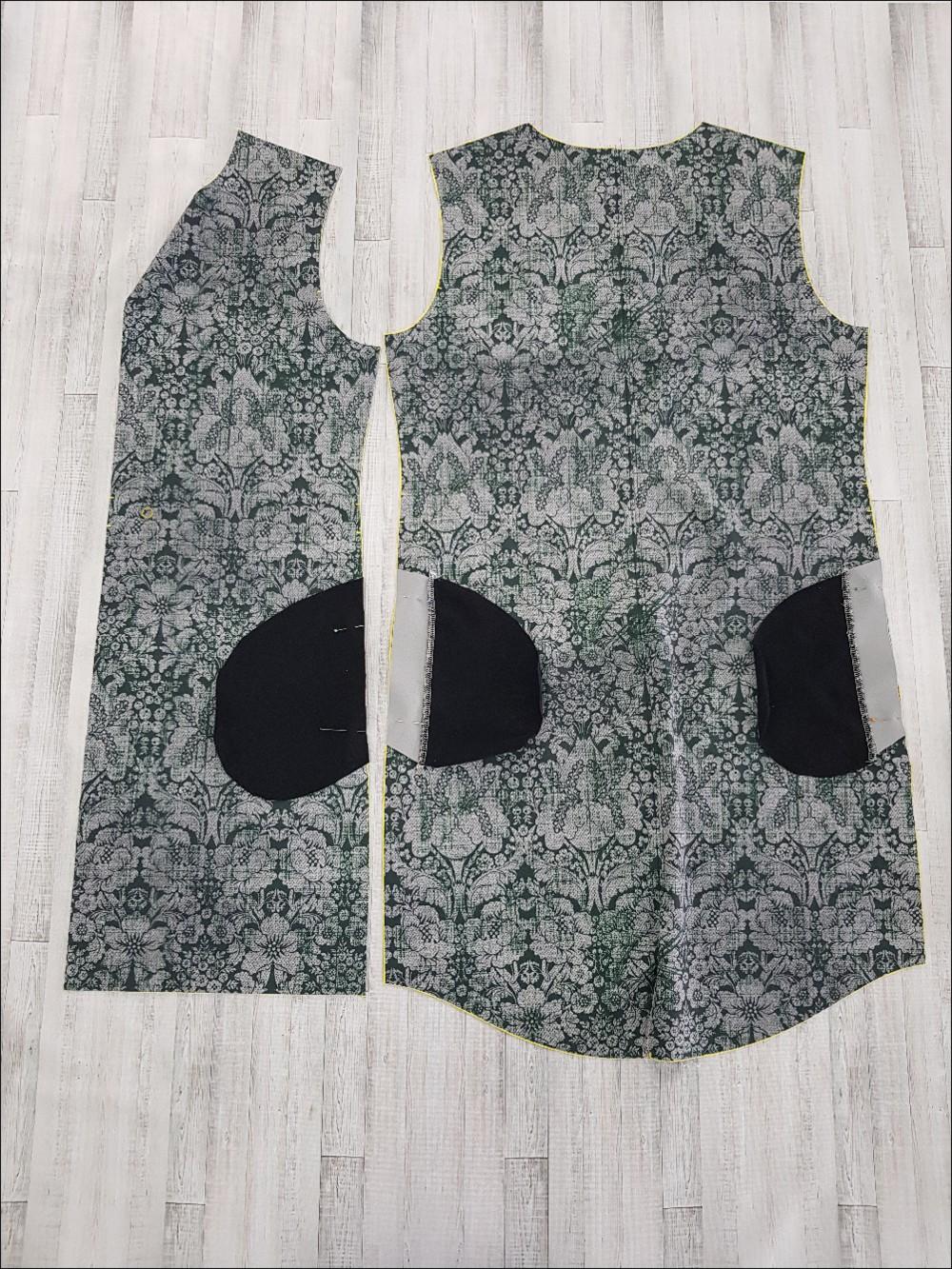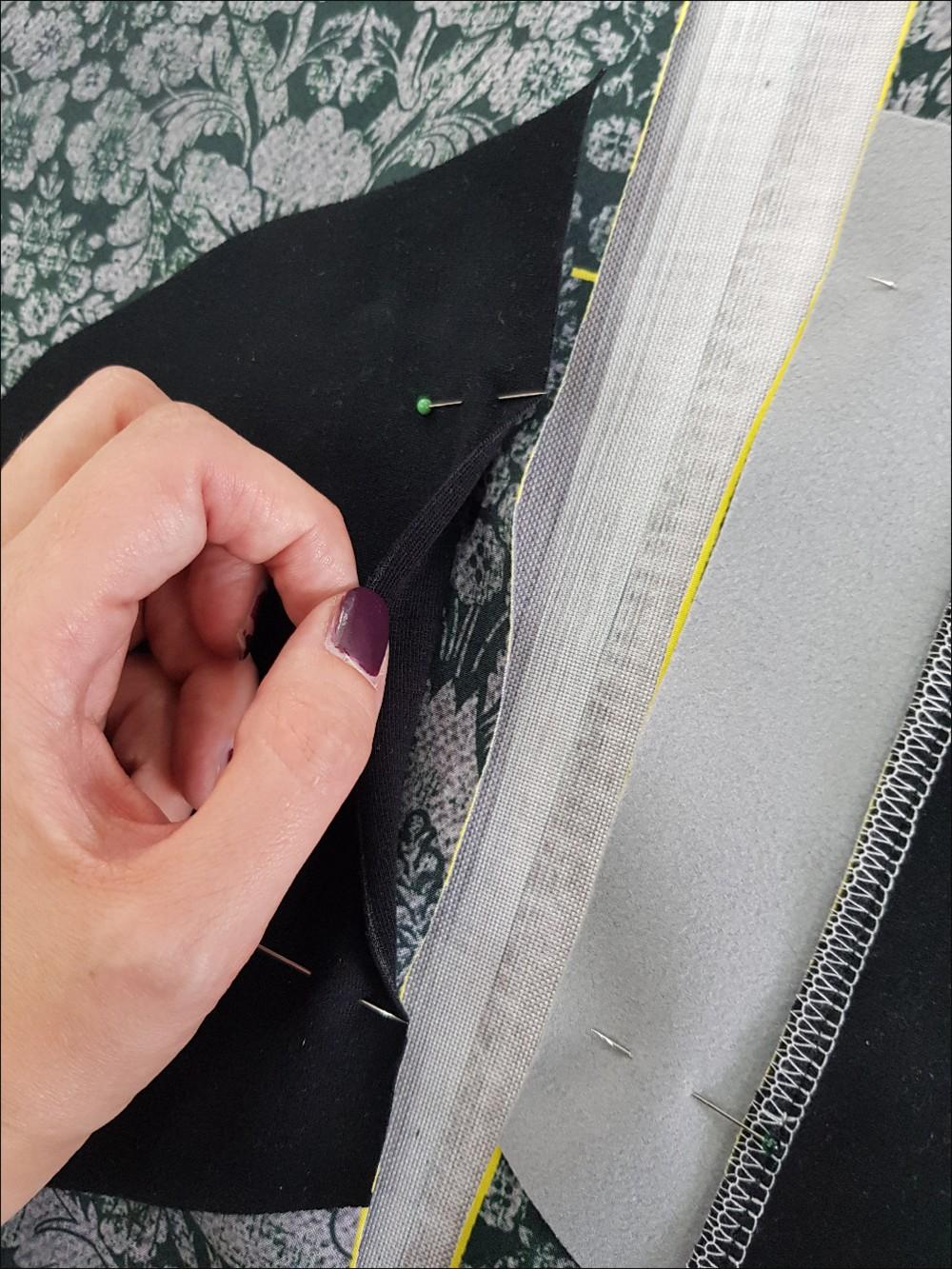 Na overlocku zabezpiecz brzegi parki i od razu przyszyj elementy kieszeni.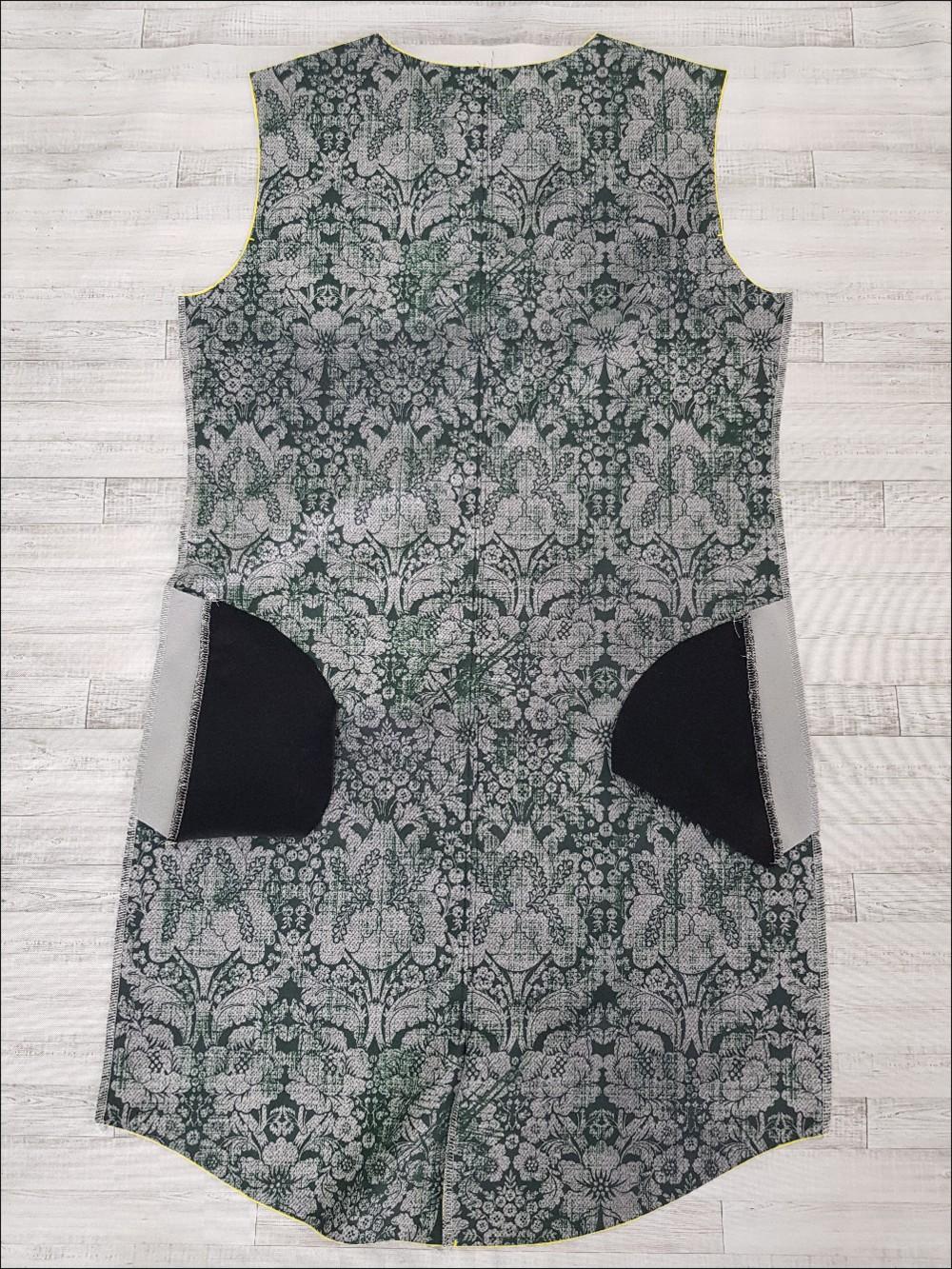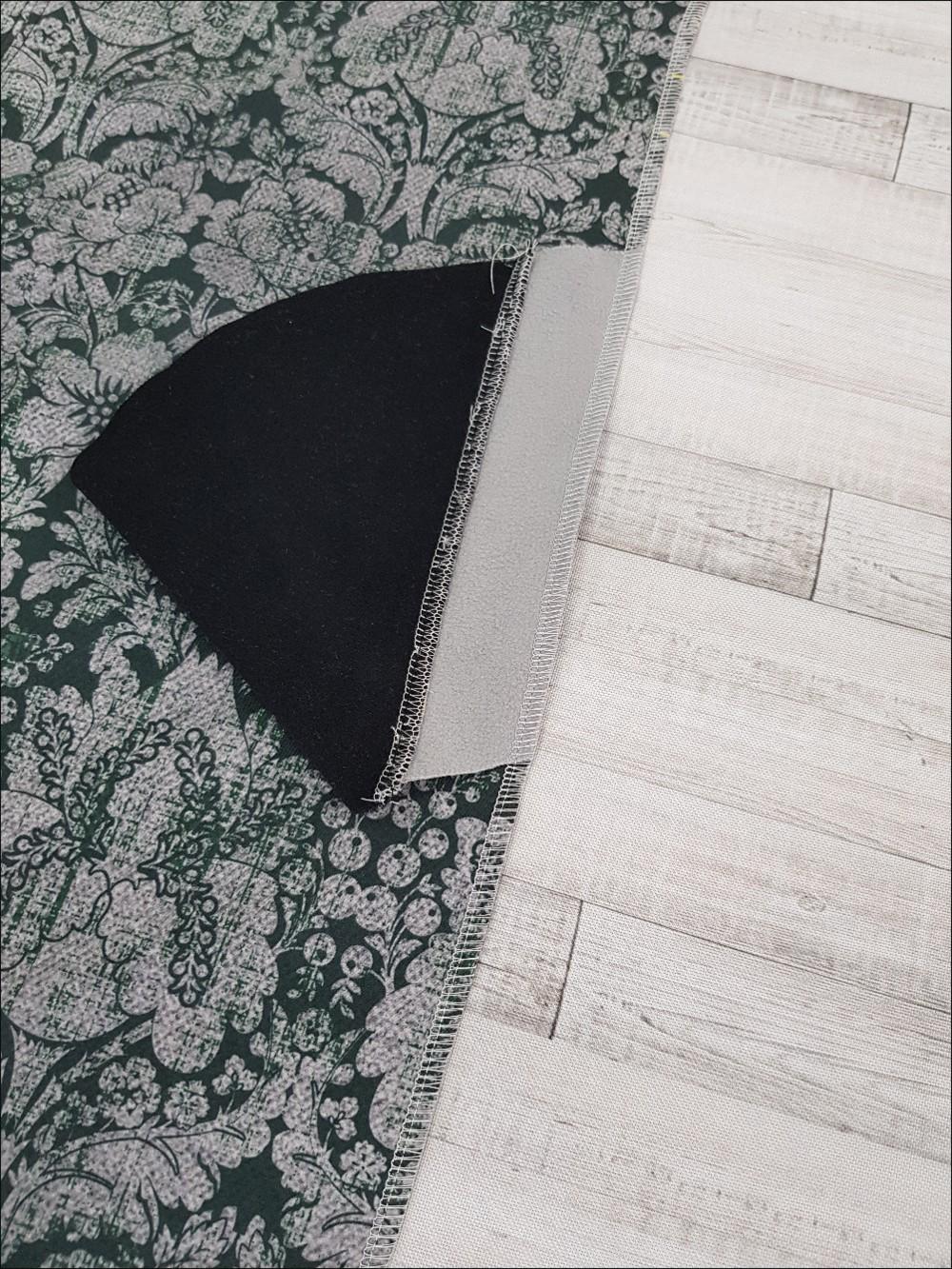 Stębnuj kieszenie po przodzie parki.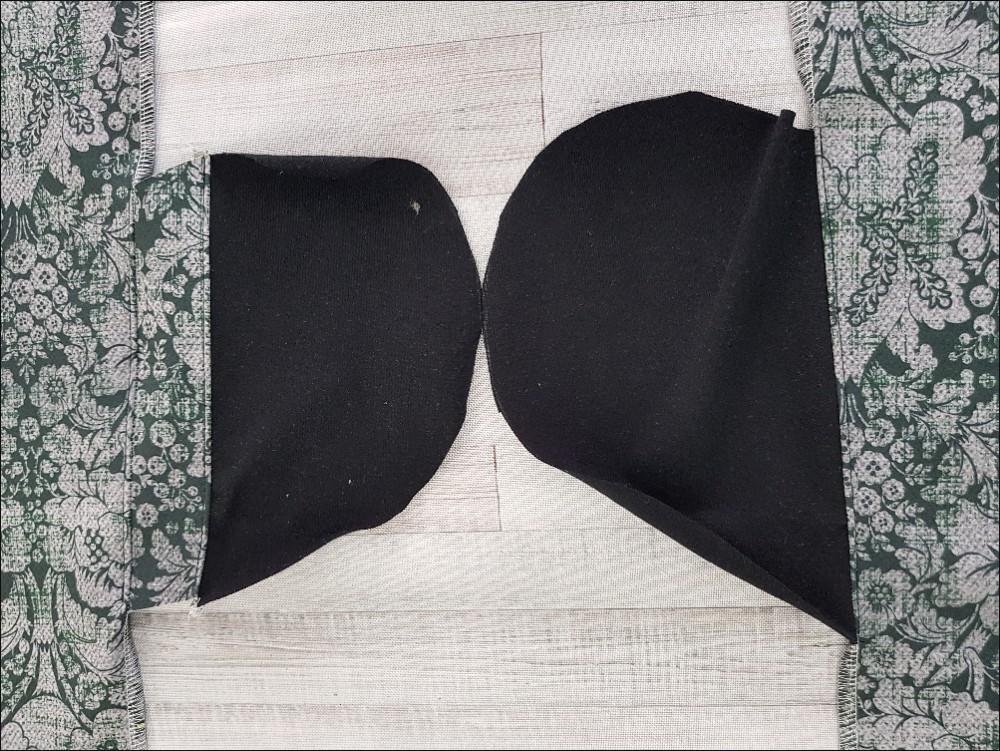 Zszyj ze sobą przód i tył parki. Szyj od góry boku parki, poprzez worki kieszeniowe wywinięte na lewą stronę, do dołu.
Boki kieszeni zabezpiecz overlockiem.
5. RAMIONA
Odcinki softshellu na ramionach zabezpiecz overlockiem i zszyj ze sobą ściegiem prostym. Rozszyj na boki zapasy na szwy.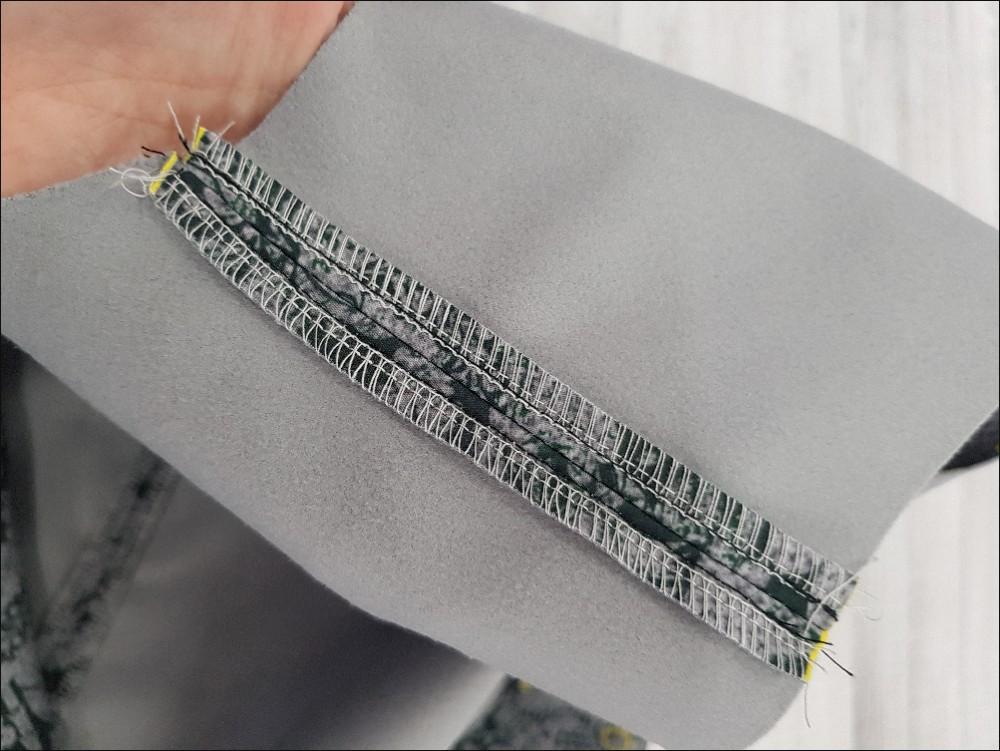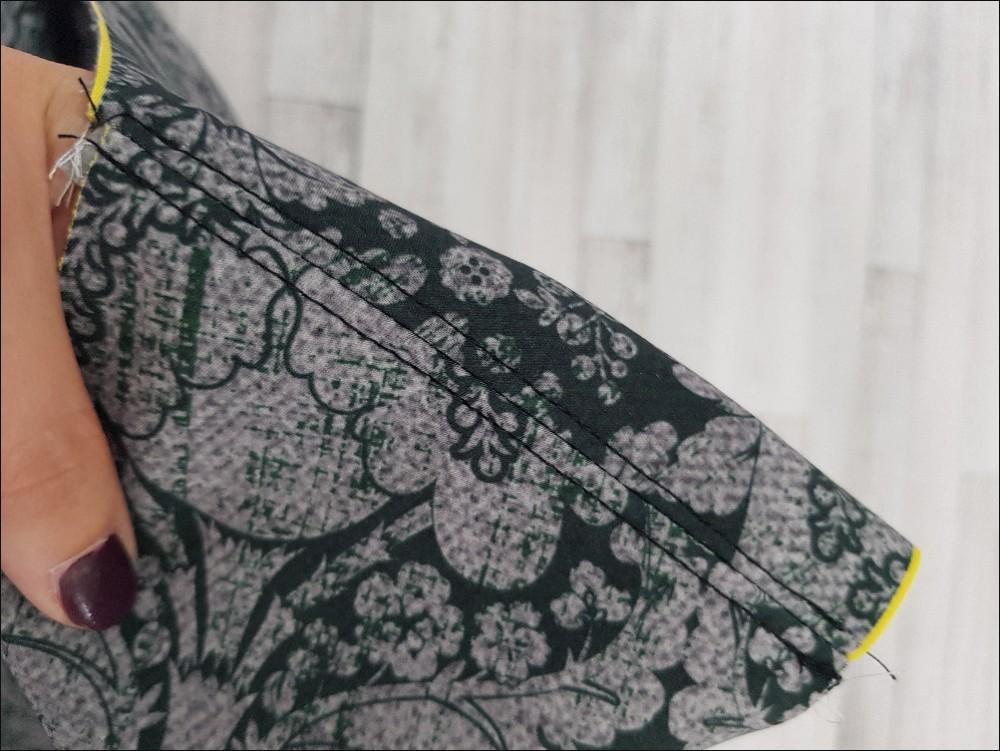 6. RĘKAWY
Boki rękawów zabezpiecz na overlocku, złóż i zszyj.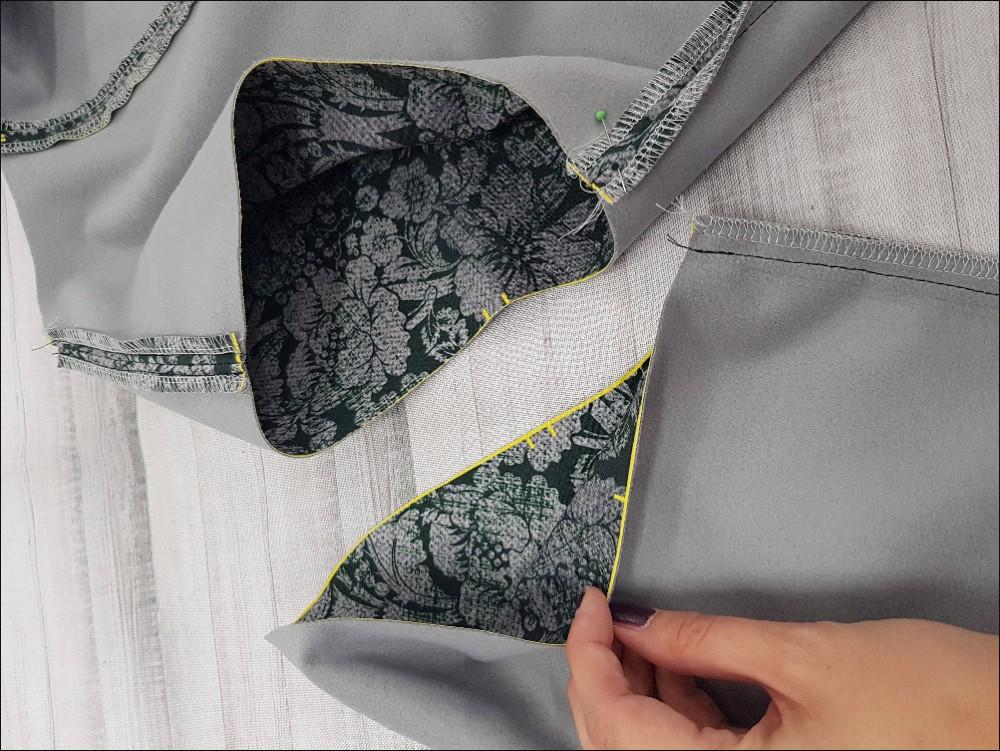 Rękaw odwróć na prawą stronę. Włóż do otworu na rękaw w parce (prawa strona do prawej), zgodnie z oznaczeniami. Zapasy na szwy rozłóż.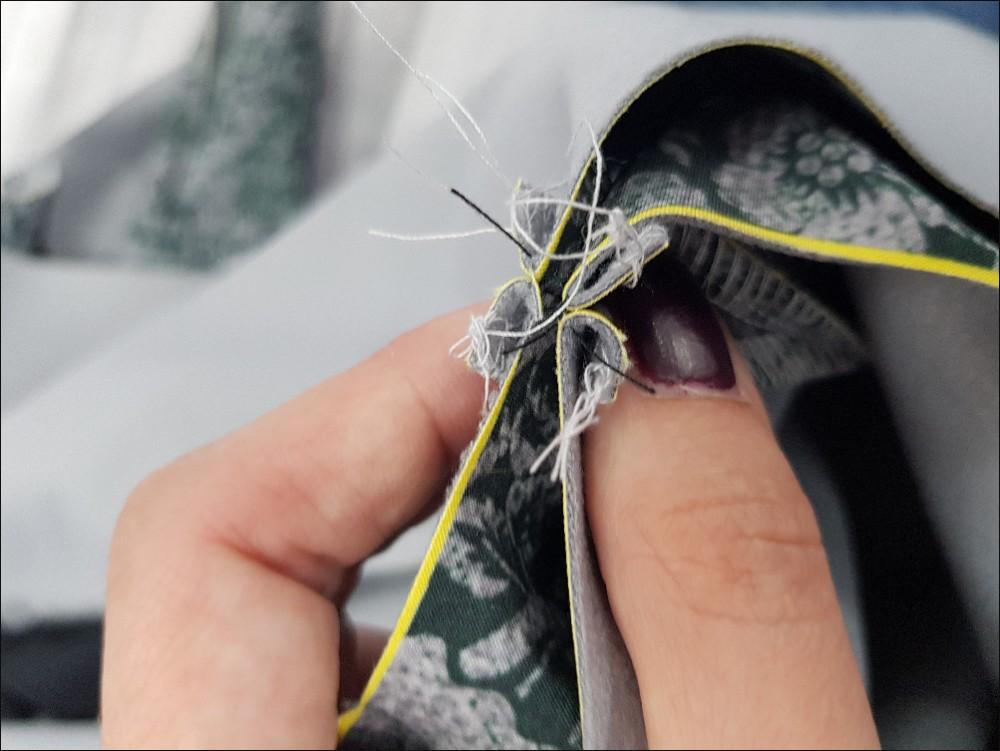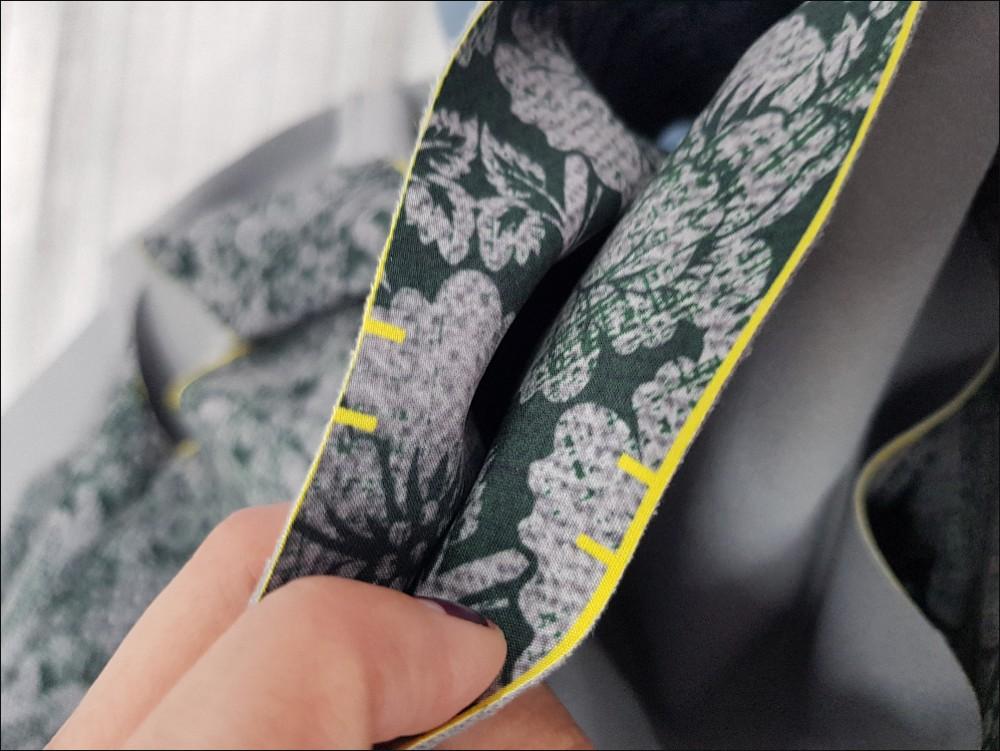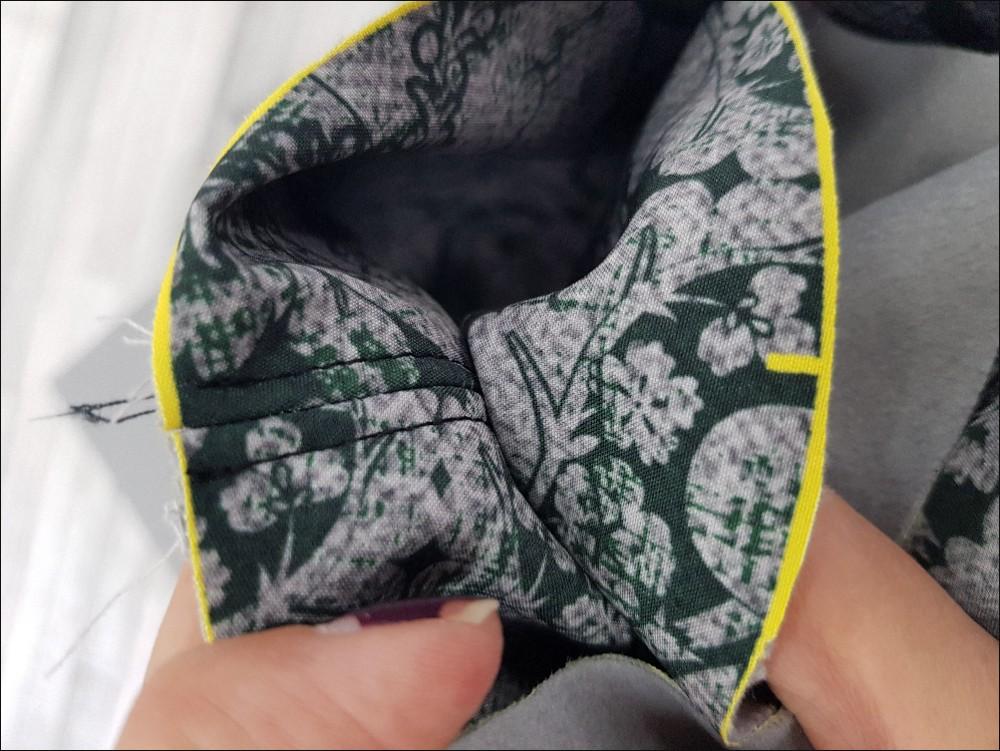 Zepnij rękaw z parką.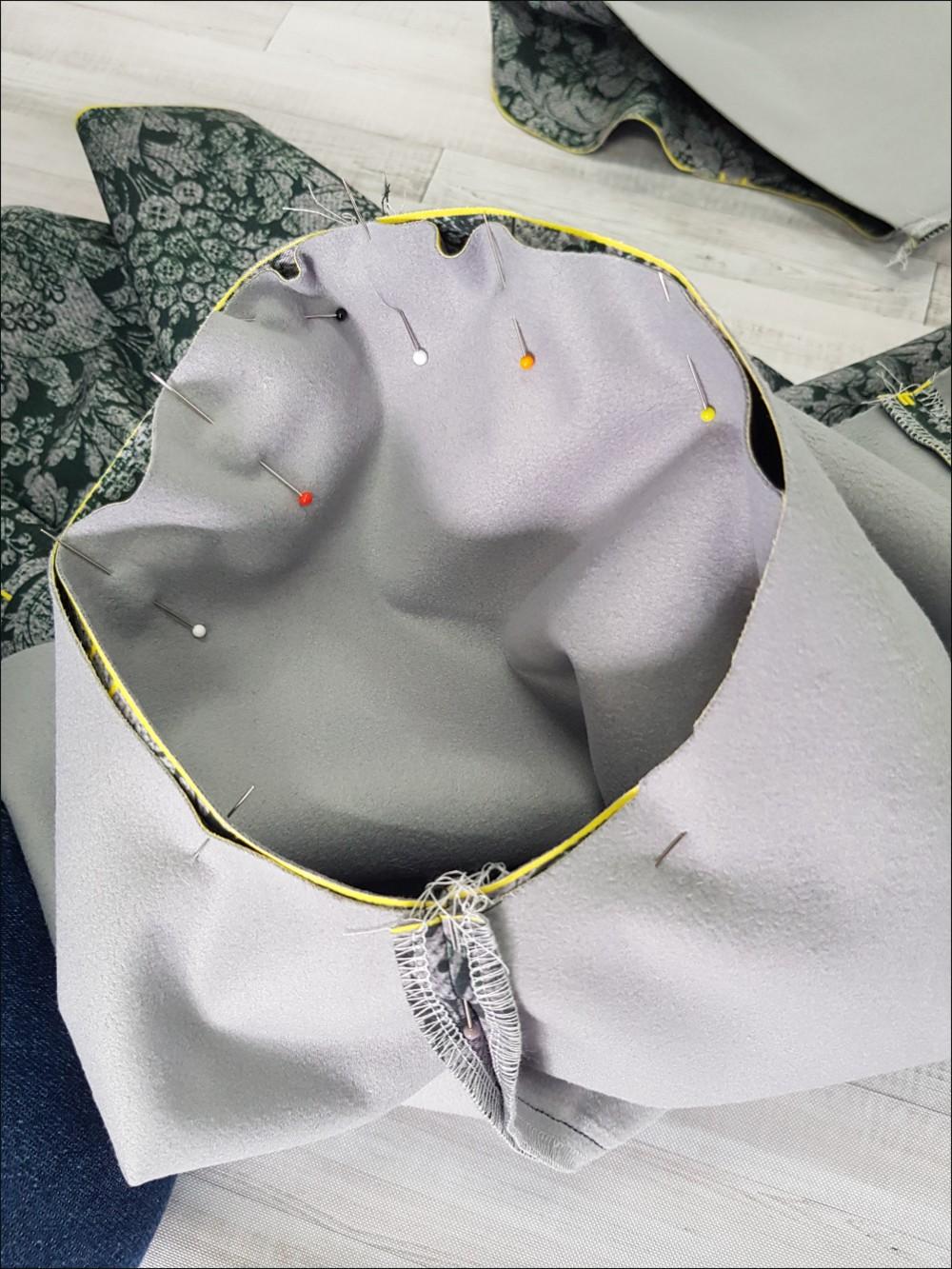 Zszyj. Pamiętaj żeby nadmiar materiału wdać na kuli (górze rękawa).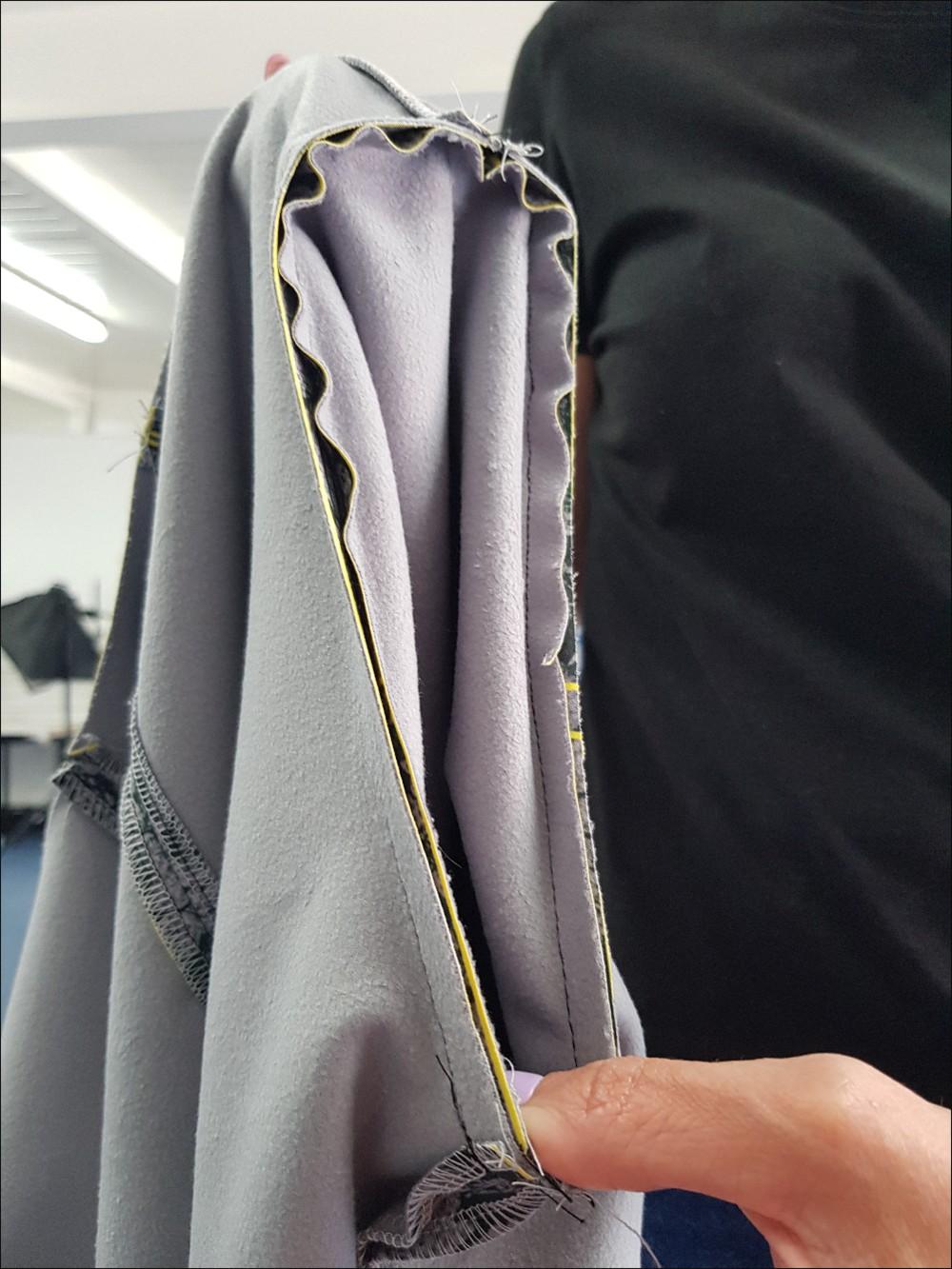 7. MANKIET
Mankiet złóż i zszyj na maszynie wielofunkcyjnej.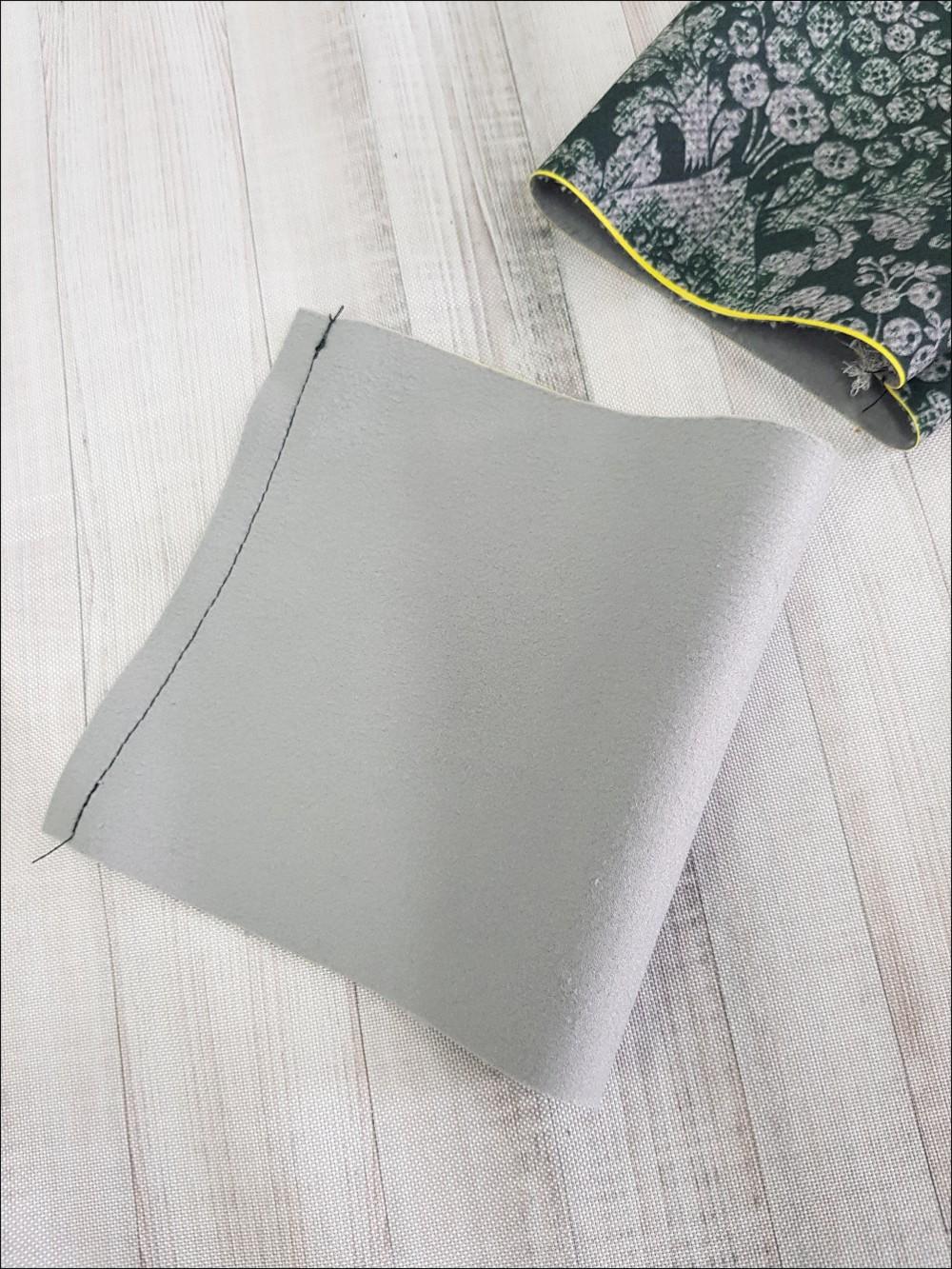 Nałóż mankiet na rękaw, rozłóż zapasy na szwy, przyszyj.
8. ŁĄCZENIE KAPTURA Z PARKĄ
Wierzchnią część kaptura dokładnie przyłóż i zepnij z parką. Zszyj.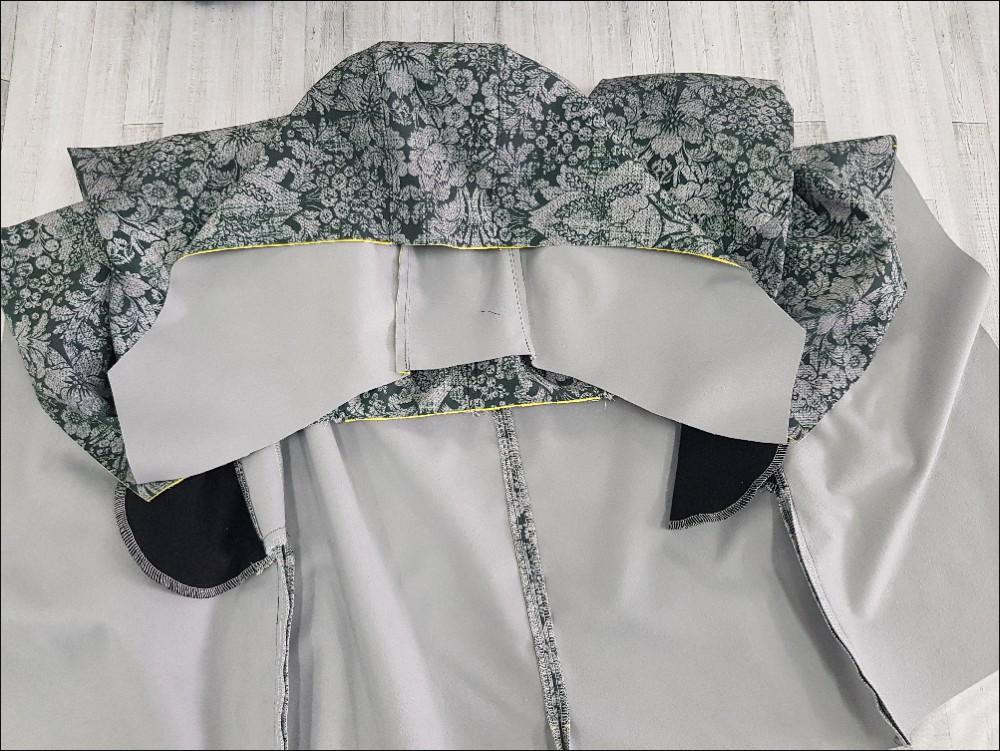 Powstały zapas na szwy rozłóż i rozszyj w obie strony.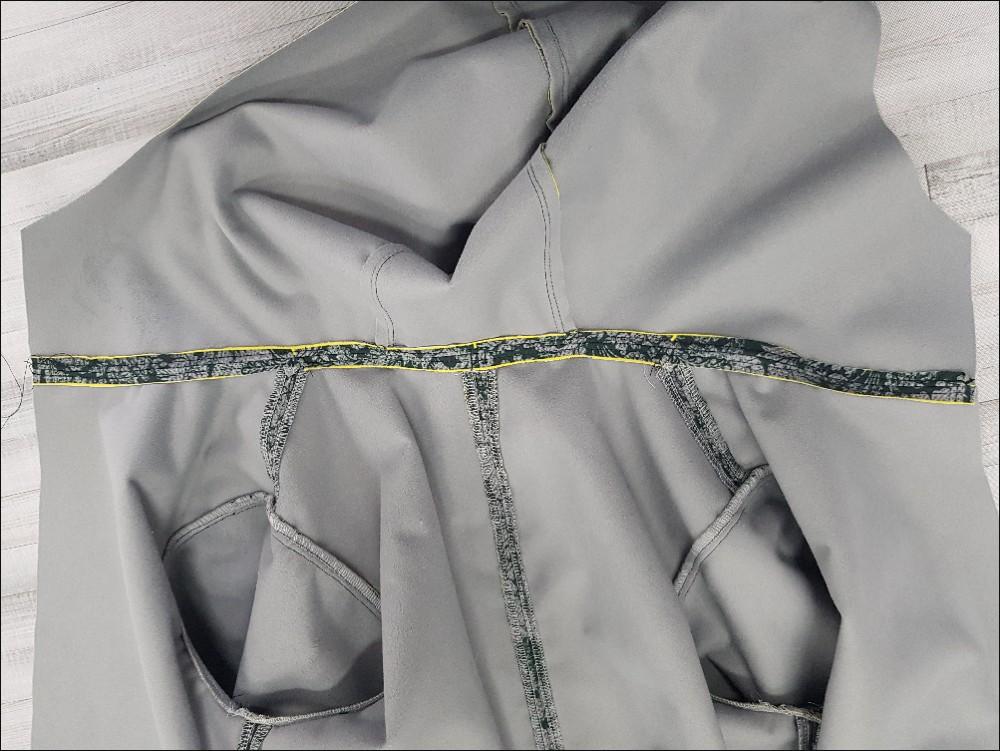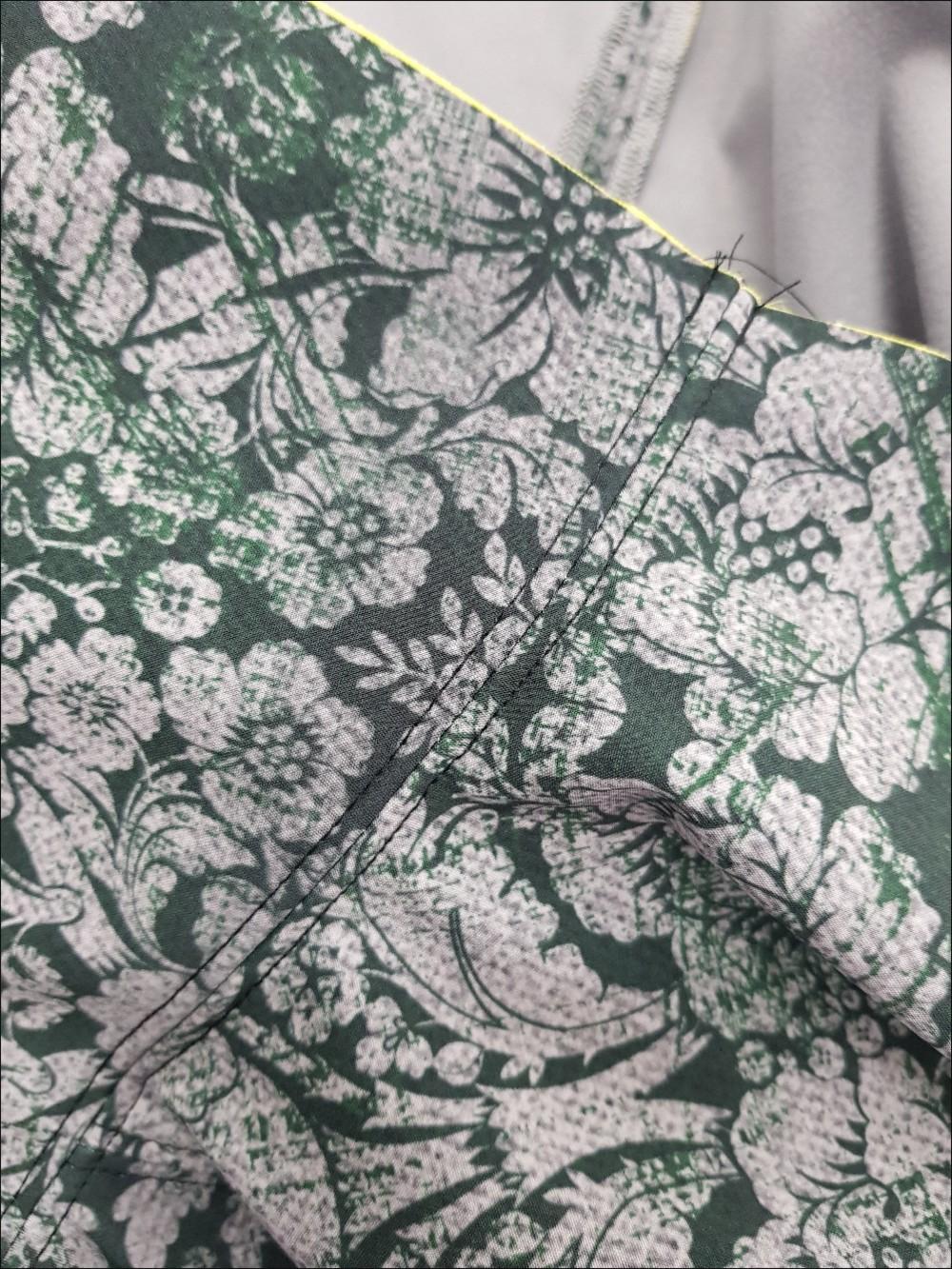 9. OCZKA
Zestaw zawiera dwa oczka kaletnicze. Możesz jednak dokupić dodatkowe oczka i nabić je w kapturze albo/i zrobić tunel w dole parki. Pokażemy Ci jak możesz to zrobić na etapie szycia. Jest to OPCJA.
Wyznacz miejsca, w których chcesz mieć oczko na kapturze, odrysuj kółko korzystając z wewnętrznego obwodu oczka, wytnij dziurkę w materiale i nabij oczko.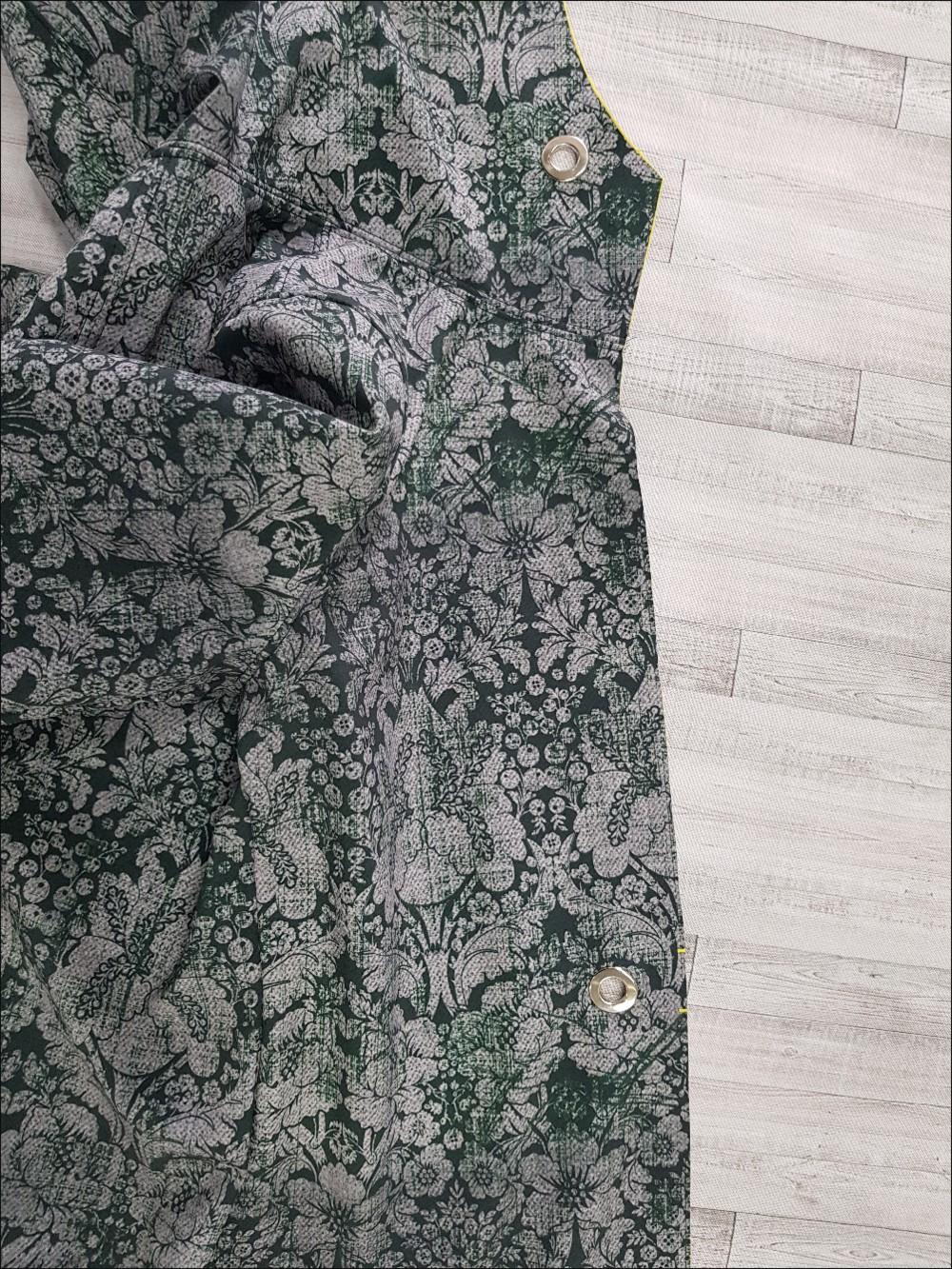 Korzystając z oznaczeń na parce, nabij oczka do tunelu w pasie.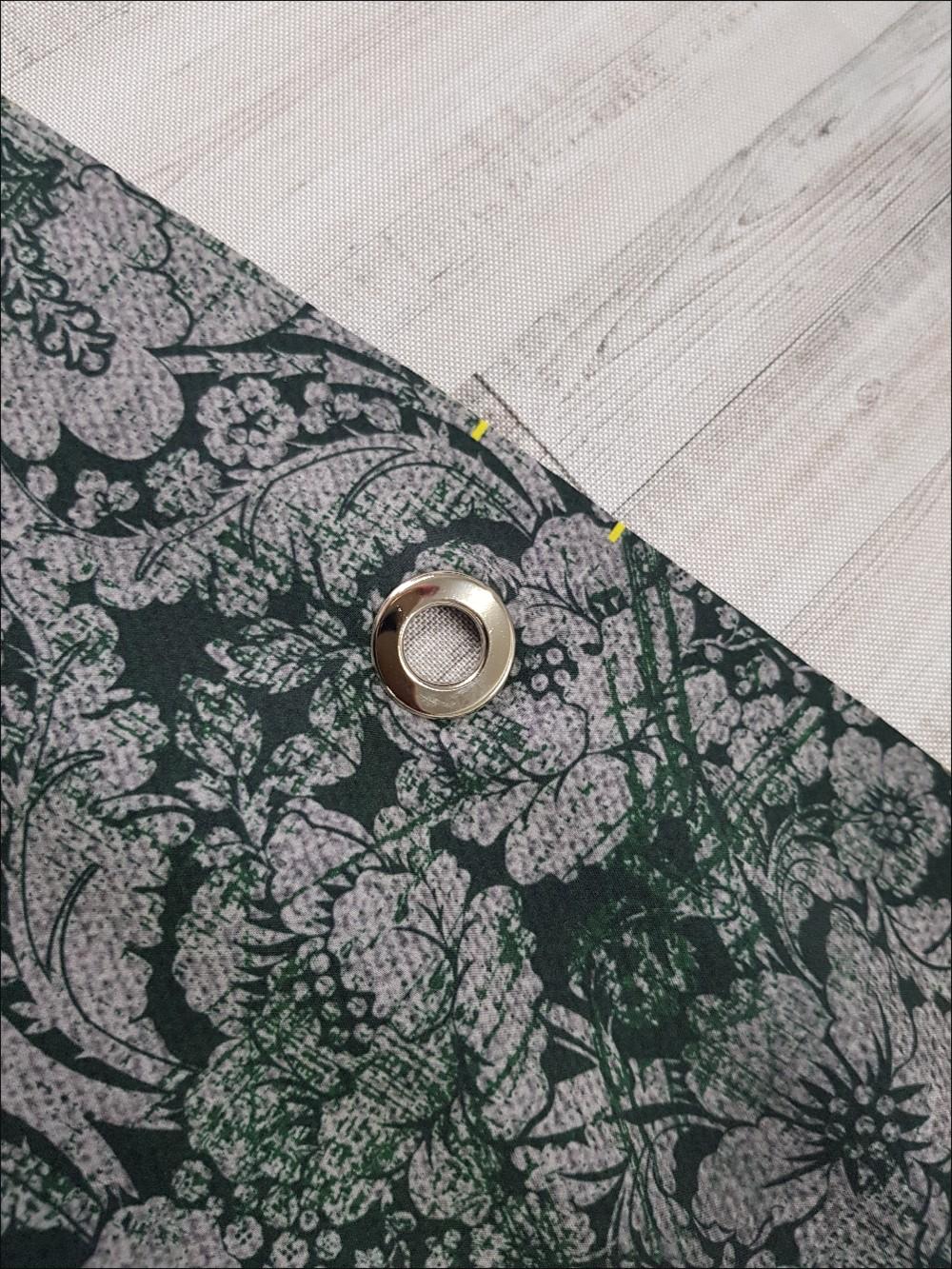 10. ODSZYCIA I OBŁOŻENIA PRZODÓW
Przygotuj wszystkie odszycia i obłożenia, zepnij je i zszyj ściegiem prostym. Zewnętrzny brzeg odszyć zabezpiecz na overlocku. Pamiętaj żeby rozkładać zapasy na szwy.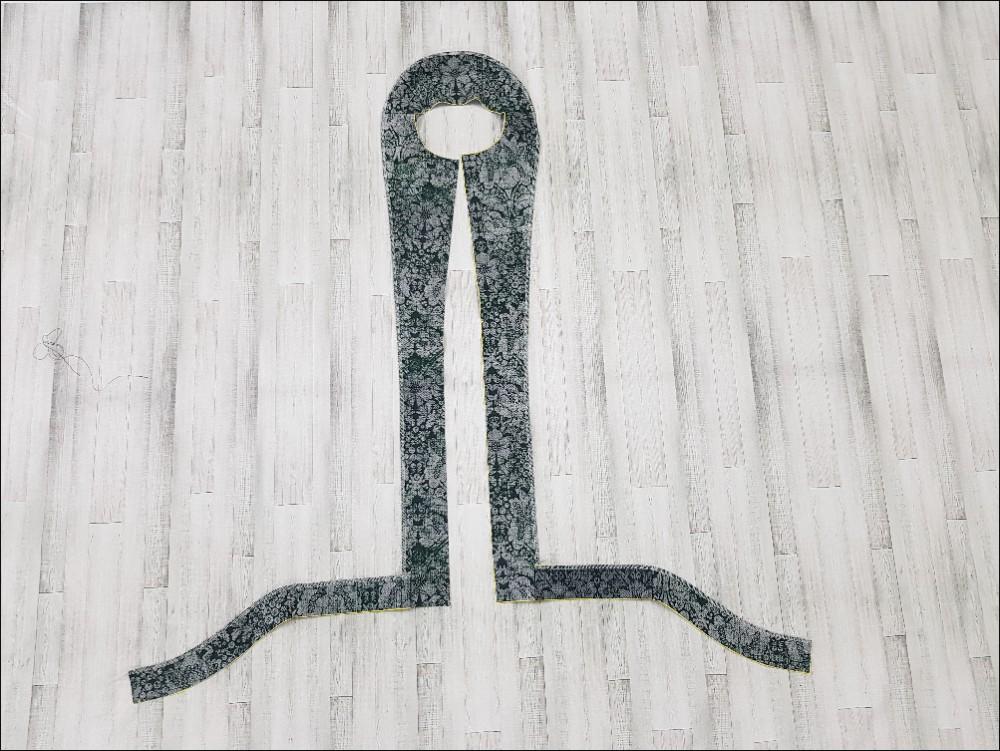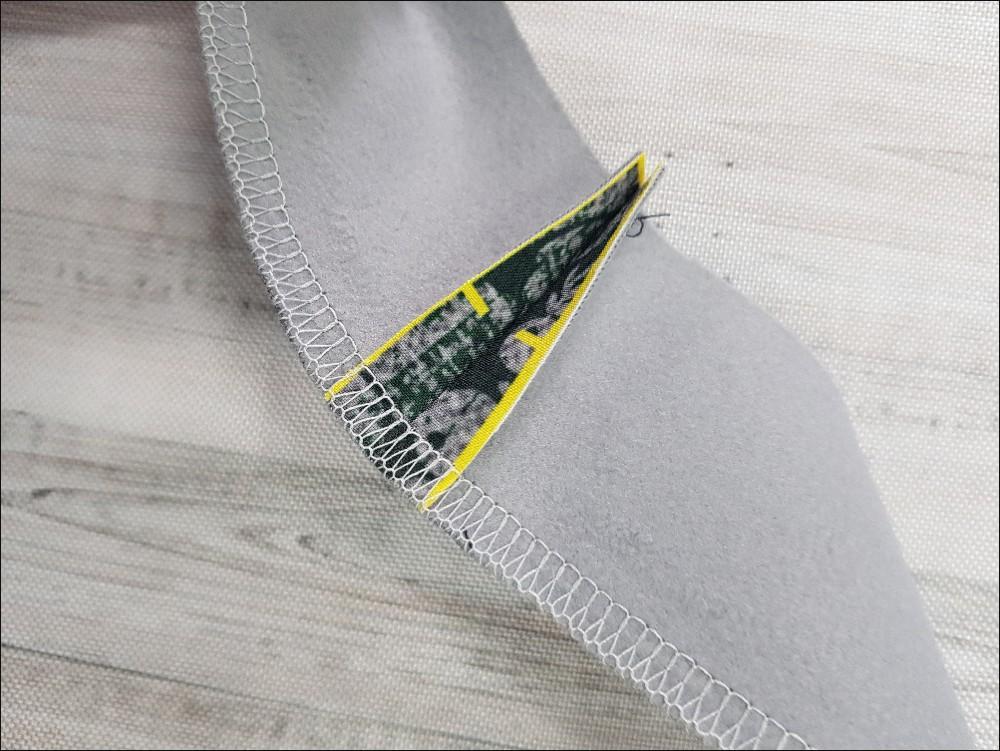 Połącz górę zszytych odszyć z podszewką kaptura. Zepnij i zszyj.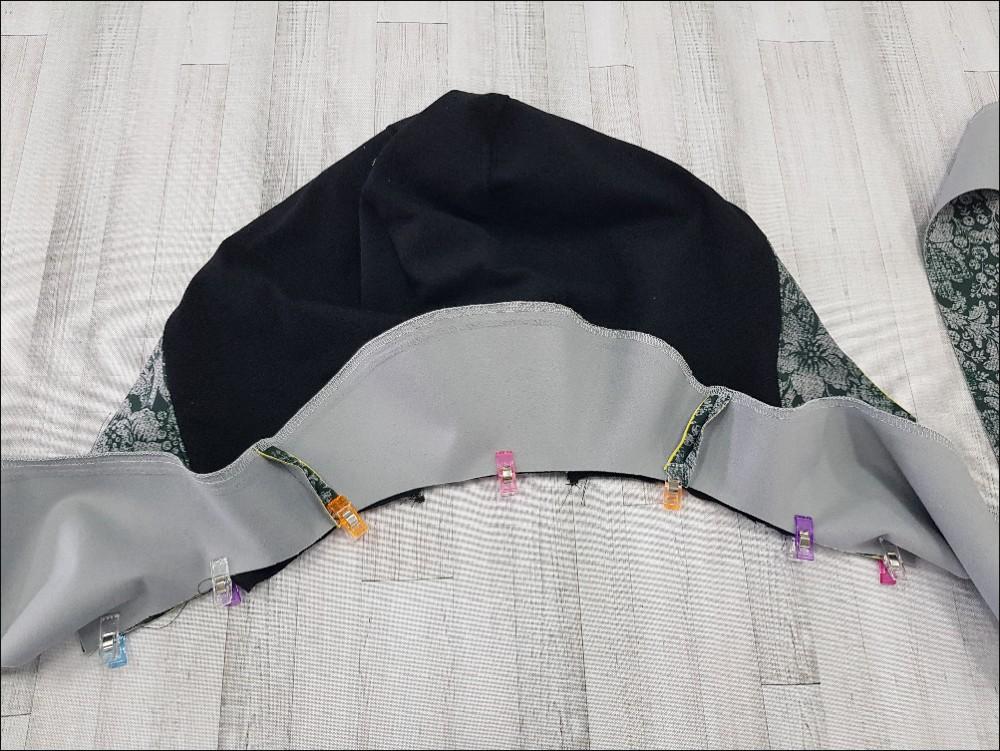 11. ZAMEK
Rozepnij zamek na dwie części. Dopasuj długość zamka do parki. Nadmiar taśmy wywiń do środka. Przypnij zamek szpilkami do parki.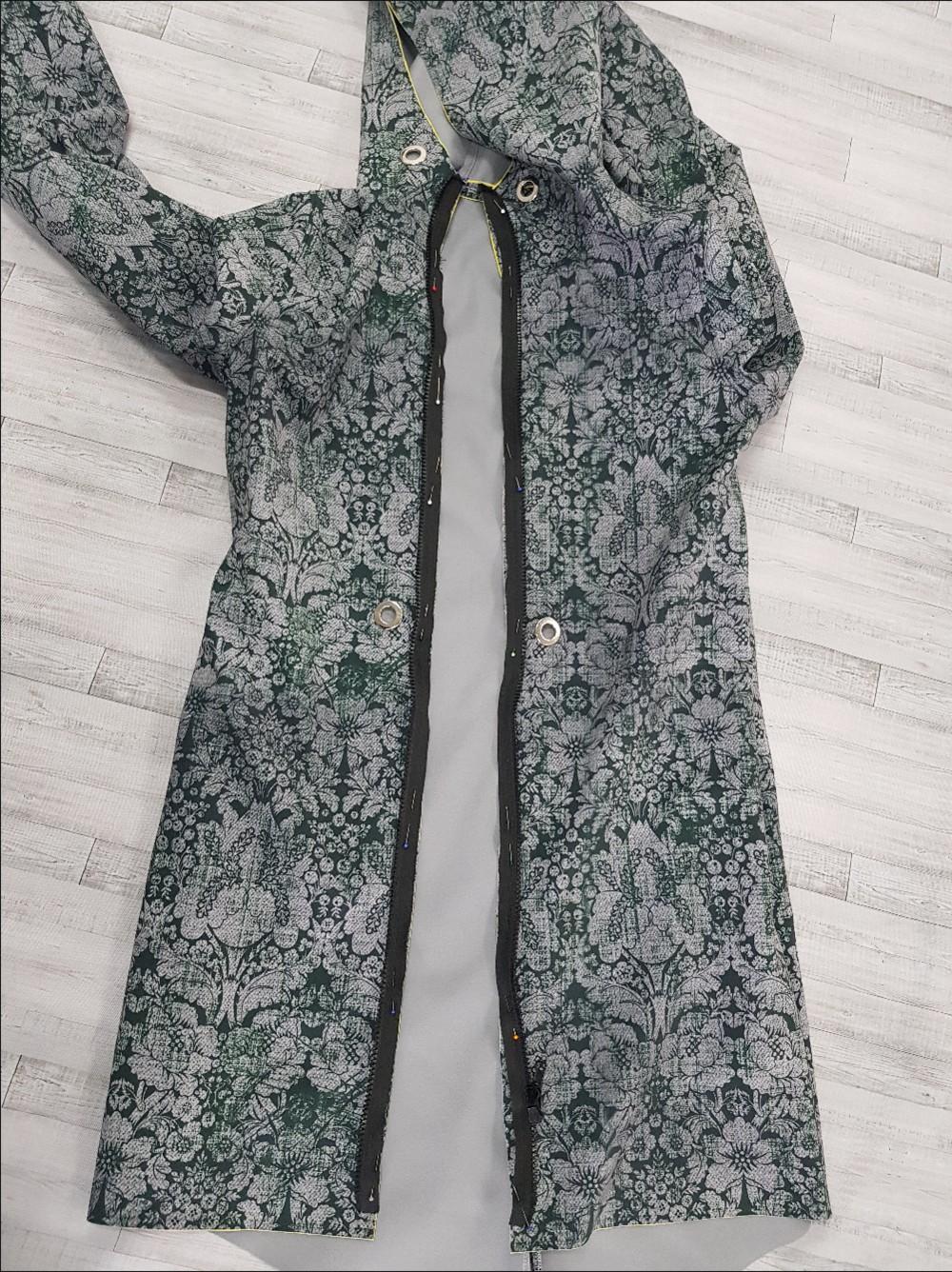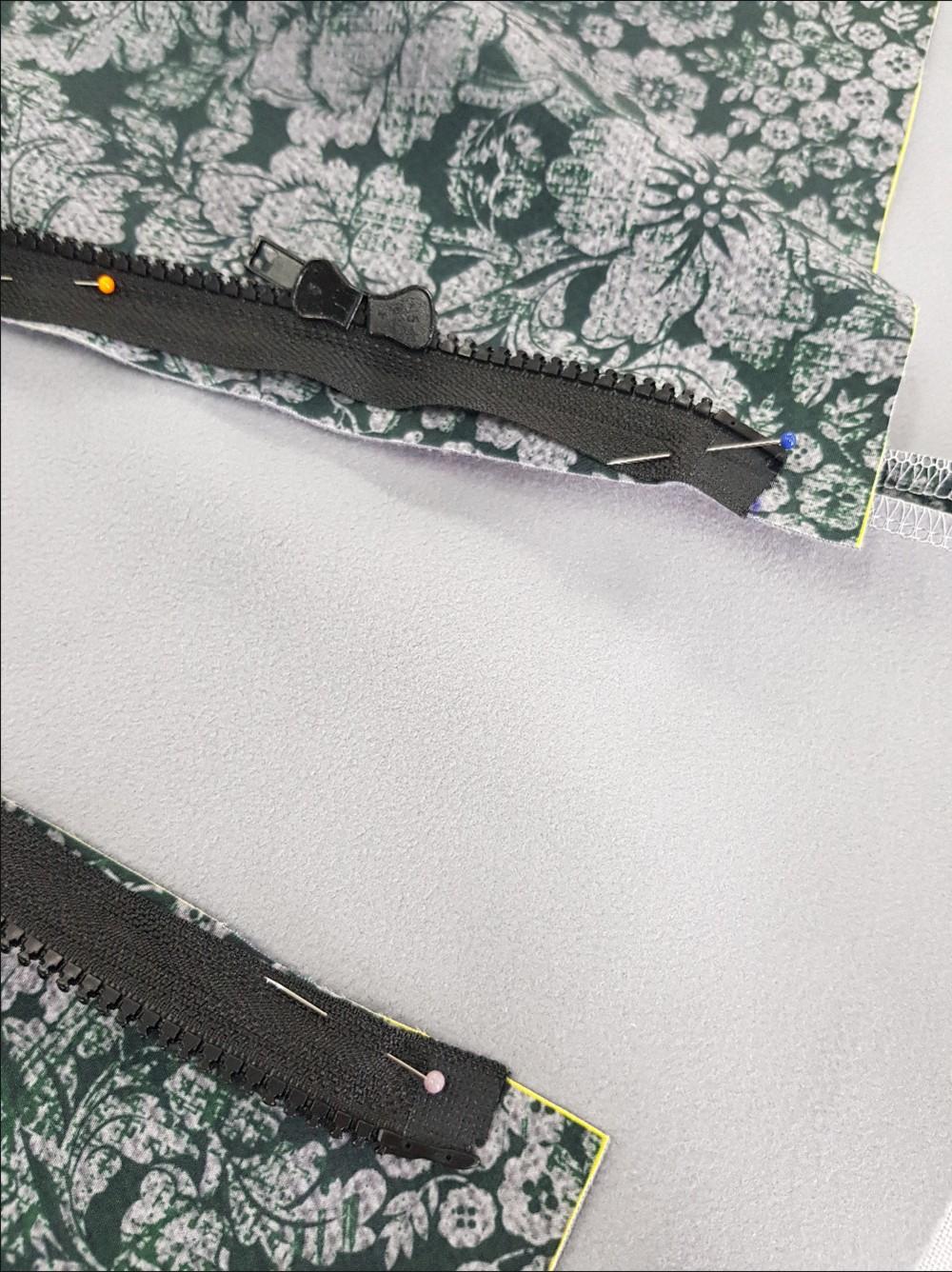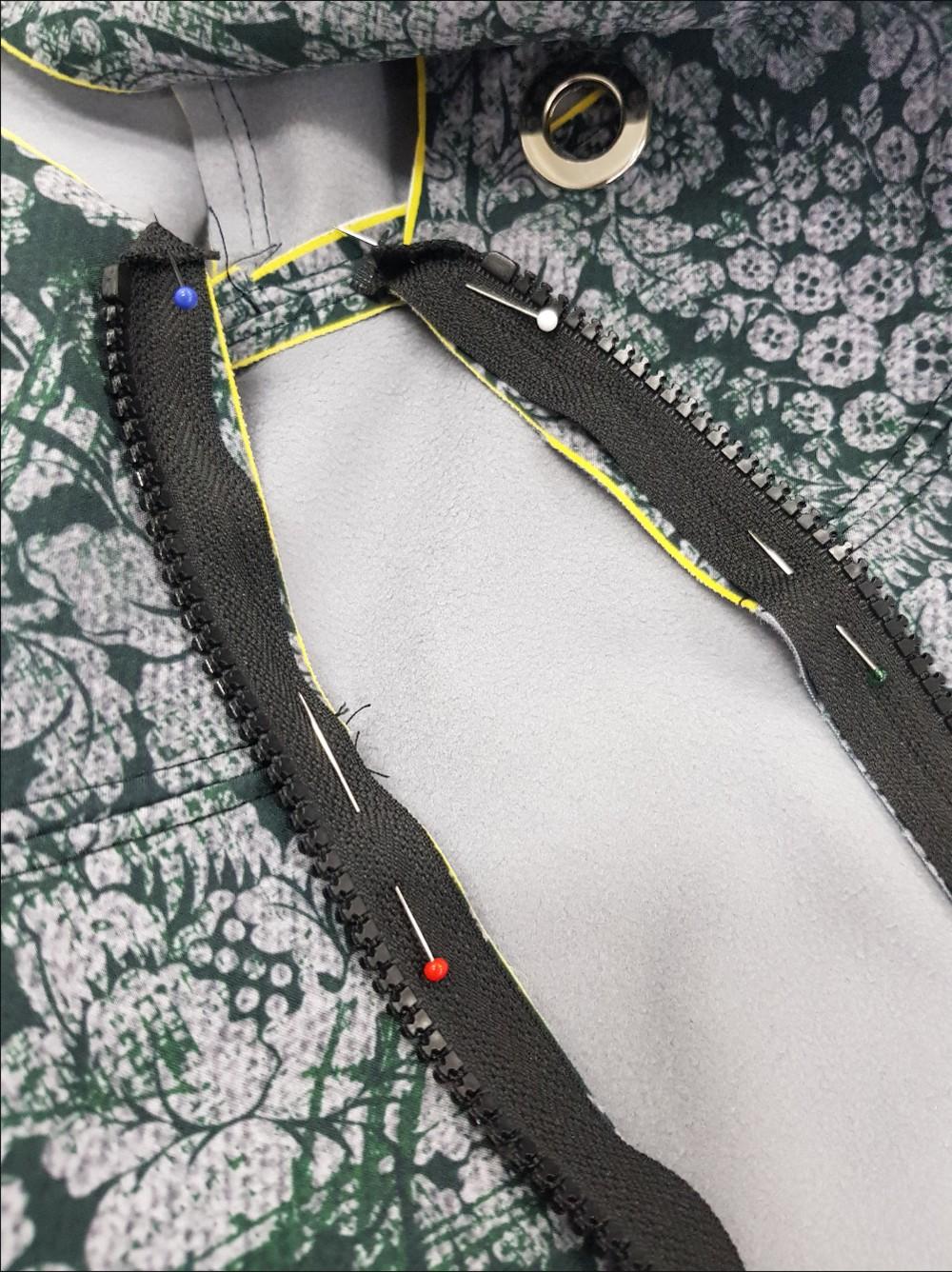 Korzystając ze stopki do wszywania zamków przyszyj obie części zamka.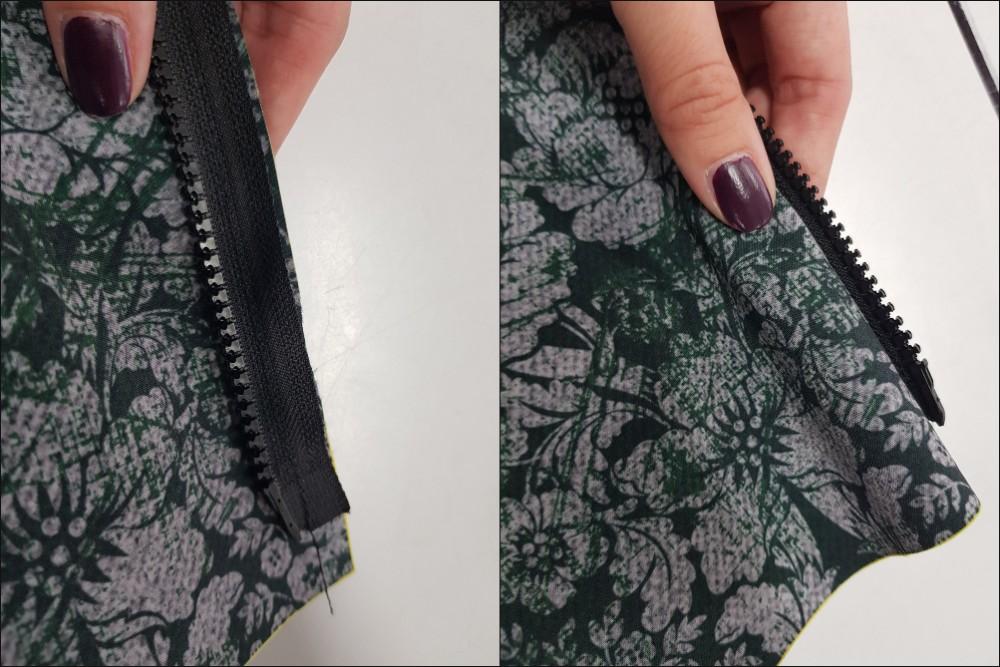 12. OBŁOŻENIE PARKI
Przygotowane gotową wewnętrzną część parki, przypnij ją szpilkami lub klamerkami do wierzchu.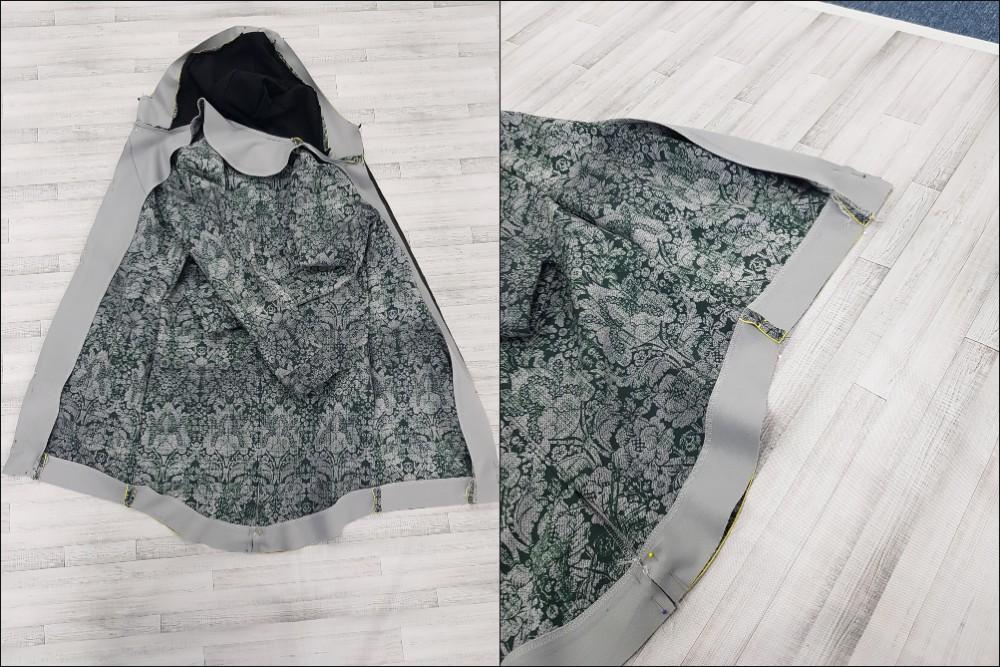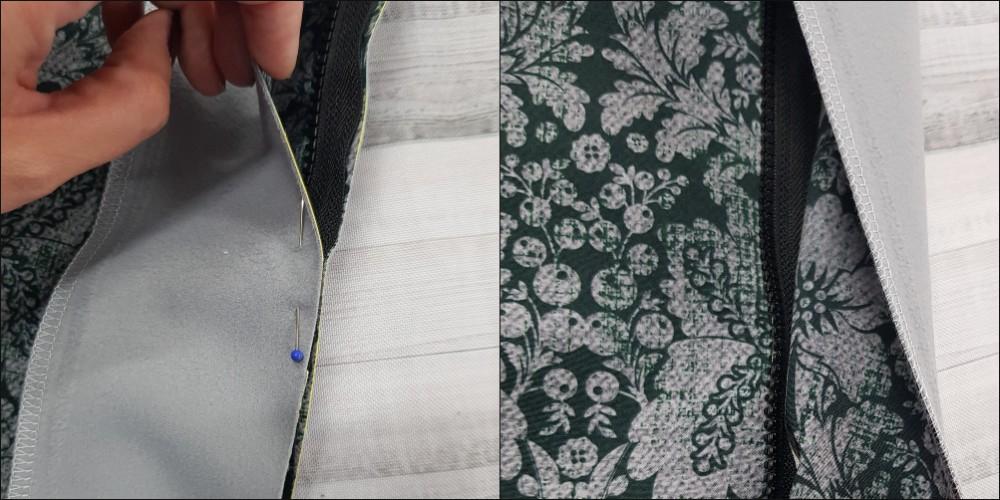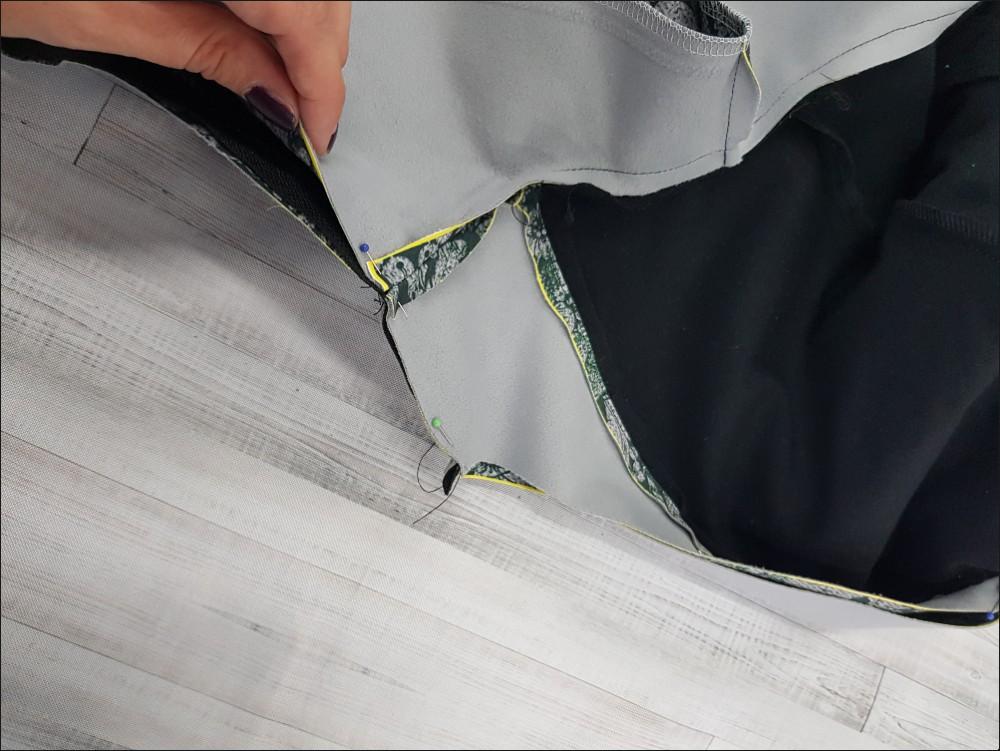 Przyszyj.

Zapasy szwów w rogach zetnij pod kątem. Starannie wywiń rogi.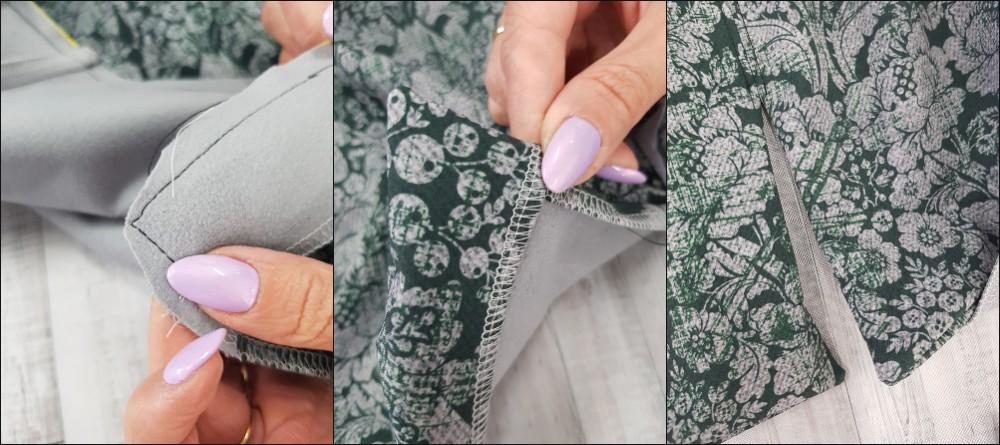 Zapnij zamek i sprawdź czy jest równo. Jeżeli nie, spruj odszycie zamka, zepnij jeszcze raz równo i przyszyj ponownie.
13. SZNUREK W DOLE PARKI – opcja
Jeżeli chcesz mieć dodatkowy sznurek ściągający dół parki pora nabić oczka, którymi wyjdzie sznurek.
Wyznacz miejsca, w których chcesz mieć oczko, odrysuj kółko korzystając z wewnętrznego obwodu oczka, wytnij dziurkę w materiale i nabij oczko.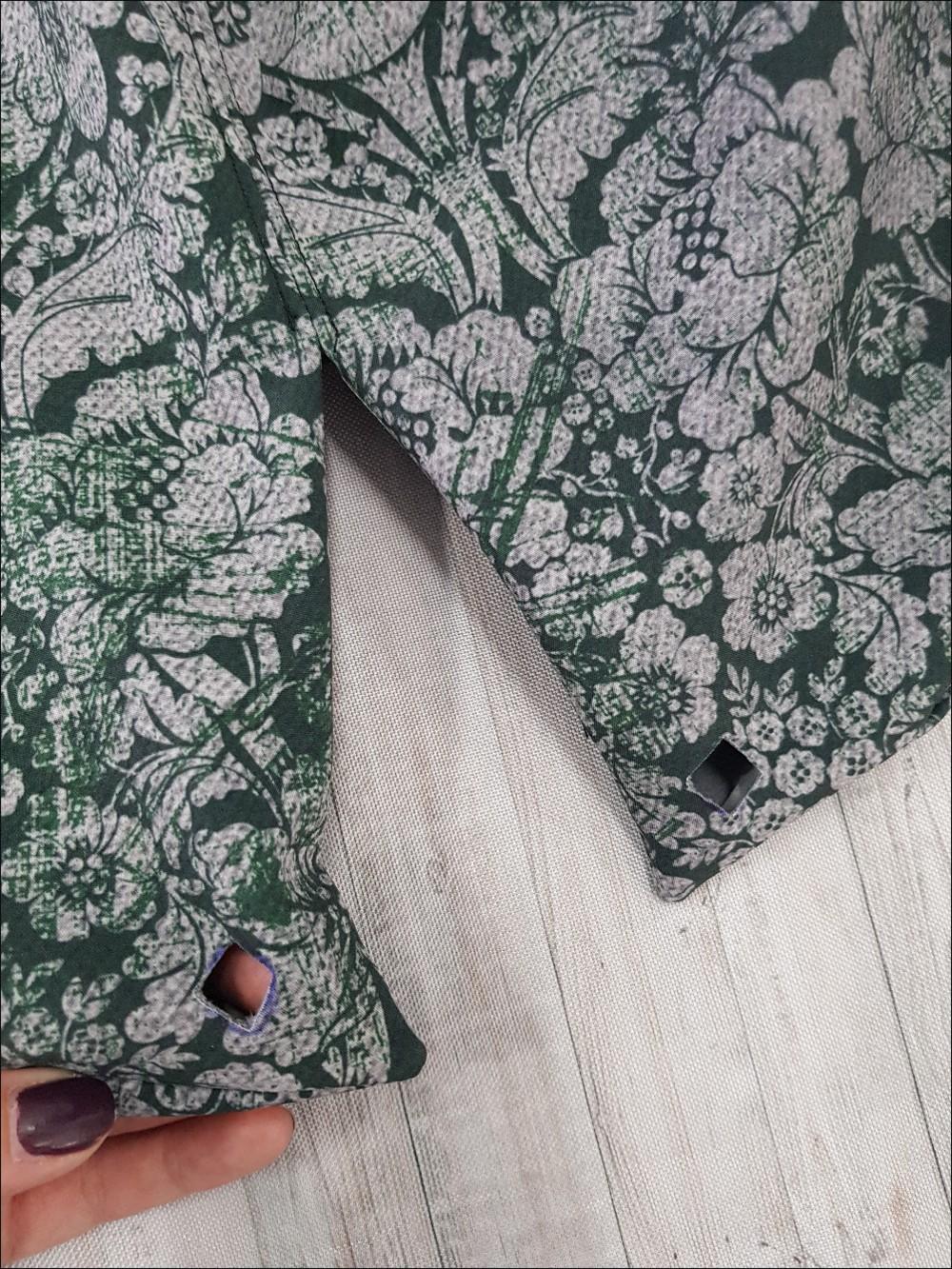 Sznurek doszyj ręcznie do zapasu na szwy przy dole zamka. Poprowadź go dołem parki, pod odszyciem, tak żeby wyjąć go przez oczko kaletnicze.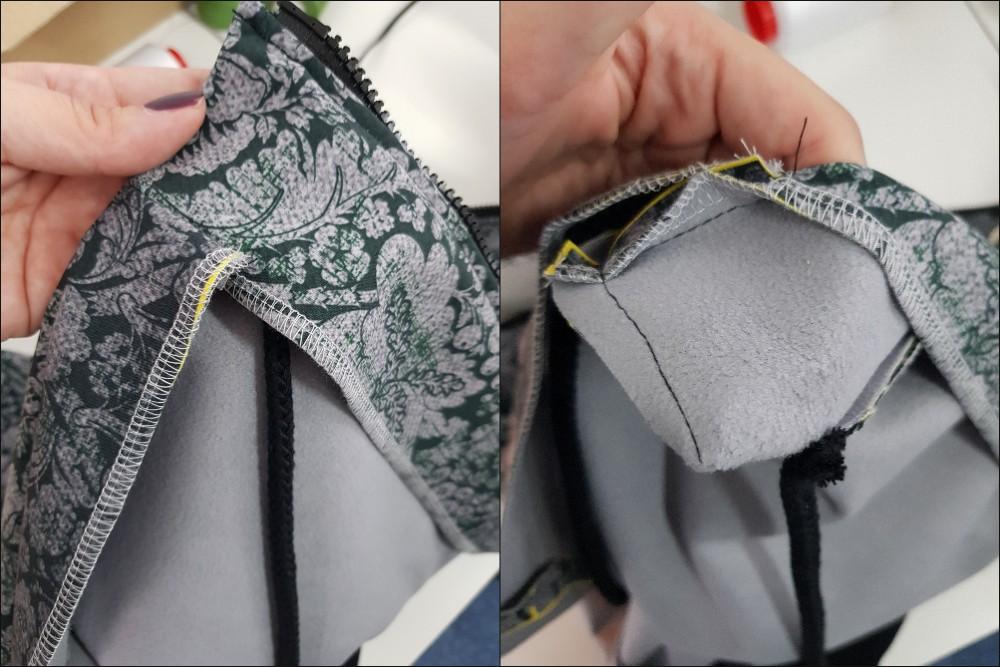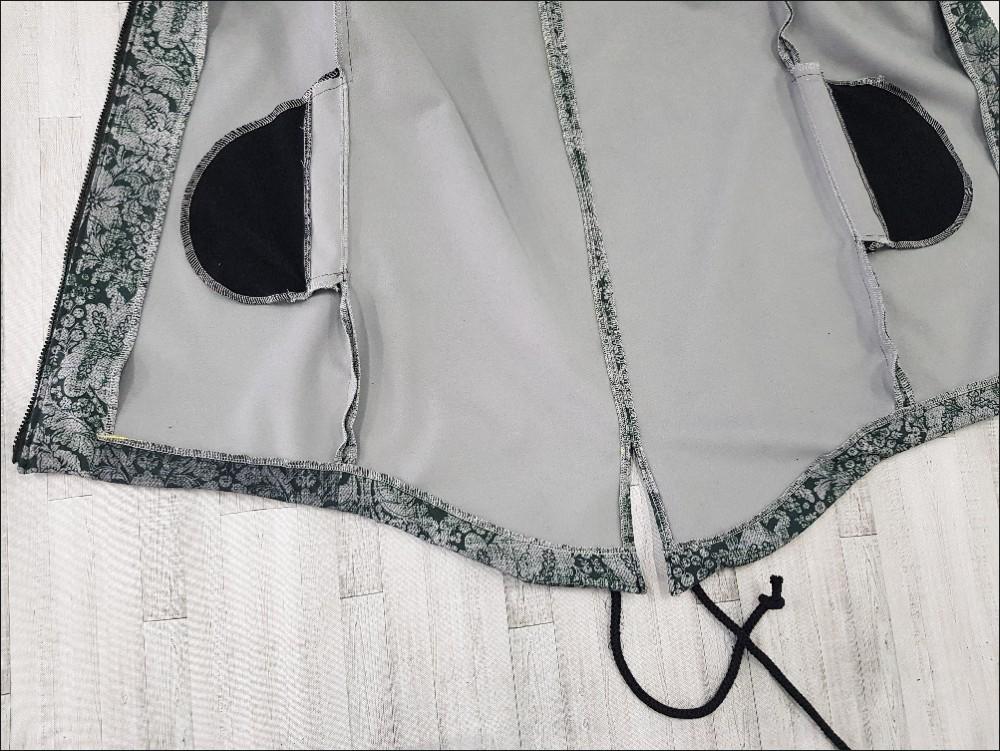 Przyszyj odszycie do parki, tak żeby otworzyć tunel na sznurek.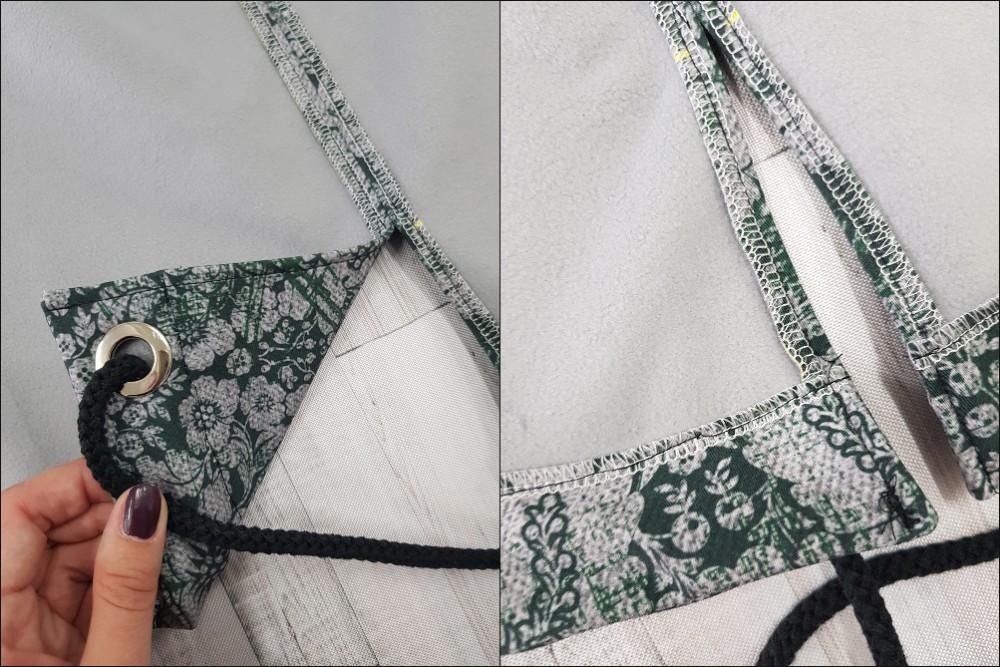 14. TUNEL W PASIE
Na overlocku zabezpiecz brzegi tunelu.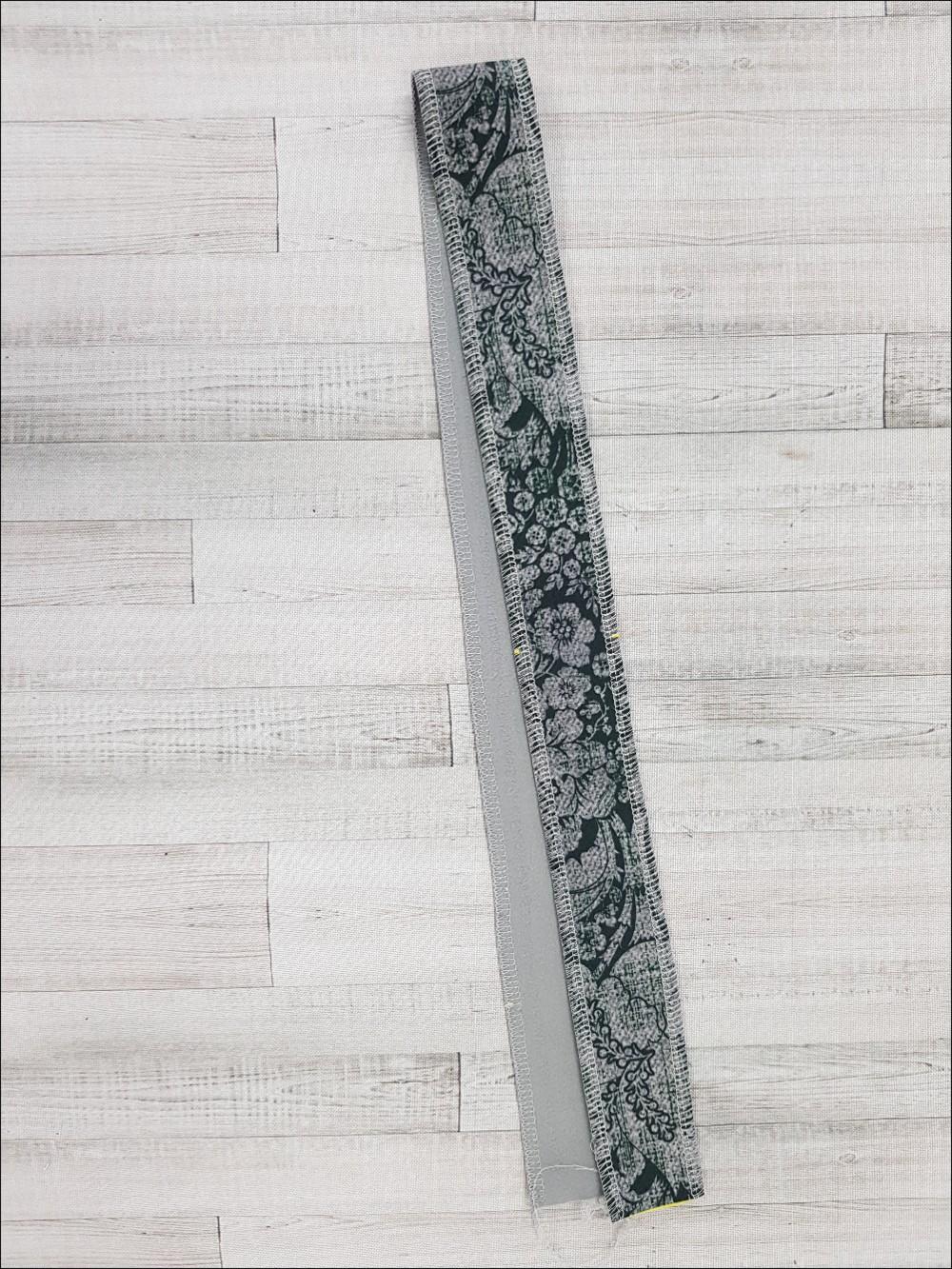 Korzystając z oznaczeń na parce (na wywiniętych do środka zapasach na szwy) przypnij tunel do wnętrza parki. Dopasuj jego długość.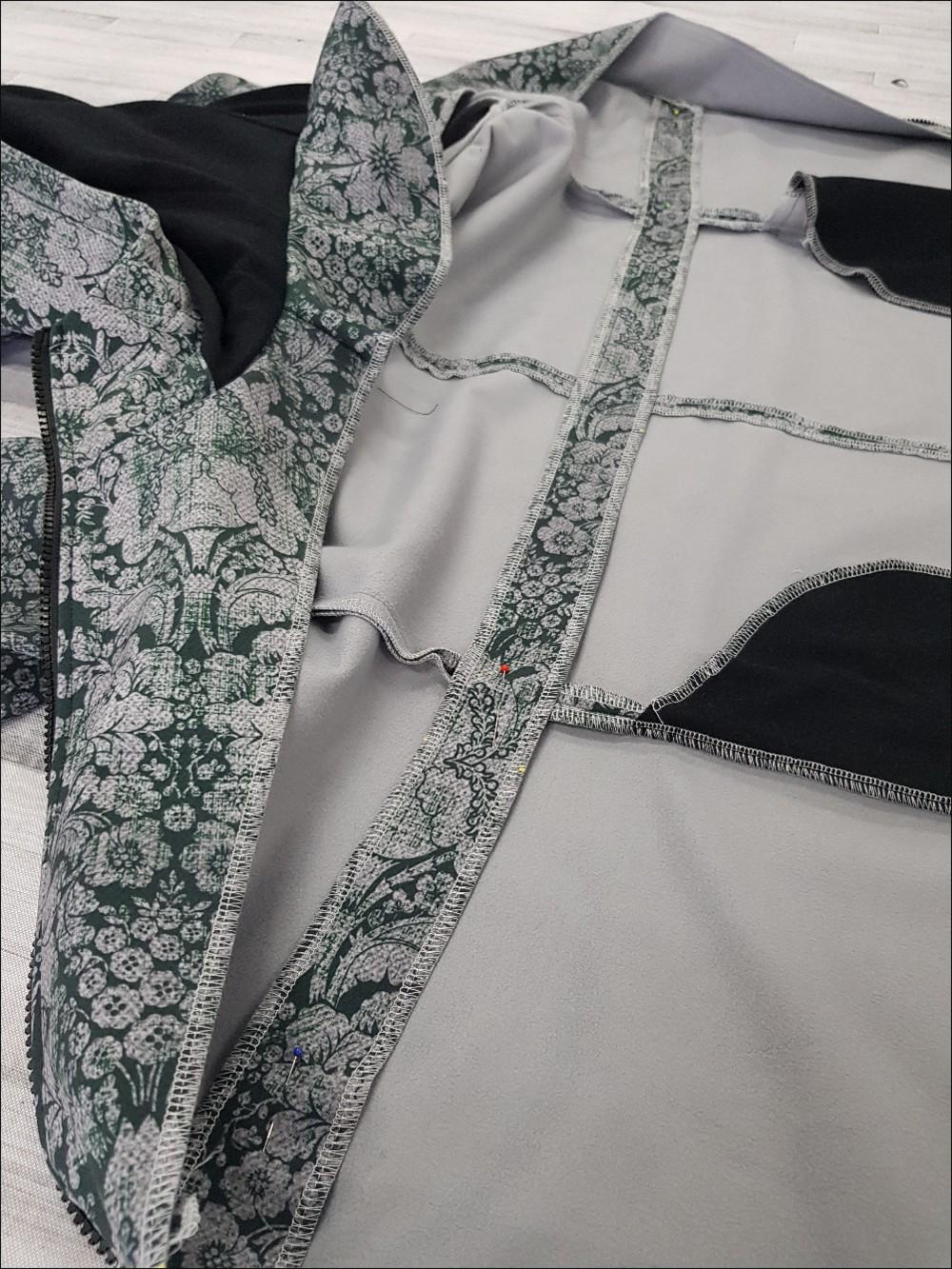 Przyszyj tunel do parki.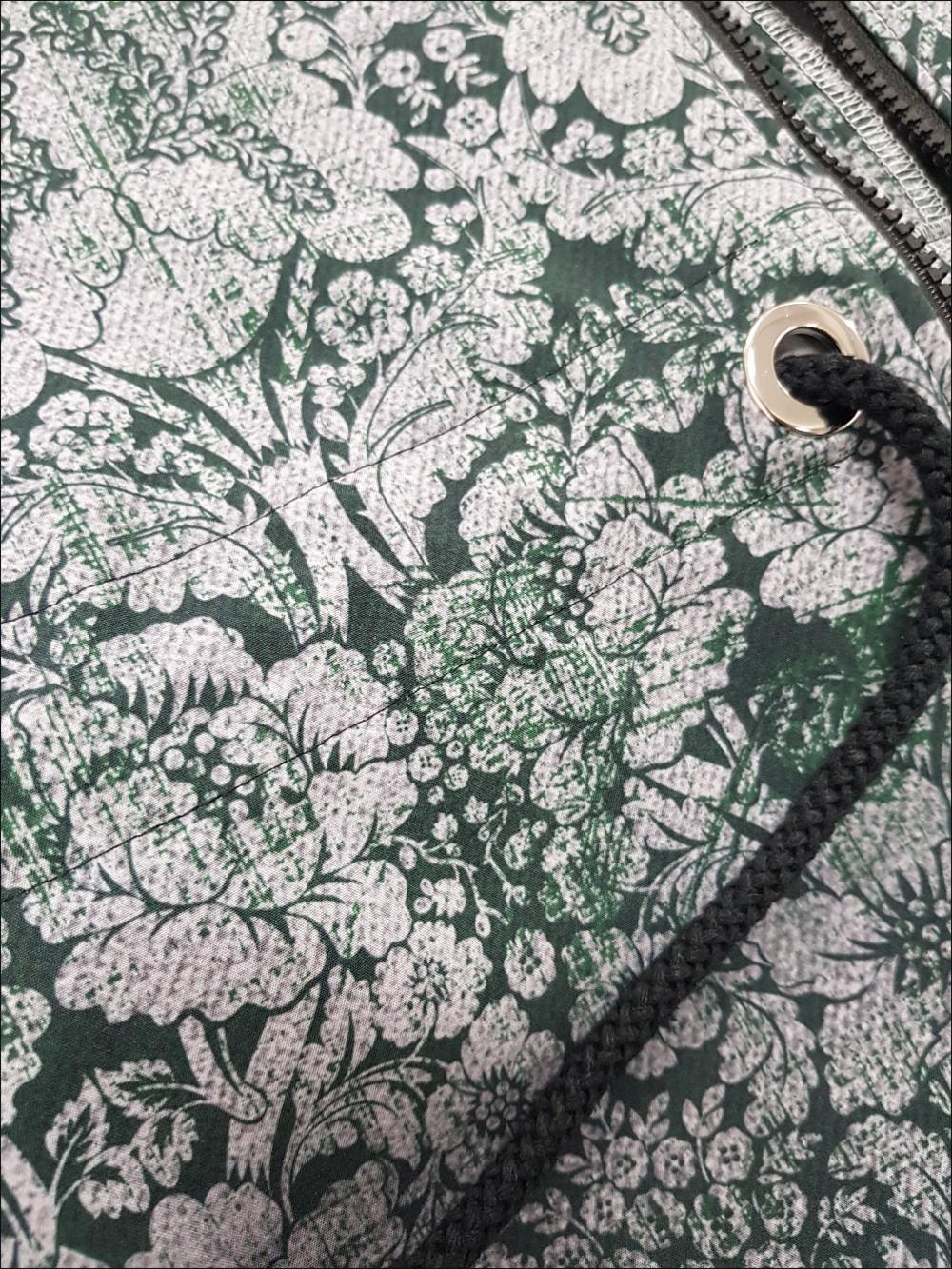 15. STĘBNOWANIE
Dokładnie wyciągnij rogi, wyrównaj wszystkie szwy i stebnuj kurtkę dookoła (krawędź i ewentualny tunel kaptura, przy krawędzi wszycia zamka, rozcięcie tyłu parki, dół parki).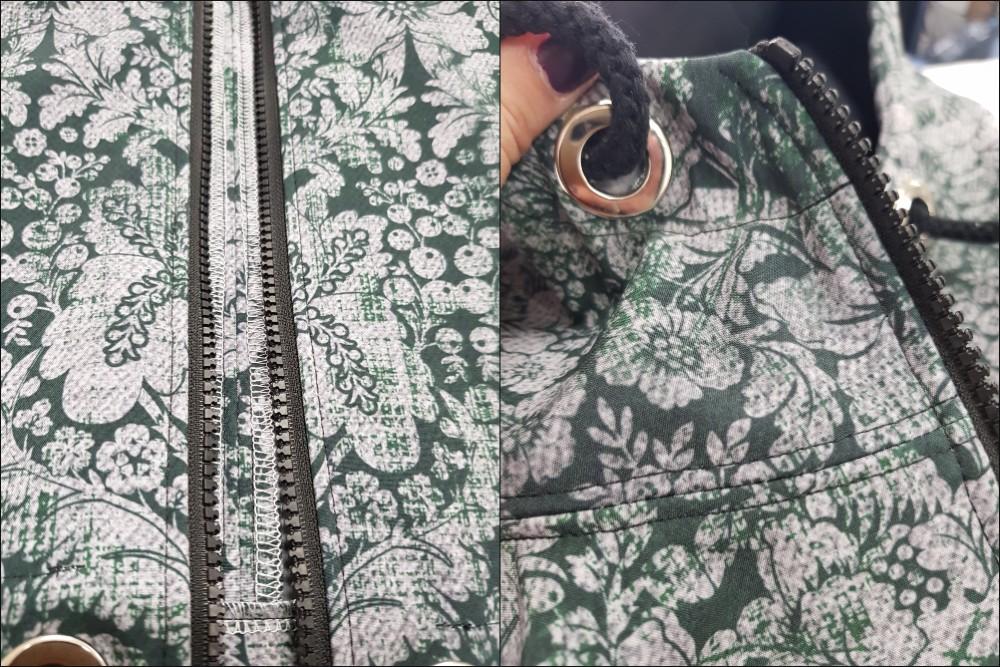 Parka jest już gotowa! Możesz jeszcze zszyć ze sobą ręcznie zapasy na szwy, ramion parki i odszycia oraz przyczep worki kieszeniowe do obłożeń.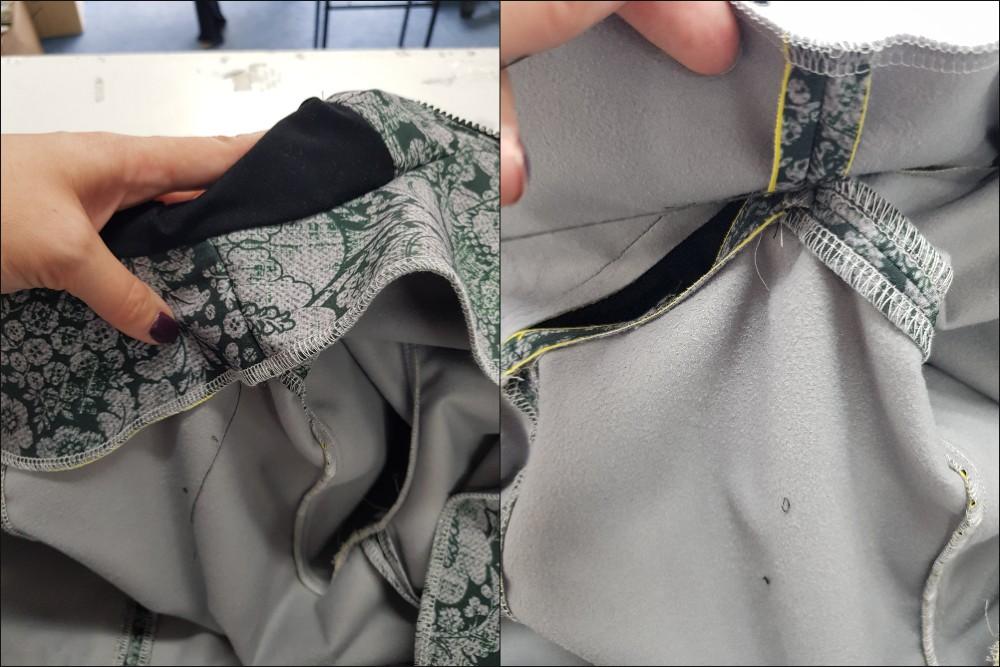 Gotowe!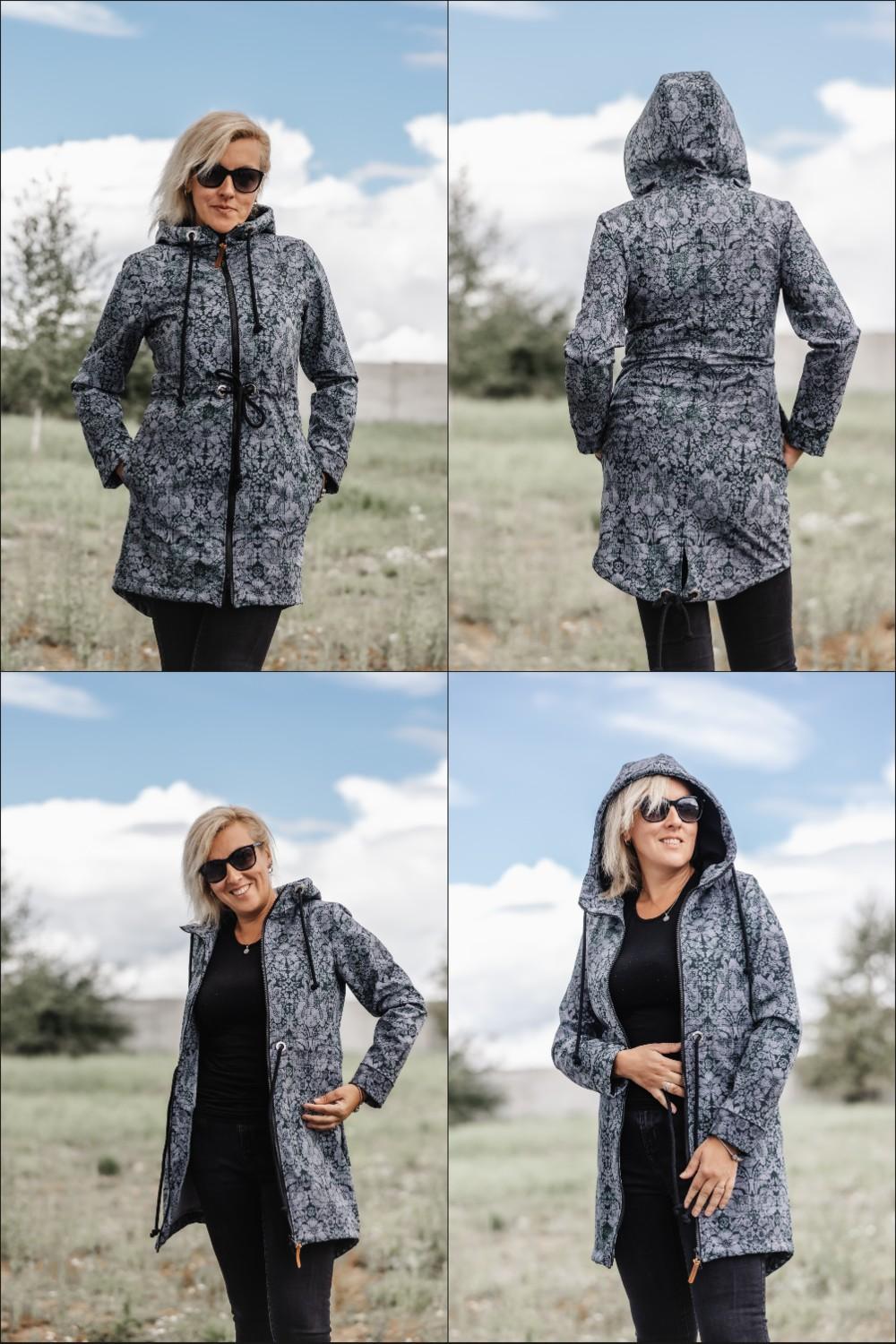 Dzięki za wspólne szycie!
Iwona Bartczak
Małgorzata Michalewska
Post Comments (5)
Viola Tercjak

02/05/2022

Wracam z kolejna uwaga bo właśnie zrobiłam błąd nie zwracając uwagi, ze kieszenie materialowe sa rożnej wielkości, do panelu kieszeni doszywamy MNIEJSZA cześć a WIĘKSZA będzie doszyta do przodu. Zorientowałam się zszywając już boki!!

Kamila Janta

08/04/2022

Rzeczywiście, instrukcja jest nieco niedokładna i zagmatwana. Nie pomaga drobny i pstrokaty wzór, zwłaszcza gdy człowiek próbuje się dopatrzyć po zdjęciach co z czym zostało zszyte. Podobnie jak Pani Viola mam problem z kapturem. Zdjęcia czarnej podszewki zupełnie nie pokazują gdzie jest prawa strona, a gdzie lewa i jak to jest połączone z odszyciem.

Brakuje porządku w tych instrukcjach (również na kosmetyczki i torebki - tak, testowałam, było ciężko, a doświadczenie mam już niemałe w tego typu rzeczach). Wiecie, jak wyprawka na języku polskim - wstęp, rozwinięcie, zakończenie.

Reasumując, są szanse na filmik? Może chociaż uzupełnienie instrukcji? Ładnie prosimy :)

Viola Tercjak

26/03/2022

Dobry wieczór, opis niestety bardzo niedokładny…. Pkt 8 sugeruje zszycie kaptura…. Wiec overlook jak nic, ale zdjęcia ponizę sugerują jednak obrzucenie na overlookui potem zszycie ale tego się niestety trzeba samemu domyślać! Podszewka kaptura do tej pory nie wiem czy będzie w końcowym efekcie na prawej stronie…. Jestem już dość zaawansowanym samoukiem po mamie krawcowej, ale nawet ona ma problem z opisem…. Może by tak filmik instruktażowy? Sam pomysł i wydruk rewelacja, już pare rzeczy z DIY z dresowki.pl uszyłam ale tu będzie metoda prób o błędów. Chyba ze poczekam na filmik lub dopracowany instruktaż. Wzór na materiale i czarna podszewka nie ułatwiają niestety.
Pozdrawiam
Viola

Dresówka.pl - obsługa sklepu

do:

Viola Tercjak 28/03/2022

Dziękujemy za uwagi - pomyślimy o filmiku :)

Katarzyna Ferenc

17/01/2022

Dzień dobry, odnośnie punktu 10. Obłożenia. Moim zdaniem, pierwsze zdjęcie obrazujące obłożenia przez zszyciem ma części ułożone niewłaściwie w stosunku do kształtu dołu tyłu kurtki. Po z szyciu nie będzie pasować. To drugie jest dobrze.
I mała sugestia, do kurtki bez patki na zamku dodałabym zamek wodoodporny.
Pozdrawiam Katarzyna

Dresówka.pl - obsługa sklepu

do:

Katarzyna Ferenc 18/01/2022

Dziękujemy za cenne uwagi :)

Sabina Krzus-Borek

10/09/2021

Cze jest opcja żeby ta parka była z podszedką?

Dresówka.pl - obsługa sklepu

do:

Sabina Krzus-Borek 10/09/2021

Jeżeli chodzi o zestaw to niestety nie, ale nic nie stoi na przeszkodzie, żeby dodać ją samemu. Możemy podpowiedzieć jak to zrobić - prosimy o kontakt z adresem blog@dresowka.pl :)

To add a comment, you must be a registered customer.
click here to log in