21/05/2021
| in category:
Zwiewna bluzka oversize
W ofercie sklepu Dresówka.pl pojawił się niedawno zestaw, przy pomocy którego można uszyć zwiewną bluzkę z szyfonu. Jest to projekt, który można śmiało uznać za letni must have. Bluzka ma uniwersalny rozmiar, który wygląda świetnie zarówno na osobach niskich, jak i wysokich, iXeSkach i iXeLkach, małych i dużych biustach (testowały ją wszystkie dresówkowe modelki i każda czuła się w niej świetnie). Uszyte bluzki zwiedziły już plaże, biura, imprezy rodzinne i wiele miejsc, w których budziły westchnienia zazdrości ;)
Teraz kolej na Was! Dość wymówek! Kończymy z "nie umiem", "nie potrafię", "nie szyłam z szyfonu", "boję się tkanin", "nie mam overlocka". W poniższym wpisie pokażę Wam, że uszycie bluzki zajmuje mniej czasu niż.. jej wycięcie! Do dzieła!
Potrzebować będziecie:
- gotowego zestawu na bluzkę, w którym znajdziecie nadrukowany na materiale wykrój
- ostrych nożyczek
- ostrych szpilek lub klamerek
- maszyny wielofunkcyjnej (polecam szyć cienką, ostrą igłą uniwersalną)
Bluzkę można uszyć używając overlocka, zabezpieczyć brzegi ściegiem rolującym, zygzakiem, czy na przykład delikatnie opalając. Ja proponuję jednak najprostsze, a zarazem niezwykle efektowne rozwiązanie - użycie szwu francuskiego.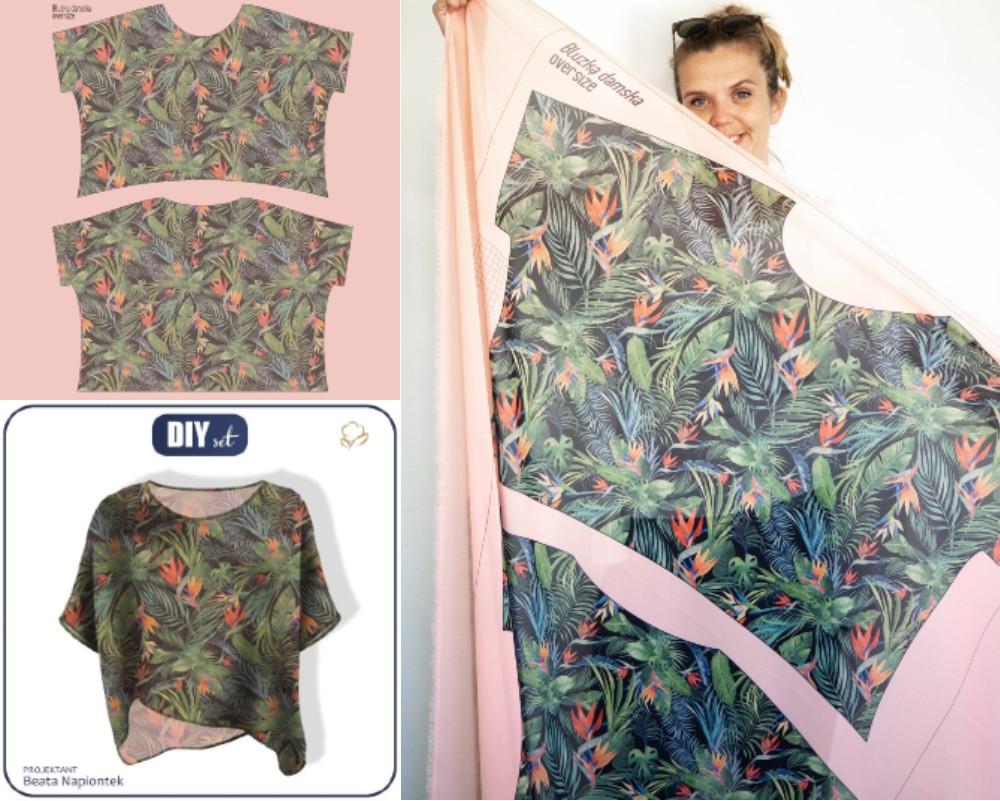 1. Na początek wytnij elementy bluzki i sczep ze sobą przód i tył LEWĄ STRONĄ DO LEWEJ. Używaj ostrych szpilek lub klamerek, uważaj, żeby nie zaciągnąć materiału. "Szpilkuj" gęsto.
Szyfon jest materiałem niezwykle kapryśnym. Polecam łączyć go, rozpoczynając od dekoltu w kierunku rękawów, następnie od dołu w kierunku pachy. Wszelkie nierówności można spokojnie dociąć i wyrównać, bluzka nie straci przez to fasonu.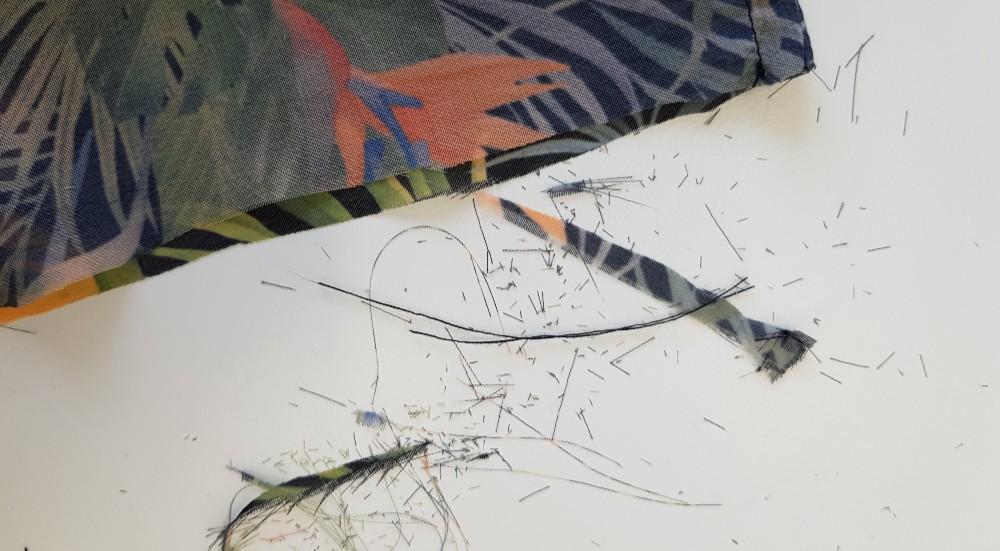 2. Zszyj ze sobą elementy, szyjąc po prawej stronie materiału. Polecam zrobić to na około 0,5cm od brzegu. Pamiętaj, żeby równo naciągać obie warstwy materiału.
3. Pod pachami na łukach zrób nacinki.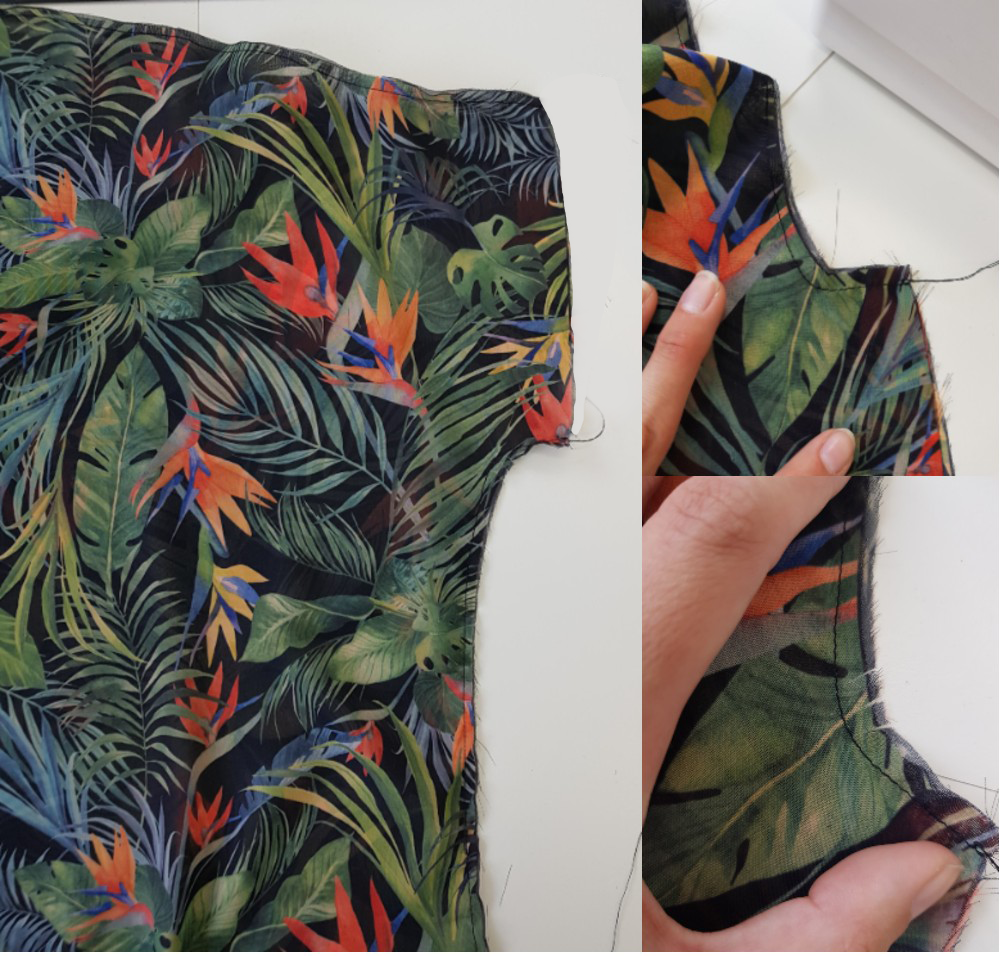 4. Odwróć bluzkę na lewą stronę i przeszyj materiał około 0,7- 1cm od brzegu. W ten sposób szew zostanie całkowicie ukryty.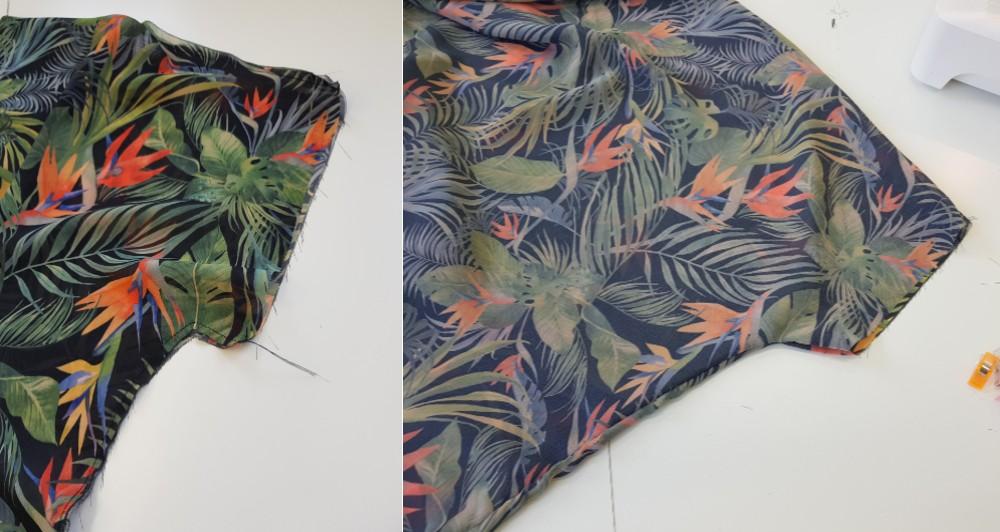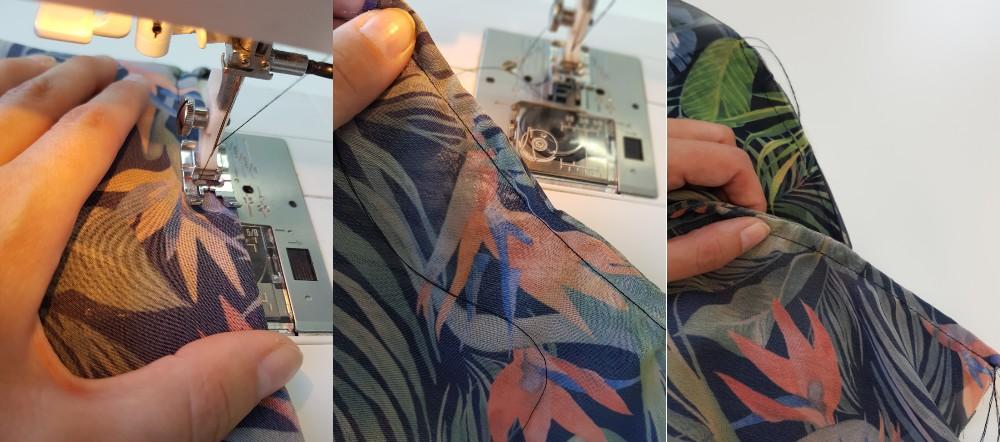 5. Chociaż szyfon jest niezwykle lejący, delikatny, to również bardzo wiele wybaczy. Możesz więc pozwolić sobie na małe odstępstwo i darować sobie obszywanie dekoltu czy wykonanie obłożenia. Tym razem, ciesząc się, że to już prawie koniec, a plaże czekają, dekolt wykończ dokładnie tak samo jak dół oraz rękawy bluzki, czyli podwijając na dwa.
Pamiętaj jednak o tym, aby spasować kierunek szwów w całej bluzce.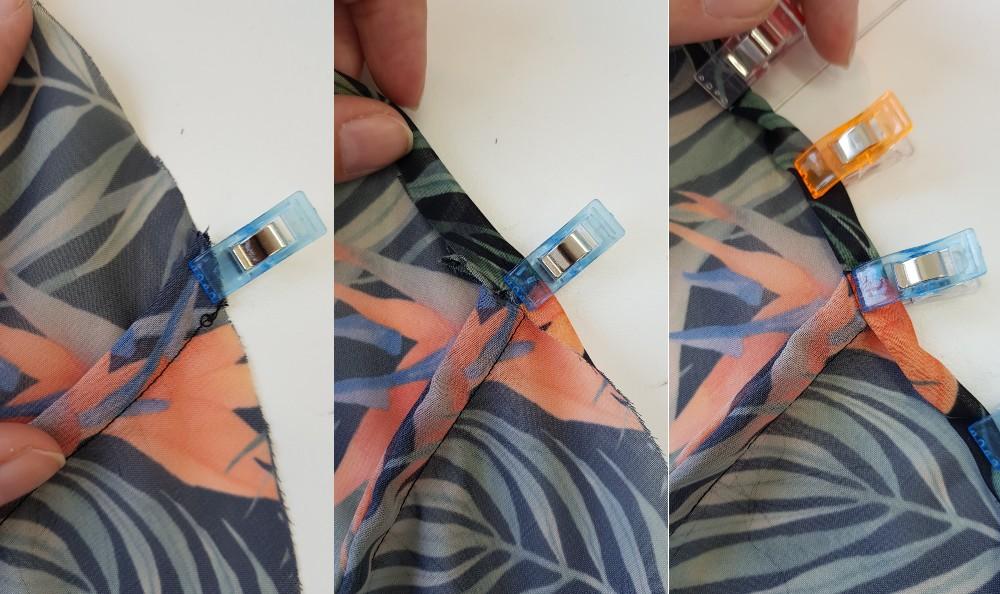 Brzegi bluzki najpierw podwiń na raz, sczep szpilkami/klamerkami, następnie podwiń na dwa, sczep dokładnie i przeszyj przy brzegu podwinięcia.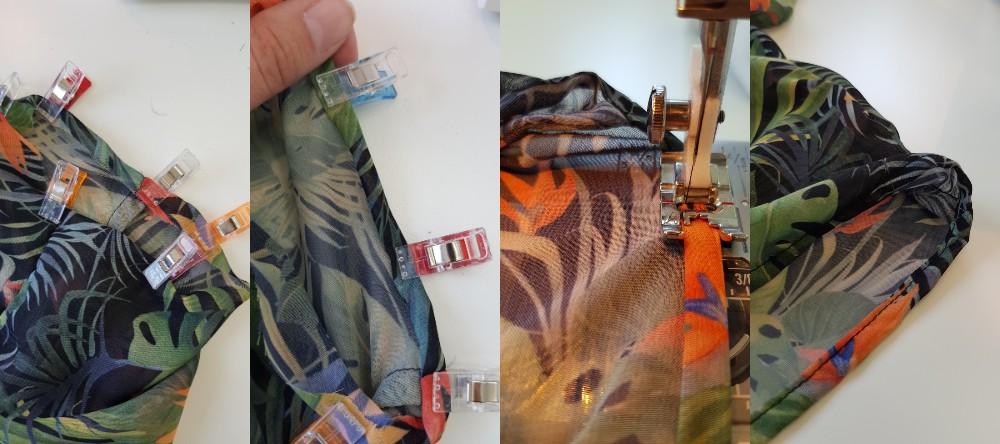 Prawda, że proste?
Teraz nie pozostaje nic innego, jak tylko śmiało iść przez lato i z dumą mówić wszystkim - sama to uszyłam!
Owocnego szycia! Koniecznie pochwalcie się nam efektami!
Małgorzata Michalewska
Post Comments (0)
To add a comment, you must be a registered customer.
click here to log in