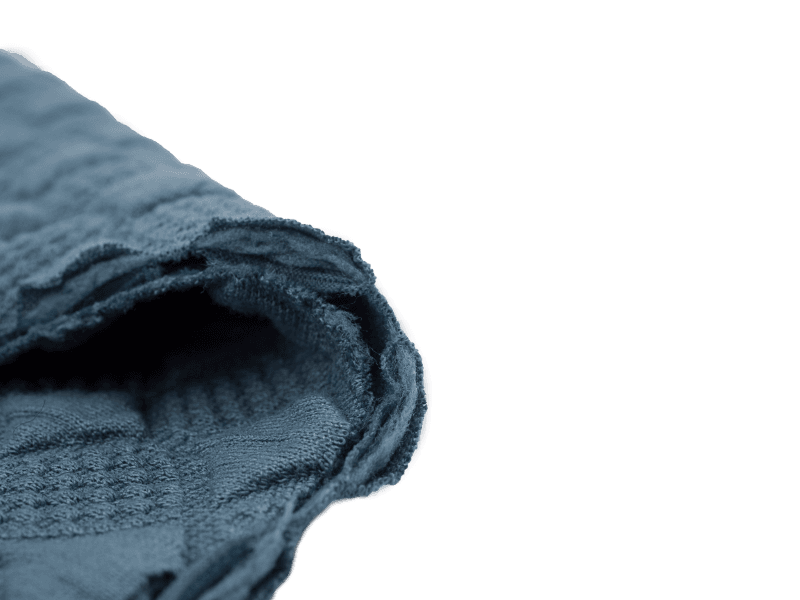 JACQUARD
If you are looking for a fabric with an unusual structure that is elastic, soft, fits well and is perfect for sewing sweatshirts, dresses, tunics, bomberjackets or cardigans, then you've come to the right place! Jacquard fabrics, which you will find in this category, are fabrics that stand out with their unique appearance and are easy to sew.
ŻAKARD NA METRY
Tkaniny żakardowe z reguły wyróżniają się rozbudowanymi wzorami. Mogą być jedno- lub wielobarwne. Wytwarza się je na tzw. maszynach Żakarda (Jacquarda). Maszyny te stosuje się również przy produkcji innych wzorzystych dzianin, najczęściej jednak pierwsze skojarzenie, jakie się z nimi wiąże, to właśnie tkaniny żakardowe. Mówi się, że żakard ma klasę. Choć żakard wcale nie musi być drogi, tkaniny żakardowe mają w sobie coś ekskluzywnego. Nic więc dziwnego, że tkaniny te często wybiera się, by uszyć sukienki i inne elementy kobiecej garderoby. Nie ma jednak reguły. Sięgając np. po dostępny w naszym sklepie materiał o wzorze alpejskim (materiał został wykonany na maszynie żakardowej), bez problemu możesz uszyć bluzę, longsleeve, kardigan, ale też czapkę, komin czy chustę.
Za co doceniany jest żakard? Elegancja, jaka cechuje tkaniny żakardowe, to jedna z kilku zalet tego materiału. Inne to m.in. jego gładkość, odporność na gniecenie, ogólna trwałość i łatwa pielęgnacja. Dobrej jakości żakard jest hipoalergiczny, co oznacza, że jest bezpieczny, również dla skóry noworodków. Z tego względu tkaniny żakardowe są wykorzystywane do wykonywania dziecięcych nosideł. Przy takim zastosowaniu ważne jest dokładne sprawdzenie jakości materiału (duże znaczenie ma tu rodzaj przędzy wykorzystanej do jego produkcji) oraz wybranie odpowiedniego wzoru.


Do czego wykorzystać tkaniny żakardowe?
Żakard to materiał, który często można spotkać w renomowanych, drogich butikach. Żakard świetnie prezentuje się jako żakiet lub garsonka. Hitem ostatnich lat są również wykonane z żakardu poszerzane spodnie. Tego typu spodnie proponowały znane projektantki, ale można je było również w popularnych sieciówkach. Spodnie żakardowe można oczywiście uszyć samodzielnie. Wystarczy wybrać odpowiedni materiał, a tych w naszym sklepie mamy pod dostatkiem. Na spodnie szczególnie polecamy strukturą przypominającą jeans dzianinę żakardową ze wzorem "koła". Szukasz czegoś bardziej ekstrawaganckiego? Rzuć okiem na przepiękną dzianinę żakardową ze wzorem "akwarelowe kwiaty". Dzianina ta może okazać się strzałem w dziesiątkę również wtedy, gdy chcesz uszyć efektowny, wyróżniający Cię z tłumu żakardowy płaszcz.
Tkaniny żakardowe to świetny materiał również na odzież męską. Można z nich uszyć np. gustowną marynarkę lub swetry. Odzież dziecięca? To raczej mniej popularne wykorzystanie żakardu, choć ze względu na jego hipoalergiczny charakter, niekiedy materiał ten wykorzystuje się do wykonywania dziecięcych kombinezonów. W tej roli doskonale powinna sprawdzić się dostępna w naszym asortymencie dzianina żakardowa ze wzorem "kotwice czerwone". Tkaniny żakardowe idealnie nadają się na dziecięce nosidła. Żakard może posłużyć ponadto do przygotowania ozdobnych obrusów, pościeli, firanek, narzut itp.
Eleganckie tkaniny żakardowe są idealne na specjalne okazje, ale i na co dzień. W sklepie Dresówka.pl znajdziesz wiele różnych odmian żakardu. Wzór alpejski, żaglówki, kotwice, koła, akwarelowe kwiaty, liście, szlaczki z serduszkami, gwiazdy, serca, plamki – wybór jest ogromny! Wszystko zależy od tego, co zamierzasz uszyć, jaką masz wizję i preferencje estetyczne. Pamiętaj: zamawiamy materiały u sprawdzonych krajowych dostawców. Staramy się wspierać polskie firmy, oferując wysoką jakość sprzedawanych materiałów. Jeśli chcesz uszyć coś na lata, warto postawić na najlepsze tkaniny żakardowe dostępne w naszym sklepie!
Jesteś już po zakupie wymarzonego materiału, masz już krój, ale nie wiesz, jak zadbać o żakard? Na zakończenie kilka porad. Żakard można prasować wyłącznie po lewej stronie. W ten sposób unikniesz uszkodzenia wzoru. Zwróć uwagę na temperaturę, w jakiej można prać zakupione w naszym sklepie tkaniny żakardowe. Przeważnie żakard pierze się w temperaturze do 30 stopni Celsjusza, najlepiej ręcznie. Lepiej nie używać środków do odzieży białej. Zachowaj ostrożność przy suszeniu. Suszenie w silnym słońcu nie jest wskazane.