28/03/2019
| in category:
Torebka damska- zestaw DIY
Difficulty level:

difficult
Bo każda z nas ma ich kilka. Tych ulubionych i tych na specjalne okazje. Teraz sama możesz stworzyć swoją i niepowtarzalną damska torebkę, bo o niej tu właśnie mowa.
To wszystko dzięki nowym zestawom na damską torebkę od "Dresówka.pl"
A teraz krok po kroku pokażę Ci jak ją uszyć.
Do uszycia torebki potrzebujesz:
- maszynę do szycia, szpilki, nici, pisak znikający
- zestaw na torebkę damską, ze sklepu Dresówka.pl, w którym znajdziesz: panel z ekoskóry, tkaninę wodoodporną, taśmę suwakową, taśmę nośną, suwak, wigofil, wykrój, skróconą instrukcję szycia w wersji papierowej.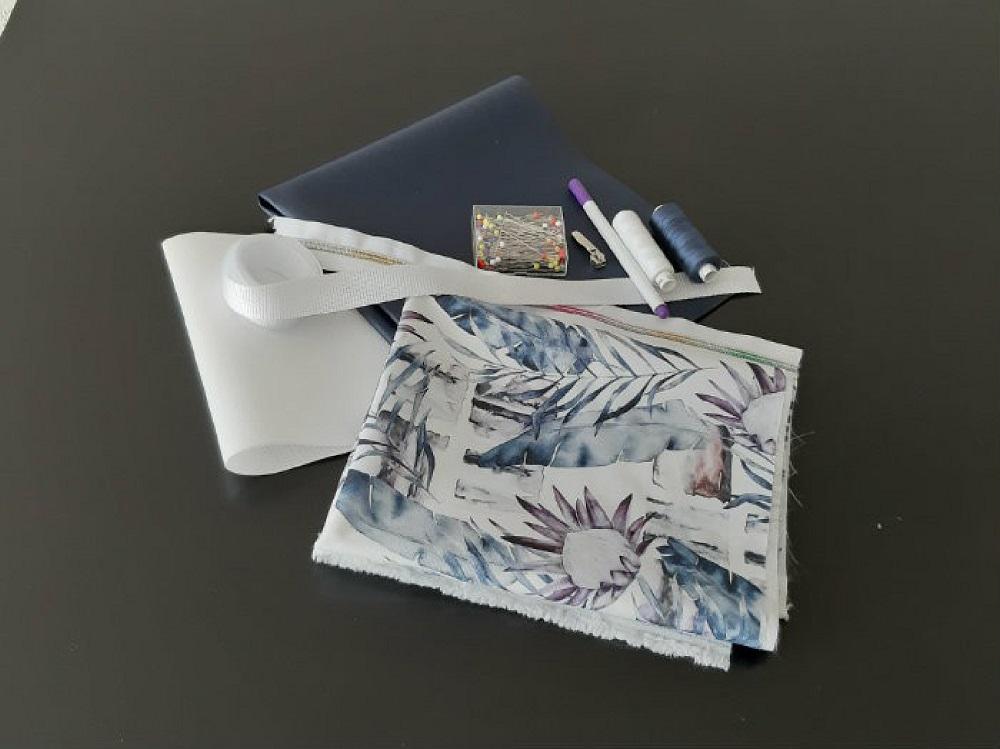 Pracę rozpoczynamy od ułożenia i wycięcia wszystkich elementów wykroju, nie zapominając o elementach z wigofilu. Z odpadu jaki zostaje nam z ekoskóry kroimy małe prostokąty o wymiarach 16x4,5cm do ozdobienia rączek z taśmy nośnej.
Taśmę przycinamy na 32cm .
Teraz uszyjemy mniejsze elementy torebki, tzn. rączki i listwę z zamkiem.
Na długi prostokąt z tkaniny wodoodpornej układamy taśmę suwakową prawą stroną i na to jeszcze, równo do krawędzi wigofil, który posłuży tu nam jako spodnia warstwa listwy.
Przeszywamy używając stopki do zamka lub funkcji przestawienia igły w maszynie na lewą stronę.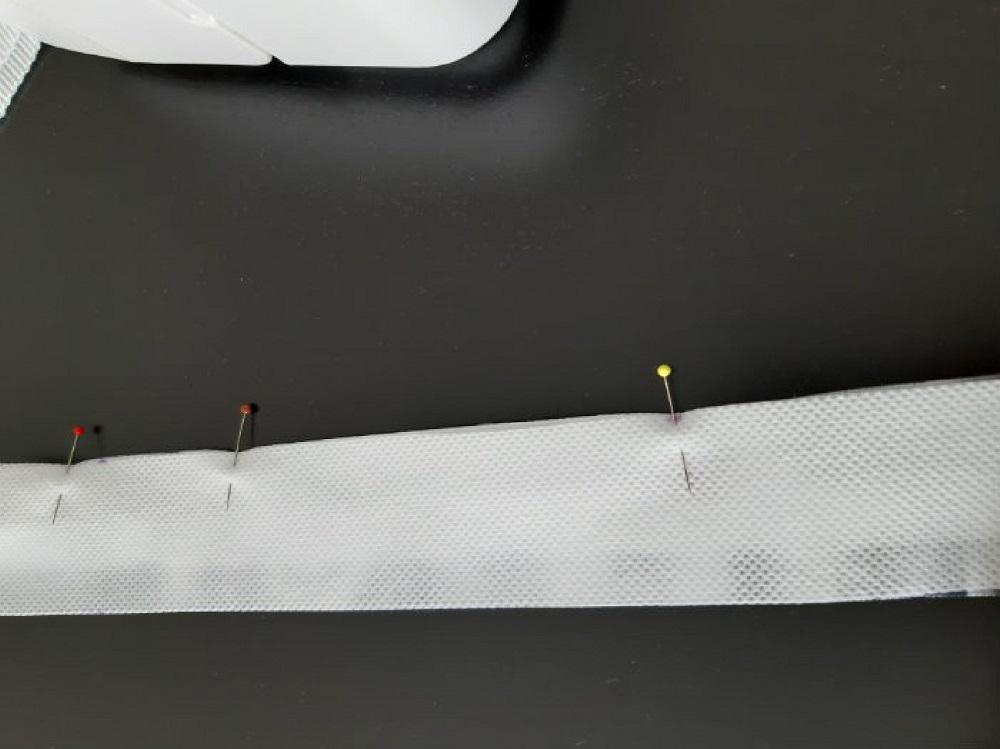 Czynność powtarzamy z drugiej strony zamka, wywijamy i stębnujemy.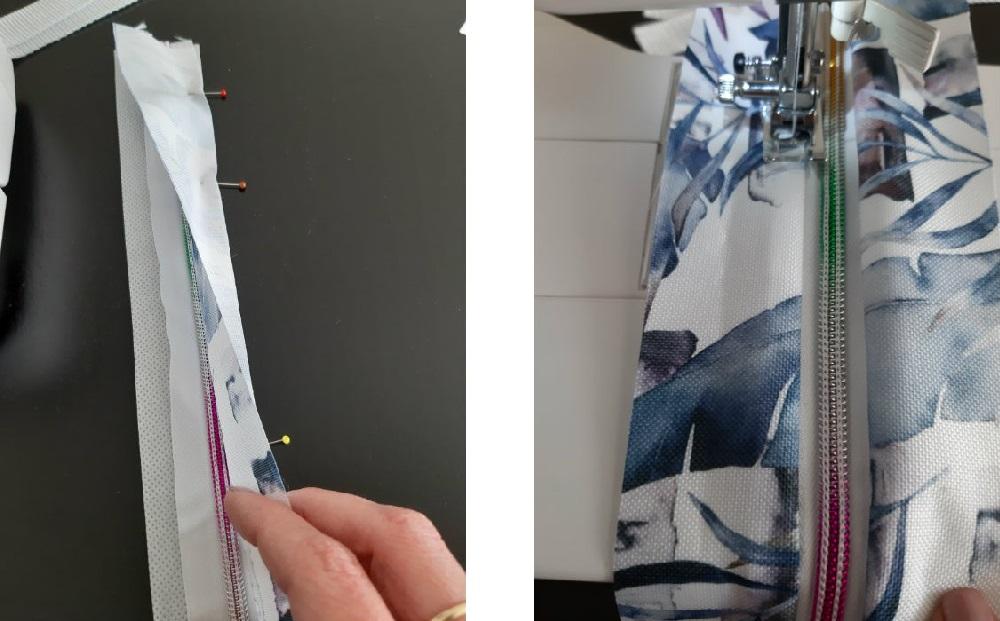 Listwę wyrównujemy, a na prostopadłych jej bokach wykonujemy lamowanie z reszty taśmy nośnej.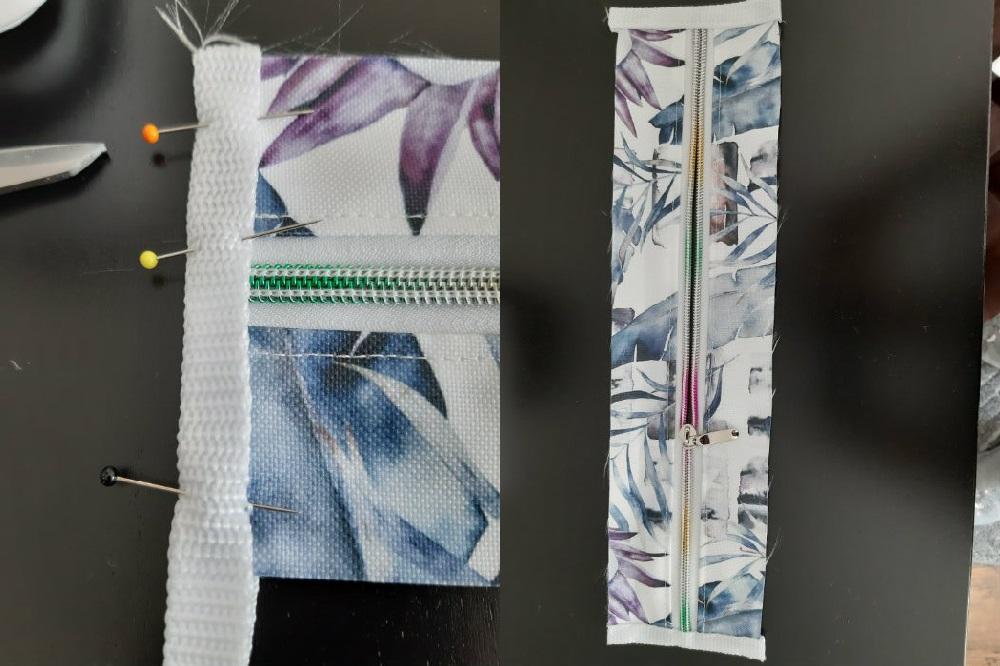 Na rączkach z taśmy nośnej wyznaczamy środek i to samo wykonujemy na prostokątach z ekoskóry. Nakładamy te punkty na siebie i składamy na pół.
Naddatki zawijamy do środka i przeszywamy jak najbliżej brzegu.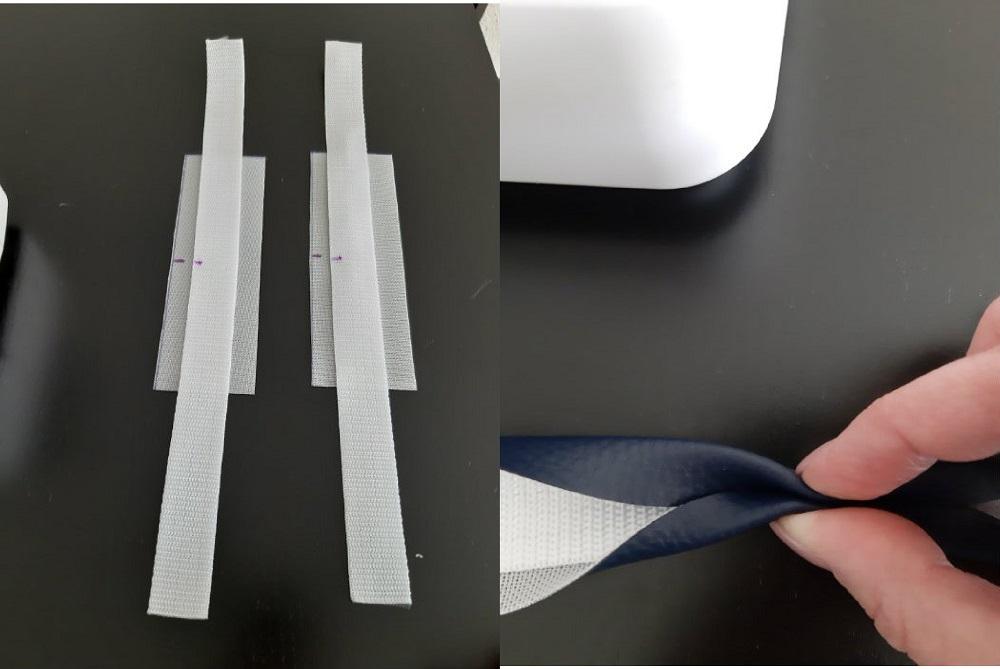 Gdy rączki do naszej torebki są już gotowe przystępujemy do łączenia elementów wierzchniej warstwy torebki.
Jeżeli nie macie przekonania do rączek z taśmy nośnej, lub Wam się po prostu nie podobają, możecie je również wykonać z resztek tkaniny wodoodpornej, jakie zostaną Wam po wykrojeniu elementów torebki. Są to szerokie na 6cm paski. Paski te zawijamy do lewej strony na ok 0,5cm i składamy na pół. Dla lepszego komfortu szycia upinamy te elementy szpilkami i przeszywamy blisko brzegu na prawej stronie. Długości tych pasków sami dopasujecie do własnych potrzeb lub skroicie tak samo jak te z taśmy nośnej.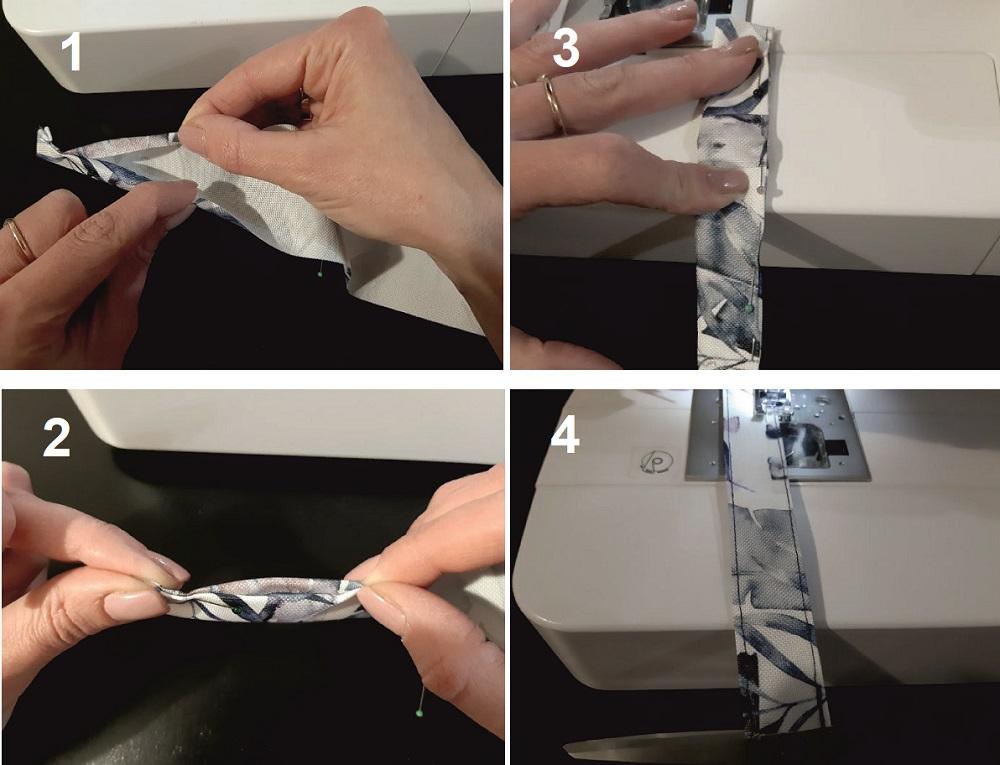 Trzy elementy pierwszej warstwy wierzchu łączymy ze sobą nie zapominając o podszyciu środkowej części z tkaniny wodoodpornej wigofilem.
Gdy już wierzchy mamy zszyte, stębnujemy wszystkie szwy.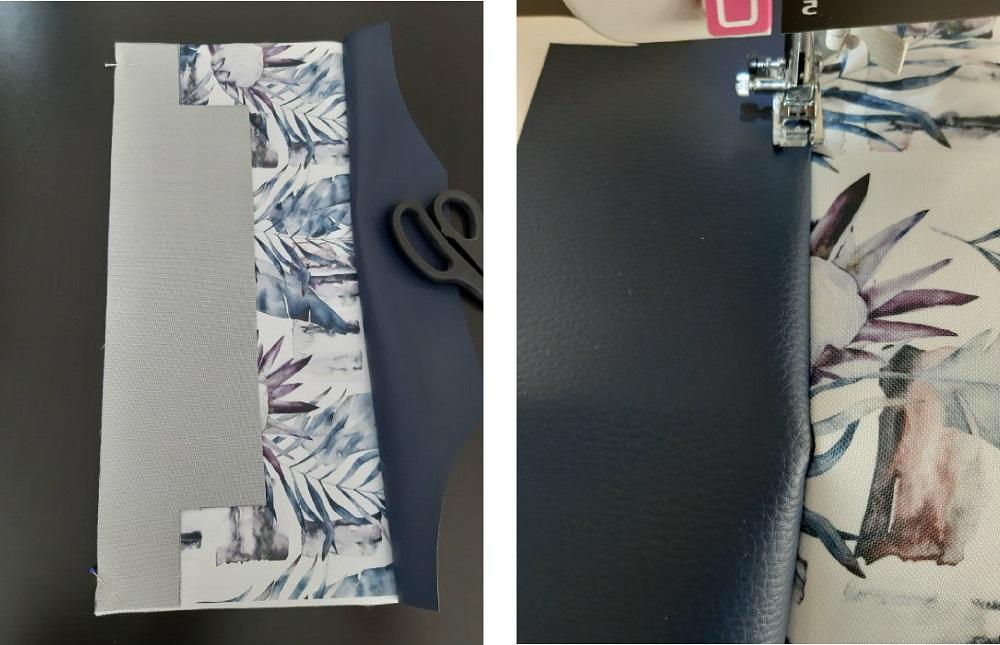 Teraz zajmiemy się wszyciem listwy do zamka, do wewnętrznej części torebki.
W miejscu wszycia listwy wyznaczamy środek, będzie to nasz punkt styczny. To samo robimy na listwie. Łączymy punkty zszywając elementy.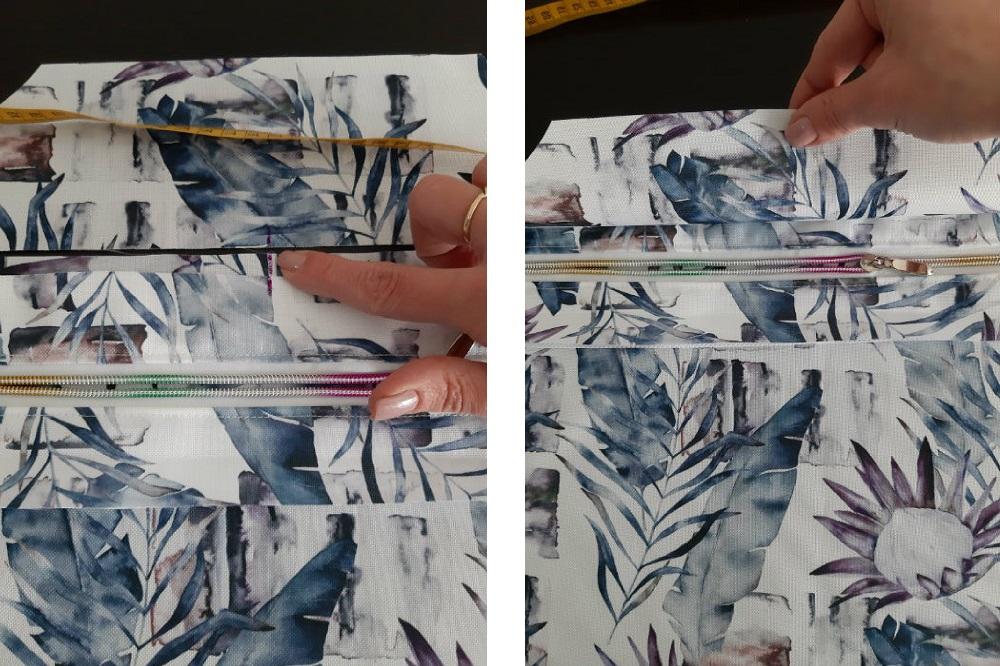 Tak samo łączymy drugi bok naszej wewnętrznej warstwy torebki. Zostało nam przeszycie boków dookoła, nie zapominając o pozostawieniu otworu na wywinięcie w dolnym szwie.
Możemy teraz połączyć ze sobą oba wierzchy torebki i odszyć jej dno.
Przeszywamy nakładając na siebie boczny i dolny szew wierzchu. Staramy się to robić w miarę równo gdyż każde niedociągnięcie będzie widoczne na prawej stronie.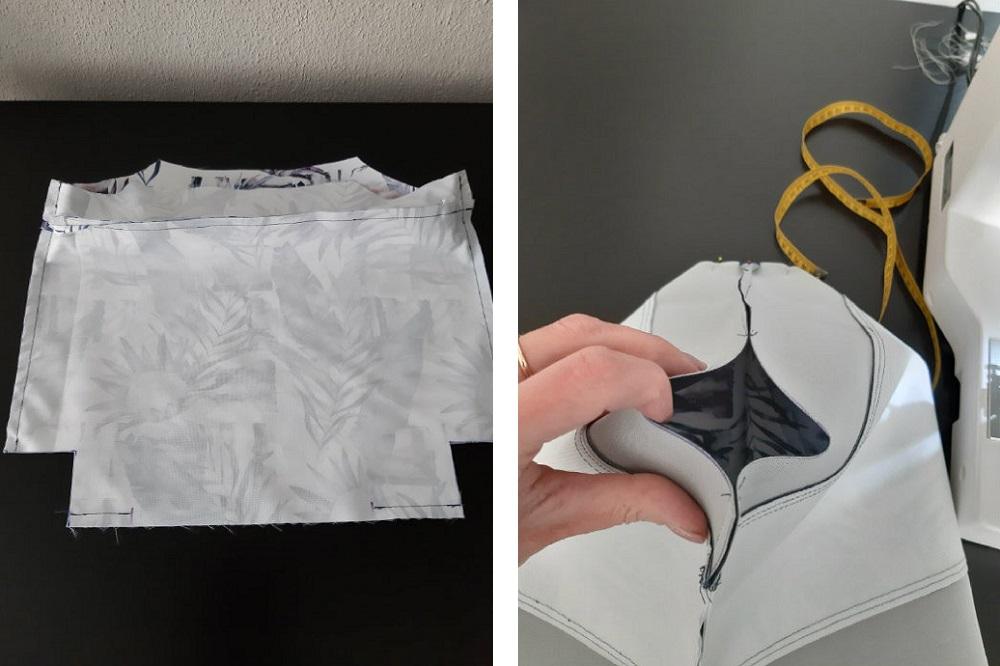 Pamiętajmy również o rozkładaniu zapasów na szwy, łączenia są są wtedy cieńsze i bardziej estetyczne .
Gdy dno w wierzchu mamy gotowe, to samo wykonujemy w warstwie środkowej torebki.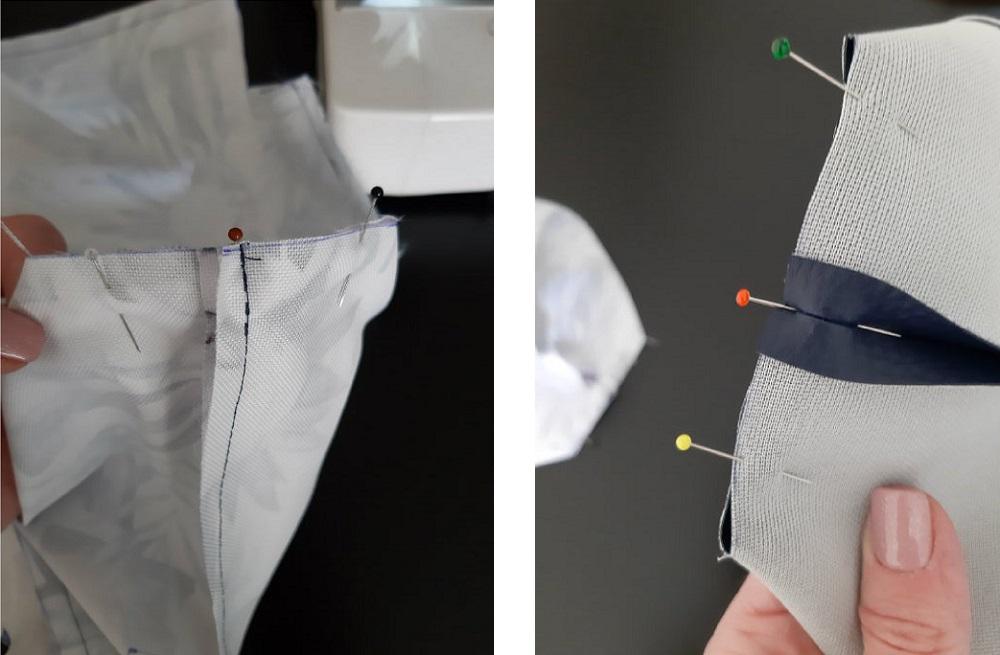 Teraz mocujemy nasze wcześniej odszyte rączki torebki, na prawej stronie wierzchniej warstwy. Te punkty są też widoczne na wykroju. W odległości 1cm od bocznego łuku przeszywamy taśmę, na ok 3 mm.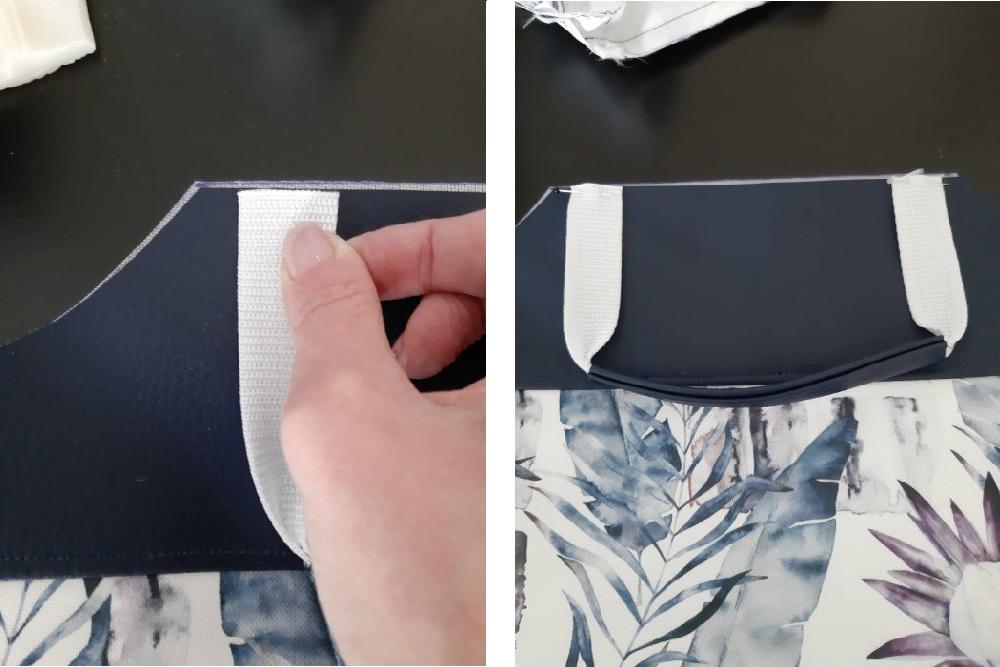 Po zamocowaniu rączek z taśmy wywracamy wierzch z powrotem na lewą stronę i za pomocą szpilek łączymy ze środkową częścią naszej torebki i upewniamy się, że wszystkie szwy spotykają się w jednym miejscu.
Przeszywamy łącząc obie części torebki.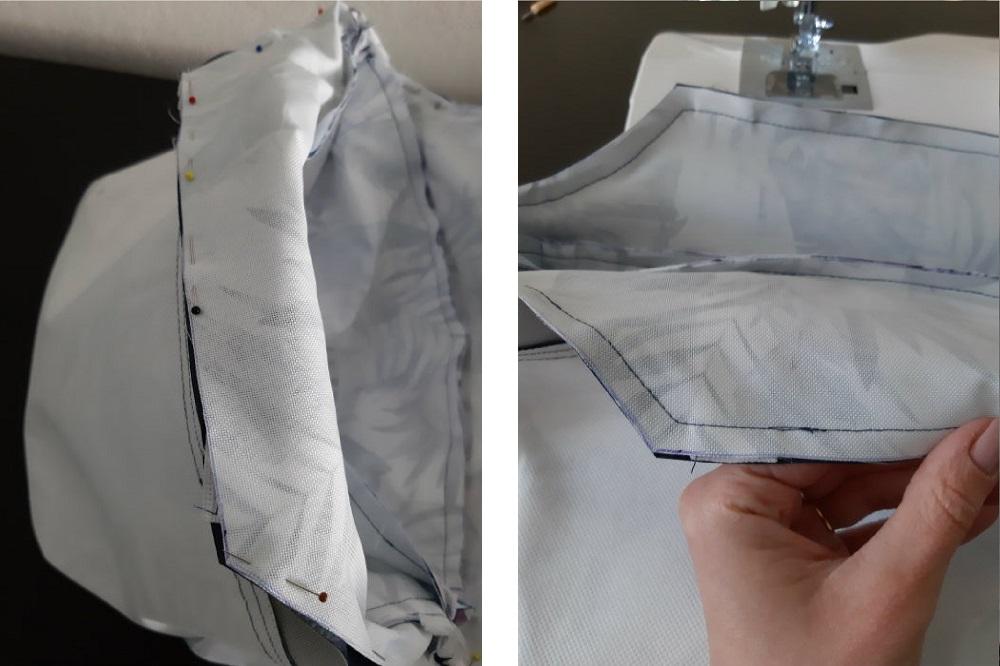 Ważną rzeczą w tym momencie naszej pracy jest to, aby po przeszyciu w miejscu łuków ponacinać je w celu lepszego ułożenia się torebki na prawej stronie.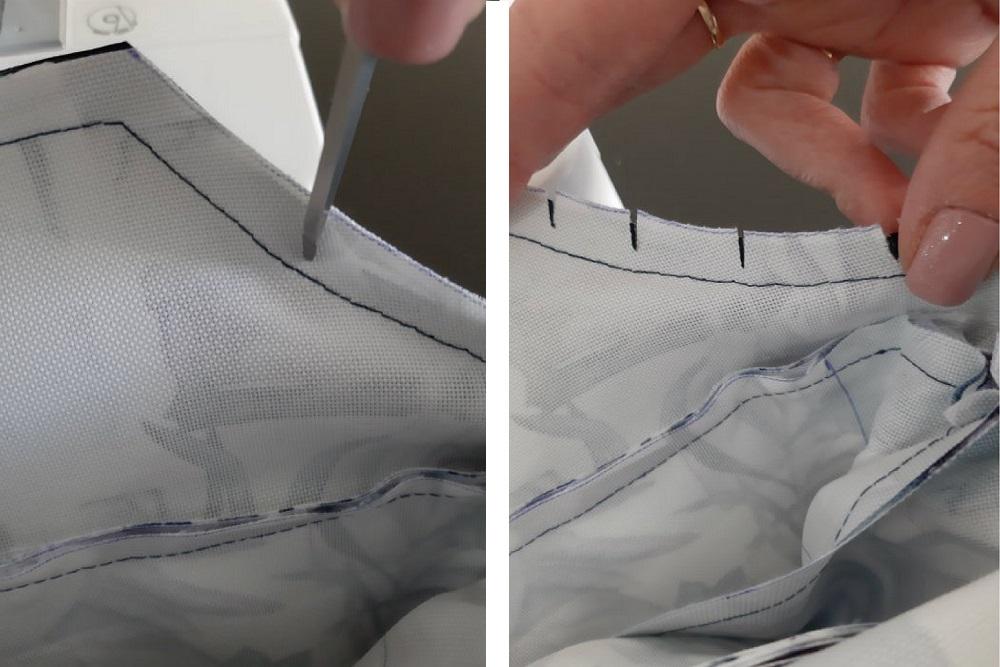 Łuki mamy ponacinane, więc pozostało wywrócić torebkę na prawą stronę i przestębnować jej brzegi na ok 3-5mm.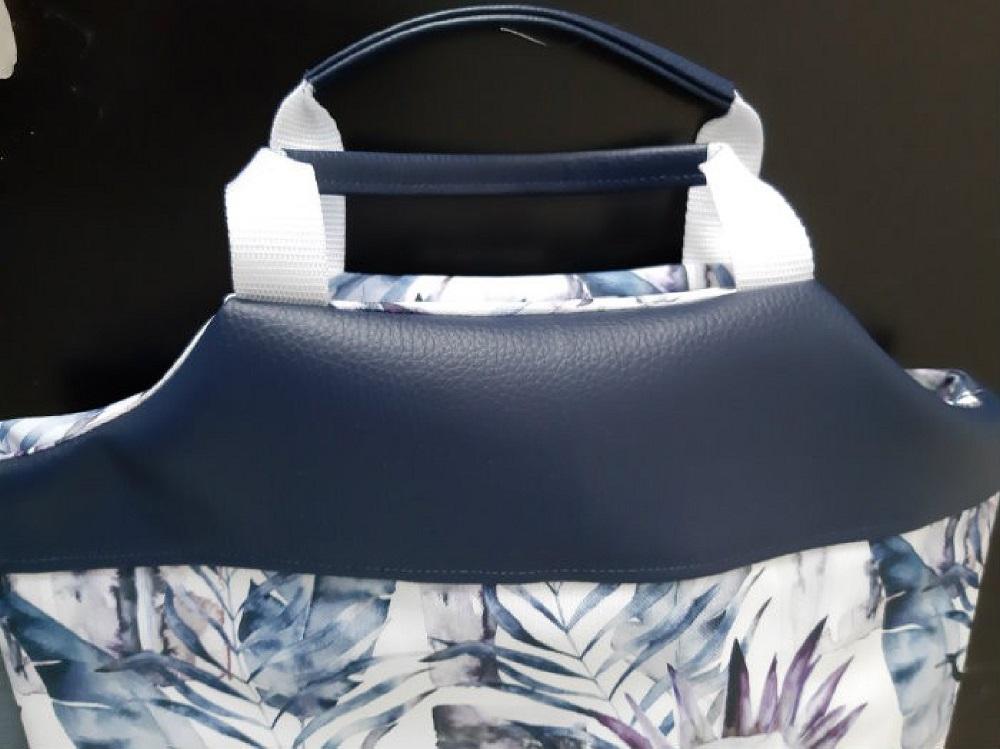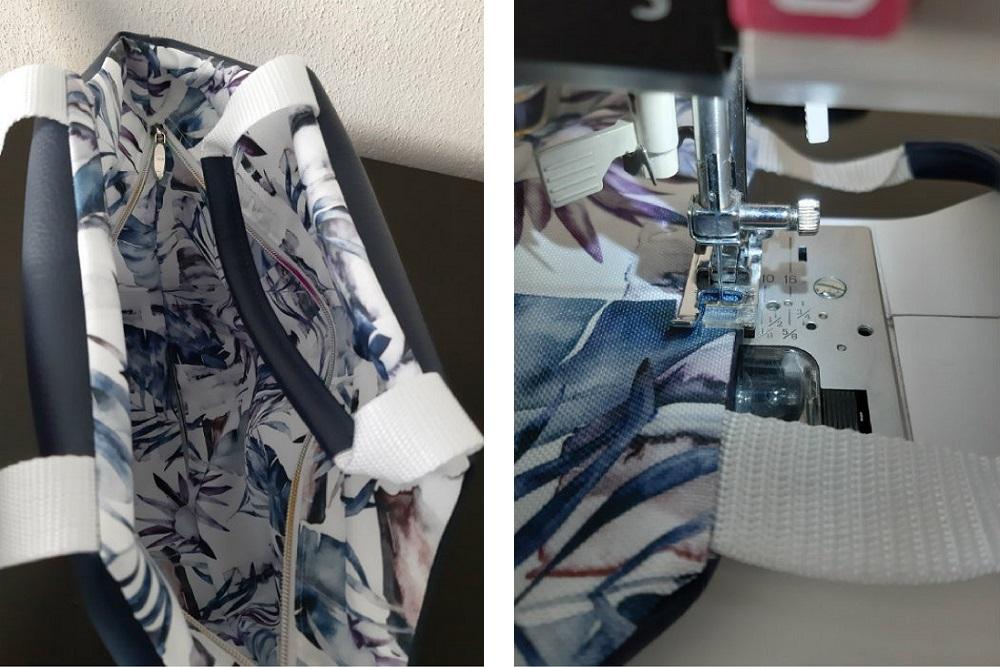 Jeszcze tylko zaszycie naszego otworu w dnie środkowej części i nasza własnoręcznie uszyta torebka jest już gotowa.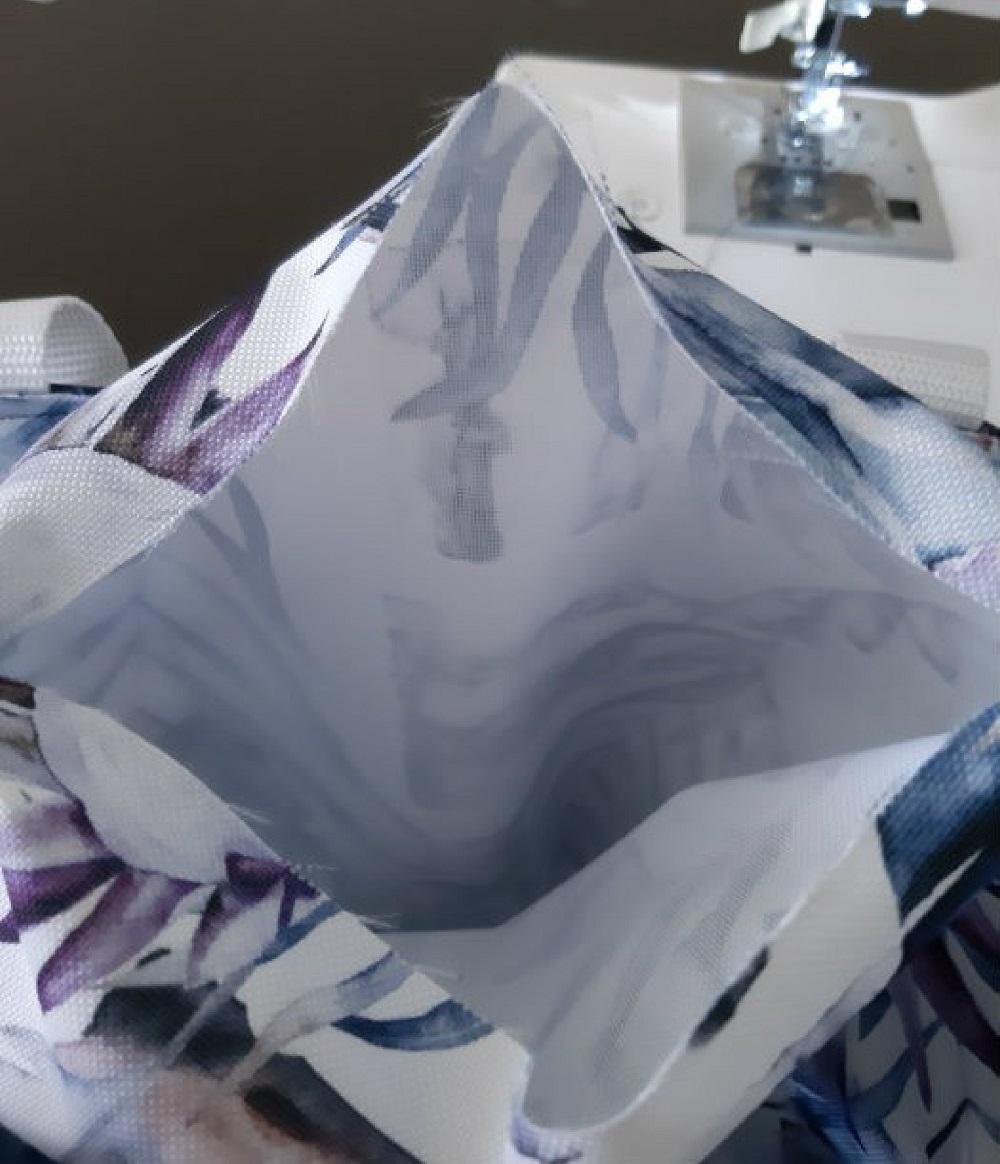 A oto i ona.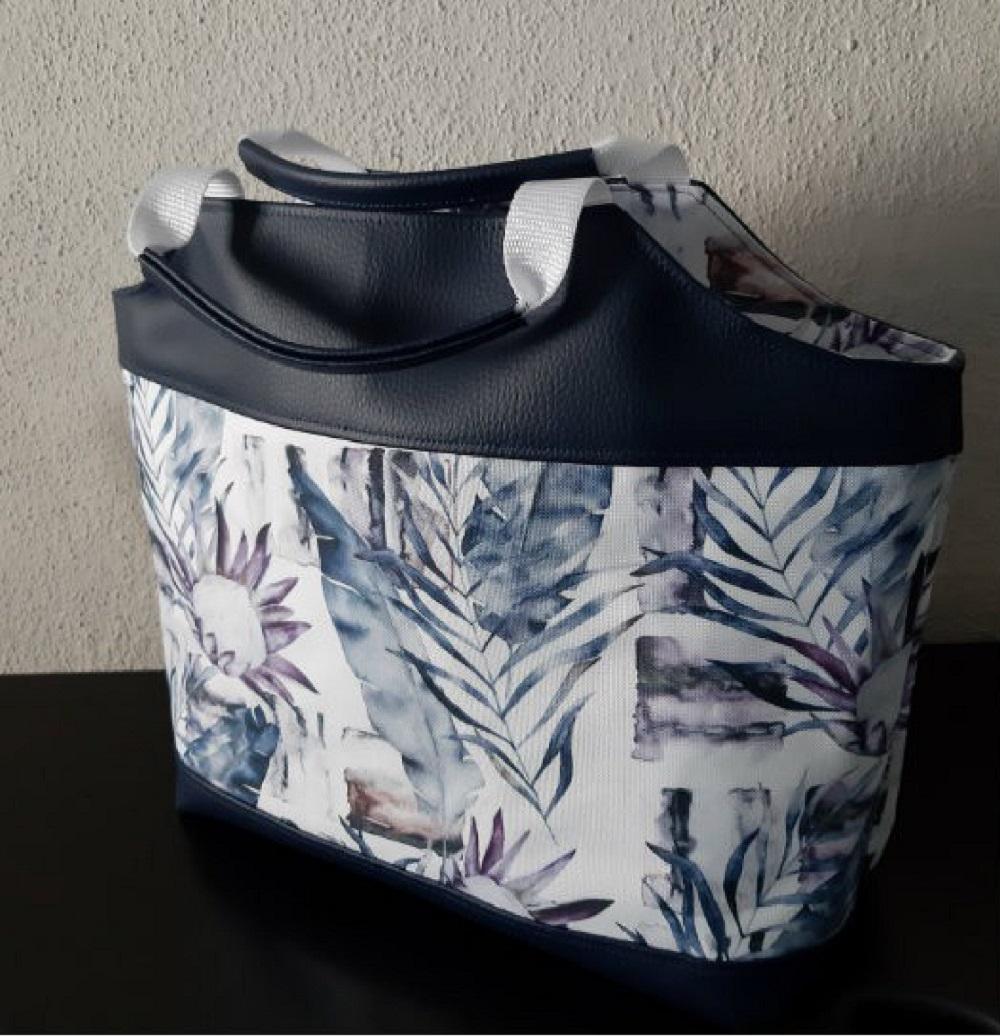 Myślę, że ten opis i zdjęcia dużo ułatwią Wam szycie swojej pierwszej torebki.
Dla mnie to była wielka przyjemność, że mogłam Wam pomóc.
Dziękuję.
Tutorial przygotowała Iwona Bartczak :)
Post Comments (7)
Ellen Kauth

02/07/2022

Die Anleitung ist wirklich absolut daneben. Selbst im Blog die Anleitung, unbrauchbar.
Eine Videoanleitung dazu wäre vielleicht nicht verkehrt. Der Stoff ist schön, dafür 2 Sterne... aber an der Anleitung muss noch geübt werden.

helena schaffner

31/05/2021

Rowniez jestem rozczarowana opisem. Na kazdej firmie opis z czego wyciac. Jedna duzy jwadrat nie MA nic. Jedyne wszycie listwy do zamka. I laczenia wykroju. Filmiki rozne. Dlaczego nie o torebkach?? Szkoda.zamowilam dwie I stoke. Czy bedzie jakas pomoc ze strony firmy?

Kathrin Weidling

06/03/2021

Die Anleitung ist echt unbrauchbar. Wenigstens ist der Stoff schön, da kann man sich etwas anderes draus nähen.

Ingrid Müller-Brandl

14/02/2021

Leider komme ich mit der polnischen Anleitung gar nicht klar. Hätte das Set definitiv nicht bestellt, wenn ich gewusst hätte, dass es keine nachvollziehbare Nähanleitung in deutscher Sprache dazu gibt. Hat die Handtasche schon mal jemand fertig genäht? Wäre für Hilfe dankbar. Ich bin über das Zuschneiden leider nicht hinausgekommen.

Agnieszka Dura

22/09/2020

Czy tylko dla mnie te objaśnienia są zbyt skąpe ???????????? Zaczynając od wykrawania... Nie można było dać zdjecia z wykrojonymi poszczególnymi elementami? Ktos bardziej zaawansowany by sobie ten punkt pominął a dla osoby zielonej byłoby to bardzo pomocne...

Carmen Sommer

12/07/2020

Hallo Ihr Lieben, gibt es die Anleitung hier auch auf deutsch? Wäre sehr hilfreich. Danke

Noemi Amann

08/06/2020

Wo bekomme ich den Schnittmuster für "Torebka damska- zestaw DIY" (DIY Damentasche) her, damit ich es auf die Stoffe aufzeichnen kann ??
Das was in der DIY Schachtel drin war ist so klein dass man die Maße nicht lesen kann und ein Schnittmuster ist nicht dabei.
To add a comment, you must be a registered customer.
click here to log in